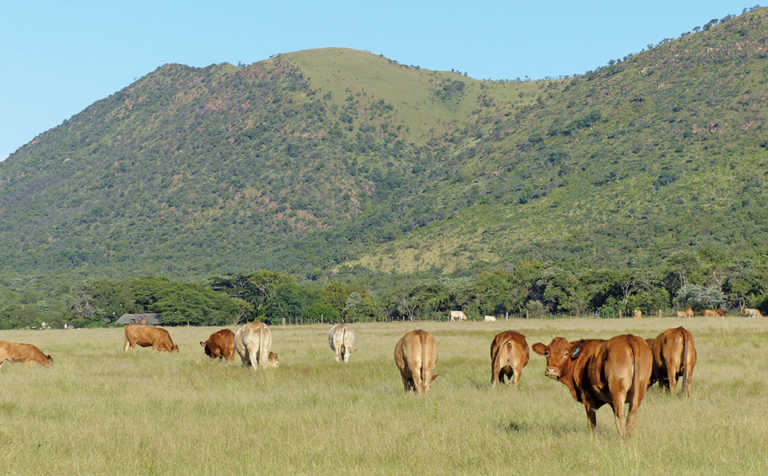 "I haven't looked back for a day," says Franci-Mari van Heerden about her decision to farm Hugenoot cattle. She describes the breed – a composite of 40% Afrikaner and 60% Charolais genetics – as a perfect, no-nonsense extensive beef breed, blessed with a combination of Afrikaner and Charolais production characteristics.
The Afrikaner's natural hardiness, outstanding maternal behaviour and small calves, she adds, has been combined with the Charolais qualities of early maturation, exceptional feed conversion and excellent milk production.
This has resulted in a breed requiring little input for maximum gain in weaner production.
Choosing Hugenoot cattle
Although Franci-Mari grew up on her father's farm near Alldays in Limpopo, where he farmed Afrikaner cattle, she never thought that she would one day farm her own cattle.
After school, she completed a BA degree in education at the University of Pretoria, where she met her husband, Petrus van Heerden.
Petrus bought the 450ha farm, Kliprivier, between Alma and Thabazimbi in 2000, and has since also leased an additional 1 000ha.
Although the Waterberg is today well-known for game farming, the area also has a long history of cattle ranching.
In 2001, the year they were married, Franci-Mari bought her first cattle: three Bonsmara-type heifers and a bull. She later added another five Bonsmara-type heifers, a wedding gift from Petrus.
Franci-Mari was determined to establish a beef stud and began investigating which breed would be best suited to the sourveld on Kliprivier.
She soon gravitated to the Hugenoot and in 2003 attended a multi-breed bull sale near Bela-Bela, returning home with two Hugenoot bulls. Her decision had been made: the bulls would be used on her existing commercial cattle and a group of older, but proven, Hugenoot cows.
"Don't buy heifers, buy golden oldies," she advises anybody wanting to start a beef cattle stud.
"You know they can produce and rear good calves."
After registering the Witrots Hugenoot stud in 2003, Franci-Mari became fully involved in the stud industry.
She attended as many courses on stud breeding and Hugenoot cattle as she could, and today is a senior judge in Hugenoot SA, the breeders' society. However, she admits that over the years her most important lesson has been to cultivate humility and to never stop learning.
"It's very pleasing to be a judge because I see everybody's cattle, not just mine," she explains. "As soon as I think I know cattle, they bring me down to earth." Franci-Mari currently runs 80 stud Hugenoot females, admittedly as a sideline to the couple's main enterprise of backgrounding weaners for feedlots.
Adaptability
The Hugenoot cattle have coped admirably with the rugged Waterberg farm, which demands mobility (a well-known trait of the Afrikaner, an ability to cope with extreme heat and virulent redwater, heartwater and gallsickness.
Franci-Mari controls ticks on the cattle, which are smooth-coated, with a pour-on dip every two weeks in summer and monthly in winter.
The sourveld on Kliprivier favours medium- framed Hugenoot cows with an average weight of 500kg. Heifers between 30 and 32 months old and cows are mated in single-sire herds from December to February.
They achieve a calving rate of over 90% in most seasons and wean at 200kg (the average for heifers and bull calves) at seven months. All cattle are given a production lick in winter and salt in summer.
The dam line
Franci-Mari explains that, although a bull has a great impact on a herd due to the genetic contribution to all its progeny, the genetic contribution of the female to her calf is equally important, and dam lines are crucial in the stud.
As an example, she mentions Elite Cow MAX 01 023, which has to date produced 10 calves. The cow has made a significant individual genetic contribution to the Witrots Hugenoot stud and symbolises the value of fertile and productive cows as the production engines of a herd.
Quality weaners
From the start, Franci-Mari has been impressed with the progeny of Hugenoot bulls and Bonsmara-type females, the foundation stock she sourced in 2001. As an example, a group of three Hugenoot x Bonsmara-type weaners produced on Kliprivier won a Limpopo provincial carcass competition in 2008.
Franci-Mari says this achievement underscores the quality of Hugenoot genetics in any cross-breeding programme.
Hugenoot-type weaners sell for a premium in the Waterberg because of their excellent feed conversion rate, superior conformation and exceptional beef quality.
"I compete with many breeds out there," she explains. "But feedlots are prepared to pay a premium for the Hugenoot in this part of the country."
Hugenoot bulls are also sought-after for cross-breeding, Franci-Mari says. She sells up to 12 bulls directly from Kliprivier annually, and recently sold a bull to a commercial cattleman from Frankfort in the Free State for R35 000. She also sells bulls as far afield as Mozambique.
All Witrots Hugenoot bulls are performance-tested (phase A, B and D) to ensure that cattlemen buy reliable animals for beef production. "To measure is to know," she says. "I can't just rely on appearance."
Marketing the bulls
Franci-Mari relates her disillusionment with the marketing of over-fed bulls on multi-breed bull sales.
She says that although most cattlemen profess to want a bull for extensive conditions, they won't necessarily pay a top price for a bull already adapted to such a production environment if it's not in the same condition as a bull specially 'rounded off' for the sale.
Before being marketed at 30 months, Franci-Mari's bulls spend most of their time on the veld to ensure they are fully adapted to extensive conditions.
For more information, visit www.hugenootsa.co.za