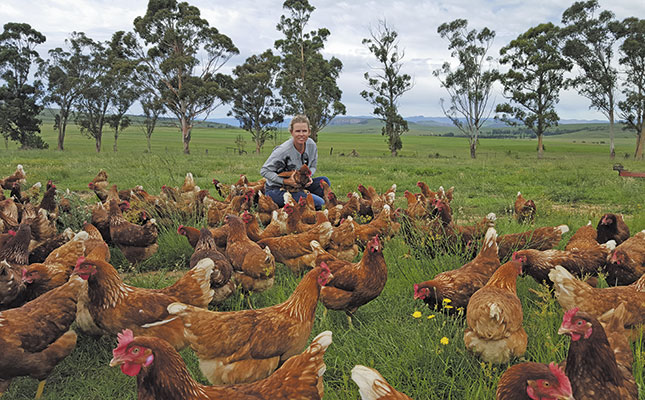 On the outskirts of Harrismith in the Free State, a health-conscious farmer has hatched a small but successful egg business. Jo Spilsbury raises free-range chicken layers, and houses them in customised chicken trailers.
Jo Spilsbury and her husband Terence have long been passionate polo players. In 2011, they took the next logical step: purchasing a 230ha farm, Glen Urquhart near Harrismith, on which to train polo ponies. Training and selling these animals has been the main business of the farm ever since.
Eighteen months ago, however, Jo saw the possibility of starting another business venture on the farm – this, too, based on an abiding interest of hers.
"I always wanted to produce my own food," she explains, adding that her aim was to feed her family in the healthiest way possible and at the same time teach their three sons, Jack (9), Charlie (7) and Luke (4), about humane farming practices.
Thus began Jo's Pasture-Raised Food, a free-range egg production enterprise on the farm. As a novice to the industry, Jo began by conducting extensive research, and was soon investigating chicken trailers.
"Chicken trailers are a type of housing that's quite popular in Australia and we found a lot of information on this type of housing on the Internet," she explains.
Encouraged and guided by an old university friend, Angus McIntosh, Jo took the plunge and asked a local engineer to build a trailer to accommodate her first flock of layers. With this complete, she bought her first batch of birds: 250 white Amberlink layers sourced from a farmer in Gauteng.
READ: Farmer Angus – Focusing on people, planet & profit
Jo recalls the arrival of the cage-reared Amberlinks at the farm.
"As these chickens were cage-reared, they had no idea how to perch, nor to roam freely in their natural environment. I had to teach them how to be free-range!"
At dusk, she picked them up individually, and showed them how to perch inside the trailer. Despite this minor setback, the birds adapted quickly and performed well.
A growing business
The cost of building the first trailer had been high, so Jo and her team on the farm built a second and third trailer themselves. She filled these chicken trailers with floor-reared Hyline Browns from a Balgowan farm in the KZN Midlands. These birds, unsurprisingly, adapted to free-range living immediately. The move expanded the total flock to 750.
Jo's eggs are sold under the brand name, Jo's Pasture- Raised Food.
Chicken trailers optimised for production
The chicken trailers are carefully designed to optimise egg production, keep the birds safe and allow for easy portability. They are made of steel and open entirely on both sides. The hens return to the trailers during the day to lay their eggs. Inside are between 24 and 30 laying boxes that are slightly sloped, enabling the eggs to roll onto a conveyor belt, from where they are collected twice a day.
The chicken trailers have mesh floors to allow the chicken manure to fall through, fertilising the pasture. Jo moves the trailers with a tractor or bakkie every other day to give the birds access to fresh pasture. As the sun sets, the chickens instinctively find their way to their trailers, where they sit on wooden perches for the night.
A healthy diet
Foraging hens in general do not receive sufficient protein, which impairs their egg production. To compensate, Jo feeds her layers Free Ranger Gold, an Afgri ration that contains no hormones, antibiotics or animal by-products, and has a GM content of less than 5%.
 READ: 10 ways to make sure your poultry stay healthy
"Ideally, I'd like to have a 0% GM content but unfortunately this is only possible if I mix my own ration, as commercial feeds all contain some GM content. I tried to mix my own GM-free ration when I started, but mixing a balanced feed is very tricky and I gave up after a couple of months," she says.
To the Free Ranger Gold, Jo adds diatomaceous earth, a naturally-formed sedimentary mineral rock that reduces parasite numbers."I also occasionally treat the chickens to worms from our worm farm. All of this, together with the natural greens, allows for contented, healthy hens," says Jo.
To further contribute to her hens' good health, she adds home-brewed worm tea to the birds' drinking water (as well as to the water of the horses). Worm tea is a mixture of worm castings, water, molasses, lucerne, Kalori 3000 and kelp, brewed for a few days.
It is a powerful organic liquid compost, with the ability to boost microbiological activity in the soil and contribute to the health of the animals' intestinal tracts. "Birds that arrive healthy don't get sick," claims Jo.
To ensure a constant supply of eggs, Jo aims to keep four flocks of 250 hens each, with each flock a different age because an aging flock will naturally produce fewer eggs, becoming economically unviable. Each of these 250-strong flocks will occupy a trailer and lay for approximately 16 months. This will allow Jo to replace the oldest flock every four months or so. Her cull hens are slaughtered on the farm and sold to a lion sanctuary in the area. "
From a cruelty aspect, I prefer not to have live birds leaving the farm," she says.
Raising free-range hens has its challenges. One of the main difficulties is fluctuations in egg production. Battery hen farmers rely on artificial lighting to regulate – and increase – egg production; free-range hens lay eggs solely according to natural sunlight.
Another problem is that the hens sometimes lay their eggs outside the trailer, either in long grass or bales, and these cannot be collected for sale as their age cannot be gauged accurately. Keeping the sheep and other animals out of the feed has also proved a challenge, as has keeping the birds and their eggs safe from predators such as mongoose, hawks, crows and cats.
Marketing, and future plans
Jo supplies her free-range eggs in 30-dozen boxes weekly to local hotels, restaurants and guesthouses. She also despatches eggs to Johannesburg, where they are retailed by Jackson's Real Food Market in Bryanston. They are marketed as "being of the best eggs you will find in South Africa".
Jo is willing to advise anyone interested in starting a free-range egg farm. In the meantime, she and her team are completing the fourth chicken trailer and steadily growing the egg-production enterprise.
And the future? Fired by her enthusiasm for wholefood, Jo is seriously considering extending her project to include pasture-raised chicken and lamb.
Phone Jo Spilsbury on 082 319 4303 or email her at [email protected] 
This article was originally published in the 03 June 2016 issue of Farmer's Weekly.