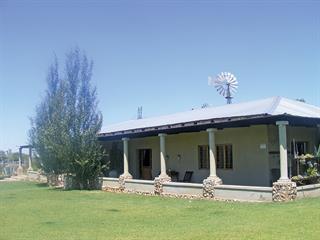 Farming has become a demanding business that needs innovation to ensure sustainability. This is according to Calla van Niekerk, whose game farm Langkop (1 150ha) is situated 7km outside of Boshof in the Free State on the Kimberley road. In keeping with this philosophy, Calla and her husband Willem have come up with a novel concept: setting aside a portion of their land as a 'game hotel' where breeders can place high-value game species. The couple also lease additional land adjoining Langkop for this purpose, bringing the total area of the 'hotel' to 3 342ha.
Income generator
The Van Niekerks started farming nine years ago. Wanting to avoid debt as far as possible, they devised the game hotel in 2013 to supplement their cash flow. "We realised that many potential game breeders don't have their own land," says Calla. "After an economic analysis, we embarked on the idea of a game hotel, in which we lease the land to several breeders without any shareholding, two years ago."
The Buffelcor Langkop Game Hotel currently brings in 30% of the farming income. Sharing the proceeds with other game breeders based on a partnership arrangement was not an option because, as Calla explains, such an arrangement would be difficult to manage and could lead to conflict.
Game remains the property of the owner, who is responsible for feeding and veterinary care. At present, the 536ha hotel accommodates 25 tsessebe, 32 human-selected colour variation blue wildebeest, 40 bontebok, 10 nyala and 10 lechwe, belonging to four owners.
"The owners decided on higher-value species because of the exclusive nature of the game hotel business," says Calla. "We charge a relatively high fee, considerably more than we would have charged to lease the land out for cattle." Developing infrastructure was expensive, and the hotel offers specialised and comprehensive services. "It makes economic sense for owners to breed higher-value species to realise a higher return on their investment."
Willem and Calla van Niekerk with their son Jan Willem. Calla is responsible for the day-to-day running of the hotel. (Courtesy of Calla van Niekerk)
Infrastructure
The farm Langkop is divided by the R64 tarred road. The farm's 14 camps vary from 80ha to 1 360ha, and each has its own watering point. The portion on the south-western side of the road, which was previously used for cattle, was set aside for the hotel. It is flanked by a 30m fire break, which is grazed intensively by cattle at the start of winter to clear grass that allows fires from the road to spread to the hotel camps.
The hotel consists of six camps of between 85ha and 120ha, fenced off with 2,4m-high game fencing as required by the Free State Department of Nature Conservation. Total fencing length, including sub-division fences, is 32km. Four camps have two watering points each and the remaining two are supplied by 3 000l reservoir troughs filled every second day. Water is supplied by boreholes via a total of 15 windmills.
The hotel does not supply supplementary feed, but each camp has a storage shed in which the game owners store their preferred feed.
Natural terrain
The farm's natural habitat is made up of savannah thornveld dotted with clay pans. The sweetveld includes grass species such as blue buffalo grass (Cenchrus ciliaris), Smuts finger grass (Digitaria eriantha), white buffalo grass (Panicum coloratum) and red grass (Themeda triandra). The woody vegetation consists mainly of karee (Searsia lancea) and umbrella thorn (Acacia tortilis). Average rainfall on the farm is between 450mm and 500mm per year, and temperatures vary from the high 30s and low 40s in summer, to below zero in winter.
Complying with the law
The stocking rate, as per provincial nature conservation requirements, is 15 large game animals (such as wildebeest and gemsbok) per 100ha and 30 small game (such as bontebok and lechwe) per 100ha. Erika Schultze from the Free State nature conservation department conducted an environmental impact assessment on the hotel camps to ensure the long- term sustainability and conservation of the veld.
"Sound veld and grazing management is fundamental to our business, as veld is our most important natural resource," Calla says. "We planned the hotel camps in conjunction with nature conservation authorities according to departmental requirements. It was difficult to comply with all the red tape, but this has put our operation on a sound footing."
Prior to leasing the additional land, Calla and Willem obtained permission from the owners to expand the hotel, and at present it is being expanded to a portion of the leased land; the long-term plan being the provision of three additional hotel camps of 80ha each by 2016.

Running the operation
Willem is a teacher in Boshof, while Calla is responsible for the day-to-day running of the hotel. Her responsibilities include inspecting fences and watering points as well as inspecting and counting the animals in each camp every day. The Van Niekerks also facilitate capturing and releasing game as well as the necessary paperwork involved in transporting and relocating the game in their care.
They are also responsible for predator (black-backed jackal and caracal) control, as well as for burning and maintaining firebreaks. The farm is situated in an area that has never experienced any game disease outbreaks, except isolated cases of eye infection. Sick and injured animals are treated, but only with the permission of the owner.
"We don't run animals of the same species in adjoining camps," Calla explains. "This prevents disease spreading between herds of the same species, and males fighting for dominance, damaging and breaking fences." Animals receive a phosphate lick throughout the year, as well as lucerne and game pellets, supplied by the owners, from the first frost until the first green flush in spring.
The game hotel is geared specifically for game breeding, and hunting is prohibited. Calla and Willem aim to create a calm breeding environment for the animals to prosper. "In winter, from 1 May to 31 August, owners are allowed to work with their animals, including darting, capturing and measuring them, for sale or relocation. Thereafter, they may only introduce new animals and dart animals for relocation from a vehicle."

Confidence in the future
The Van Niekerks' own game farming enterprise, Buffelcor, focuses on breeding sable antelope, buffalo, lechwe, tsessebe and bontebok. The sable are of Zambian and Tanzanian origin. They recently invested heavily in the "absolute best buffalo bull we could afford".
They are confident about the sustainability of breeding so-called 'exotic' game species or human-selected colour game variation in SA, and have formed a partnership with Namibian Abela Game Breeders in a Namibian 'golden oryx' (human-selected colour gemsbok variation) breeding project. The partnership recently paid a SA record price for a golden oryx bull.
The herd on Langkop contains four sisters of the cow that holds the current world record of 48" horns. Only golden oryx females carrying horns exceeding 40 inches are allowed on Langkop. "We have faith in SA's game farming future, as is proven by the ongoing demand for game. The success of any enterprise is based on supply and demand. Demand for top game genetics in Southern Africa considerably surpasses supply."
Phone Calla van Niekerk on 083 261 9951 or email [email protected]. Visit www.buffelcorlb.co.za.