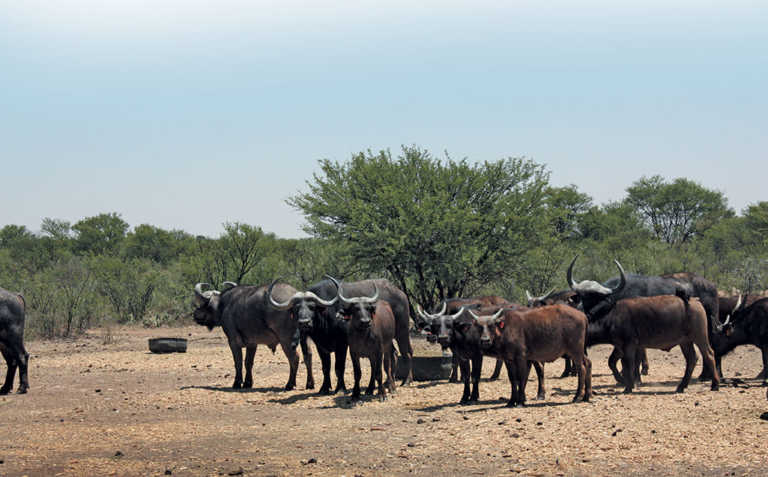 Over the years, buffalo breeding has evolved into a sound industry that has contributed to the conservation of the species, says Francoais Schutte Sr.
He and his son, Francoais Jr, started breeding buffalo in 2000 as they were convinced that it would be a sound economic investment that promised good returns. To them, the buffalo also represented the true spirit of Africa.
The Cape buffalo (Syncerus caffer caffer), a subspecies found in Southern and East Africa, is the largest of the African buffalo species. The African forest buffalo (Syncerus caffer nanus), common in the forest areas of Central and West Africa, is the smallest.
Syncerus caffer brachyceros occurs in West Africa and Syncerus caffer aequinoctialis is found on the Central African savannas.
The Schuttes started with 12 bull calves, and eventually sold nine bulls and bought heifers to form the nucleus of their M'Bogo herd. Today, the herd consists of 80 cows, 20 heifers and calves, and eight herd sires.
The herd includes genetics from the Kruger National Park as well as East African lines. All buffalo in South Africa are of the same subspecies, further defined by ecotype – Kruger, Addo, KwaZulu-Natal, Madikwe and East Africa.
"We insisted on starting with the best available genetics from the onset," Francoais Sr says.
"If it hadn't been for the pioneers in commercial buffalo breeding, it's doubtful whether the industry would have developed at all."
The pioneers
Breeding 'disease-free' buffalo from 'disease-positive' parent stock is a relatively recent breakthrough in Southern Africa. Dr John Condy, a veterinarian at the then Rhodesian veterinary department, deserves credit for this pioneering work.
In 1985, he built up a herd of 'disease-free' buffalo by catching and rearing calves before they were old enough to become carriers of the foot-and-mouth disease (FMD) virus. This far-sighted approach laid the foundation of commercial buffalo breeding in South Africa, according to Francoais Sr.
In 1998, buffalo breeder Lindsay Hunt succeeded in breeding the first commercial disease-free buffalo from infected stock beyond the FMD redline areas in South Africa, using techniques developed by Dr Condy and Dr Roy Bengis, the then chief state veterinarian at Skukuza.
M'Bogo herd
The M'Bogo herd is based on the farm Jakhalskop and contiguous leased land in the Theunissen district, totalling 1 500ha in all.
The land is divided into five camps, each with its own watering point and mud wallow.
These are supplied by boreholes via windmills and submersible pumps.
The Schuttes diligently comply with government fencing regulations, and undergo a state inspection every three years. Two types of fences have been erected on the farm: electrified 2m fences and standard 2,4m, 22- strand Bonnox fences.
The enterprise is managed in terms of the Department of Agriculture, Forestry and Fisheries' legal requirements and animals are branded with registered identification marks.
Biosecurity measures
Francoais Jr emphasises the importance of biosecurity measures to prevent disease transmission. The Schutte's land is surrounded largely by maize lands, which limits potential disease transmission.
All vehicles are disinfected before entering the buffalo camps. Certificates of good health are also issued for every M'Bogo buffalo sold.
The buffalo are counted daily, enabling the team to monitor the general well-being of the herd and identify any animals that are unwell. The animals are inoculated against Rift Valley fever from a helicopter using dispensable drop-off darts.
"We must ensure the health of the animals at all cost," explains Francoais Jr. "Buffalo are susceptible to and can carry diseases that pose a danger to cattle and other buffalo – that's the reason for such strict biosecurity measures."
Brucellosis is a major concern in the Free State. It is caused by Brucella bacteria, which are present in aborted foetuses and uterine secretions. Bulls servicing infected cows can contract the disease.
The Schuttes have established a state-registered quarantine camp for sick animals. These strict biosecurity measures have ensured that since its inception, not a single disease outbreak has occurred in the M'Bogo herd.
Grazing
The sweetveld on Jakhalskop includes Eragrostis curvula (weeping love grass) and Themeda trianda (red grass), while the woody component includes Acacia karroo (sweet thorn) and Acacia mellifera (black thorn).
Buffalo are predominantly grazers but will browse if grass is unavailable. Every year in March, 30ha is planted to Japanese radish (Raphanus sayivus) to provide additional forage.
The buffalo are left to graze freely, with lucerne and maize stover, mixed on the farm, only provided during droughts and in winter.
Scoring horns
As soon as buffalo calves are weaned, they are tagged and micro-chipped. Horns are measured according to the Rowland Ward scoring system, in which measurements are taken at four months, 12 months and between 16 and 18 months.
As a rule of thumb, the horn spread must be equal to the animal's age in months. For example, an 18-month-old bull's horn spread should be about 18", Francoias Sr explains.
Calves are weaned at six months and darted and moved to a boma, where they are tested for disease. They are kept here until they have adapted fully to supplementary feeding and have gained weight; after this, they go to either the heifer or bull camp. At the age of 30 months, heifers are transferred to the cow camp.
The Schuttes' main objective is to produce breeding stock. Bulls not complying to M'Bogo standards are sold for hunting purposes. Bull selection criteria include a minimum horn size of 42".
Bulls are also selected for a well-developed scrotum, strong hooves and a stable temperament to facilitate ease of management. Cows must be fertile with an intercalving period of less than 400 days, and be feminine with good horns and hooves.
Each animal's DNA is analysed and its parentage verified to ensure traceability.
"Transparency is vital, as we want our clients to know the exact breeding history of every animal we sell," explains Francoais Sr.
He stresses that buffalo breeding is not exclusively for the rich, and points out that they developed a viable buffalo breeding operation virtually from scratch and without an exorbitant financial investment.
"We've proven that if one loves the species and is dedicated to breeding top quality animals, there's money to be made. We're working hard to establish other small- and medium-sized buffalo breeders in the Free State. We aim to breed superior genetics and ensure a high fertility rate for long-term sustainability and profitability," he says.
Phone Francoais Sr on 083 350 0528 or Francoais Jr on 083 301 9930, or email [email protected].