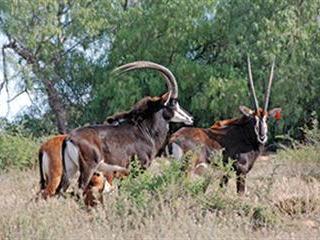 The following is a summary of the game auction trends for 2012:
Quantity of animals traded
About 18 200 game animals traded during 2012 at 58 auctions covered by the Unit for Environmental Science and Management at North-West University's Potchefstroom Campus. More than R960 million was generated.
While the worth of higher-value plains game species, such as Livingstone eland, tsessebe, bontebok, and nyala increased during 2012, compared to 2011, most plains species showed a declining price trend.
Data seems to indicate that animals of outstanding quality, especially among plains game species and colour variants, achieved exceptionally high prices. This shows that investment trust in the industry is high.
Colour variants
The figures for colour variants of the more general species, as well as for the heterozygotes or so-called splits, are particularly interesting.
READ: A promising new colour variant for game farmers
For example, the average prices for white blesbok increased by 71% per animal, yellow blesbok by 446%, golden gemsbok by 499%, blackback impala by 130%, black impala by 49%, black springbok by 80%, copper springbok by 48%, white springbok by 19% and golden wildebeest by 11%. The prices for white kudu, however, plummeted from R860,000 to R368,958, a drop of 64%.
Splits
In the split category, remarkable increases were seen in the average prices of white blesbok, blue wildebeest and king wildebeest as well as black and white impala.
The value of the splits (heterozygotes) can be misleading because their worth is determined by their generational status – F1 (first generation), F2 or F3 – and the origin of the animals.
Colour variants and splits comprised 6% of the total number of animals traded in 2012, with a monetary contribution equal to R155 million or 16% of the total auction turnover. This was a 5% growth on trade in 2011.
Colour variants and splits that traded for the first time on official game auctions included skilder blesbok (painted), grey impala, king hartebeest and cardinal gemsbok.
The average prices were: R7 000 for skilder blesbok, R160 000 for grey impala and king hartebeest and R140 000 each for the four cardinal gemsbok cows with calves (see Table 1).
Buffalo
The average price of buffalo (Southern African bloodlines) dropped slightly in 2012.
While the average prices for adult female animals showed an increase from R353 738 to R512 730, prices for buffalo heifers, and cows with calves, decreased by R29 442 (5%) and R54 249 (6%) respectively.
READ: Buffalo bull sold for R168 million
There was a noticeable drop in the average auction prices of adult buffalo bulls that decreased to a three-year low of R173 286 (74%).
This drop must be seen in context, since the 2011 price was slightly raised by the sale of 16 adult buffalo bulls for R1,5 million each at the Thaba Tholo auction in Limpopo.
Compared to 2010, the average price for adult buffalo bulls was about 37% lower. The average price for young buffalo bulls showed a similar trend, being 50% down from 2011.
The average price of buffalo from East African bloodlines rocketed from R986 812 to R2,4 million, with the average price for cows and heifers at R911 428 and R823 334 respectively.
The average price was raised by the value of cows with calves at R3,6 million. This excluded the cow Tanzania and calf that were sold for R20 million at the Piet du Toit Game Industry's auction in April. Bulls averaged at R2,9 million.
Antelope
The average price of sable antelope followed the same trend as that for the East African buffalo bloodlines.
Compared to the previous year, the average price of sable increased by 17% to R178 121. The average price for females was slightly higher at R270 381.
The average price for sable from Zambian blood lines increased by more than 40%. For the first time in several years roan antelope showed movement, with prices more than doubling.
With renewed demand for these animals, the number of roan traded increased during 2012.
Rhino
As a result of consistent demand and a 28% drop in the supply of white rhino on official auctions during 2012 the average auction price of white rhino increased to R231 807.
Note: Various record prices gained during 2012 contributed to the highest annual auction turnover to date. Table 2 gives record prices gained by the respective species. Although only certain species exceeded or equalled their record prices in 2012, the highest price of each species was taken for the past 20-year period.
Phone Dr Flippie Cloete on 018 299 4245.