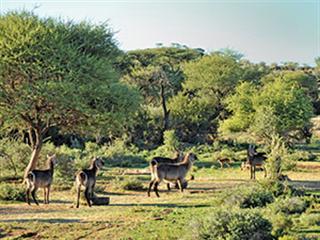 Game farming is about profit and business sustainability; if a farmer gets these basics right, food security and conservation will follow, says Wiaan van der Linde, director of WB Safari Company speaking from his farm, Wintershoek Private Game Reserve, about 60km from Kimberley on the Hopetown road. Last year The Wildlife Ranchers of SA (WRSA) made Wiaan Game Farmer of the Year and Safari Club International (SCI) ranked his business, WB Safari Company, one of the world's top 250 safari destinations.
Wiaan started farming in 1995, after completing his studies, but branched out into game farming in 1999, after his marriage to his wife Hilmarie when he moved to her father's farm Doringhoek near Kimberly. In 2001 Wiaan got involved with Wintershoek Investments, a hunting concession run by the legendary Johnny Viviers who is now part of the Wintershoek team.
The original Wintershoek land was bought by SANParks in 2005 but Wiaan retained the rights to the name Wintershoek.
"I've always loved farming. My father, who ran a mixed farming enterprise near Rosendal in the eastern Free State, was my guiding star," he says. Familiar with the potential of good partnerships, Wiaan joined forces with Hennie Gous of Douglas two years ago. Hennie brought three new hunting grounds into the partnership.

Wiaan van der Linde, director of Wintershoek, with a young rhino at the Wild Hearts Rehabilitation Centre outside Kimberly.
This means that Wintershoek Safaris now has access to 46 000ha of land; 30 000ha is owned by the partnership, 10 000ha is on a long-term lease and 6 000ha is part of a hunting concession. There are four hunting areas in different ecological zones; The Wintershoek Private Game Reserve (savannah plains), Thuru (Kalahari sand dunes with Nama Karoo and Karoo mountain vegetation), Gamagara (green Kalahari) and Linksfontein (Kalahari thornveld and shrub bushveld).
Thuru is situated 100km south-east of Upington, Gamagara is situated 260 km from Upington, near Dibeng, and Linksfontein forms part of the Ghaap Plateau escarpment near Campbell, south-east of Kimberley. The average rainfall on the farms varies from 180mm to 380mm/annum.
Strategic partnerships
Growing economies of scale through partnerships and value adding became a key component of Wiaan's vision. Recently the partnership negotiated a transaction with the Mimosa Group. Wiaan and Hennie sold a 33% stake in the holding company to Unyati game reserve (part of the Mimosa Group), run by Jaco Troskie. Ownership of land and animals is retained in the co-operative agreement.

Wintershoek Private Game Reserve near Kimberley is Savannah woodland characterised by grassland interspersed with trees.
Although a newspaper described this as a "multi million rand transaction", Wiaan says it's the intrinsic value, rather than the economic value that is important. "It's win-win, the partnership will benefit Wintershoek and Unyati in the long term. Currently we are excited about our joint wildlife auction, which will take place on 10 May next year." "This is a wonderful inflow of knowledge, energy and marketing skills. There is a perception that Unyati is a rising giant, while Wintershoek is an established name in the industry."
Both Wintershoek and Unyati are known for 'rare' game species. Roan, buffalo and gemsbok can be seen and visitors might also spot 'black' impala or 'golden' blue wildebeest. Although Wiaan isn't against the idea of selecting for colour variants, he encourages farmers to do this in a responsible manner. "It often happens that a farmer will isolate animals with certain traits for breeding purposes. When a game farmer makes a decision he needs to take the impact of that decision on the rest of the industry into account. Such decisions should not endanger the species."
Diversity and job creation
Diversification has played a major role in Wintershoek's success. Although hunting is a priority it provides only part of the income. Secondary to hunting, is the accommodation. "The Northern Cape is not on a main tourist route. Therefore we sell a bed with an antelope, rather than the animal with a bed." The business includes a taxidermy, a tannery, a curio shop, a furniture factory in Paarl and an animal rehabilitation and educational centre, often visited by school children from Kimberly.
According to a 2008 Absa report on job creation in the agricultural sector, a game ranch creates 3,5 jobs for every job created on a commercial cattle ranch. The report stated that a wildlife ranch earned R220/ha/annum while a commercial cattle farm earned R80/ha/ annum. "Bear in mind I'm a farmer who made a business decision to focus on wildlife ranching," says Wiaan. "Commercial cattle farming is not optimal for the area I farm."
Wiaan explains why job creation and food security go hand in hand. "Without work, a person can't earn a living to buy food. On my farm, two people from every family work. Poverty is reduced when more than one income per family is generated."
Contact Wintershoek staff have with international clients helps to broaden their vision, says Wiaan.
Profit and an open mind
An entrant to this industry needs to keep economies of scale in mind. "You don't necessarily have to go on your own. Investigating options is useful and it may be preferable to become part of a group and diversify." One way of ensuring profitability is to have an income for as many days of the year as possible. On Wintershoek, hunting is open for 10 months out of 12. During the two-month closure, staff take time off. European hunters come to Wintershoek in summer, and in winter American hunters arrive at the game lodges.

The company's taxidermy business is part of Wiaan's approach of adding value through diversification.
Threats and challenges
"The biggest single threat to the game industry is a lack of unity," says Wiaan. Although WRSA is an industry body for game ranching in South Africa not all game farmers are members. "We need to make change happen through a powerful collective vision. "The industry has burst out of its seams and government can't keep up. We need to sit down with government and bring procedures up to speed, instead of endlessly blaming the system."
Wiaan says in order to stay price makers game farmers must keep control of their prices. "At the moment it is going dangerously well in this industry. We must take care lest we are overwhelmed by a false sense of security."Disreputable game traders are a third major problem identified by Wiaan. "Speculators and fly-by-night operations do not have the good of the industry at heart. They'll often scam and scare away new entrants. It is crucial that the wildlife industry is run on good business principles."
Contact Wintershoek on 053 204 0042, email [email protected] or visit www.wintershoekjvs.com