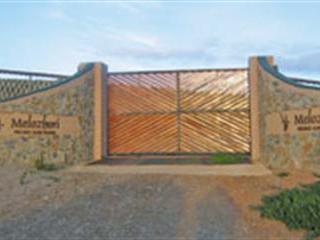 From the busy N2 highway between Riviersonderend and Swellendam, to the Melozhori Game Reserve gates outside Stormsvlei in the Overberg, is less than a 10 minute drive. Close to the gates, an elegant thatched lodge overlooks a landscape dominated by renosterbos and succulent Karoo as far as the eye can see. The game reserve, owned by the Bhorat family, is part of the Karoo sequence of the Cape folded mountain belt and lies in the fynbos biome.
A quick drive allows the visitor to see at least five of the 16 game species that now roam the farm. Hard to believe that four years ago this land was overstocked with cattle, sheep and ostriches, partly taken up by old lands, a few dilapidated buildings, rutted roads and silt-filled dams.
Future planning
The Bhorats' vision saw the potential beyond the obvious problems and they quickly set to work. No time was wasted and no expense spared when it came to veld rehabilitation and infrastructure development. "We come from a family background with no exposure to agriculture due to the political dispensation of the past, but farming always intrigued us," says Ismail as he begins the story.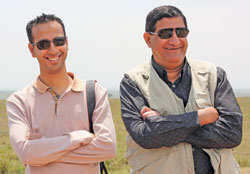 Ebrahim Bhorat (right) and his son Ismail, owners of the Melozhori Game Reserve in the Overberg. Photo courtesy of Ismail Bhorat
He and his father, Ebrahim, are keen wildlife enthusiasts and passionate about natural systems. They dreamt of owning and working a game farm and making a real contribution to environmental conservation. "About four years ago we came across this place and immediately saw the possibilities," recalls Ismail.
Starting from scratch
When they bought the 1 500ha farm it was uninhabited and leased to neighbouring farmers. Heavily overgrazed, it was in a poor state as a result of long-term overstocking which had stripped vegetation cover. Surface soil was eroded, there were deep dongas and dense stands of invasive vegetation such as thistle, hakea, black wattle, pine, Port Jackson willow and kraalbos.
"Our first step was to find a suitably qualified and experienced manager to help us with the huge task we faced," says Ismail. They appointed Ben Olivier, an experienced hunter and game farmer, commissioned specialist studies and engaged the services of the Nature Conservation Corporation (NCC) to compile an environmental management plan for Melozhori in 2008.
The report evaluated the vegetation in terms of animal carrying capacity and proposed a realistic stocking rate per game species as well as guidelines for rehabilitation, soil erosion control, alien vegetation management, boundary and internal fencing, animal release sites and indigenous tree planting. An initial report estimated the carrying capacity (large stock units per hectare) to be 15,68 large stock units (LSU).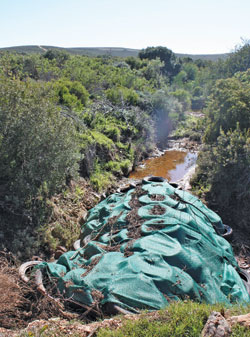 Erosion control measures, such as erecting tyre barricades in the dongas to slow run-off, were carried out.
Currently the farm's carrying capacity is estimated at 96,5LSU. The carrying capacity in terms of browsing units (BU) for the new total farm area has increased from 34 BU to 269BU. Ben explains that the LSU or grazing unit of an eland is 0,98, while the BU of the same animal is 2,44. For bontebok the LSU is 0,22 and the BU is 0,53. The Bhorats later expanded their land holding by 800ha and the farm is now about 2 300ha.
Veld and soil
Ben explains that they started the rehabilitation process by surface ripping bare patches of soil and overgrazed areas. "We planted species such as cocksfoot grass (Dactylis glomerata), white buffalo grass (Panicum maximum), Dierama and lucerne and then started to re-establish degraded areas."
Invasive alien vegetation is removed on an ongoing basis and replaced with indigenous trees such as the wild olive (Olea europaea subsp. africana), Acacia spp. and the waterberry tree (Syzygium caudatum). "As the veld condition improves we rely less on supplementary feeding. During the rainy season animals graze on the veld and during the last three months of summer we feed a mixed weekly ration of lucerne, hay, molasses meal and game pellets. Game licks are available at all times."
Stocking rates
"We have paid attention to boosting our carrying capacity and regularly carried out veld assessments," says Ismail. Game was introduced slowly and the farm now has 16 different species including springbok, eland, kudu, zebra, black wildebeest, red hartebeest, waterbuck, bushbuck, duiker, grysbok, klipspringer, gemsbok and giraffe. Game numbers have gone up to about 300, partly due to natural production rates, and partly because the Bhorats have bought in animals.
Melozhori breeds the endangered bontebok (Damaliscus pygarus pygarus) and has one of the few certified herds in the region.
"As avid bird lovers it gives us enormous pleasure to see an increasing number of bird species come to Melozhori. We have recorded more than 155 species," says Ismail. Stocking rates are maintained by limited culling and capture and they aim to utilise no more than 70% of available carrying capacity until the veld has recovered.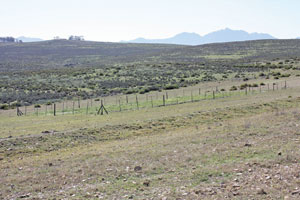 Three seedbeds of 100m² were established in fenced camps in different areas of the farm as a veld rehabilitation measure and to supplement grazing.
Ill winds
According to Ismail the rehabilitation of this fragile ecotype (renosterveld)is a long-term project. "We are in the process of re-introducing buffalo but have now put development plans on hold due to the proposed Brakkefontein Wind Farm. This would be directly on our border and in full view of our reserve and lodge," he says.
Ismail fears that if the wind farm proposal gets the go-ahead it will devastate their operations and force them to reconsider their investment in the area. Fortunately for conservation and the renosterveld, the Bhorats do not give up easily when faced with a challenge.
Click to read the feature on wind farms.
Contact Ismail Bhorat on 021 699 0950 or email [email protected]. Visit www.bwag.org.za