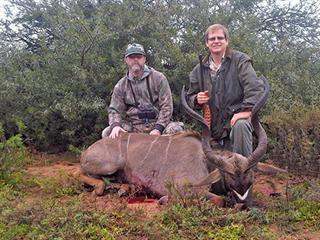 Last year, following reports from farmers that the Eastern Cape's kudu population was dwindling, the province's department of nature conservation introduced restrictions in several districts. This involved shortening the hunting season and placing a limit on the number of animals that could be shot per farm per day. This year, while some farmers in the south-eastern Karoo believe that kudu numbers are satisfactory, others think there are far too many free-range kudu and the province's carrying capacity for this antelope has been grossly overestimated.
Small bulls
There is some agreement, however, that mature bulls have become noticeably smaller. Despite having a good set of two-and-a-half-turn horns and looking healthy through the rifle scope, they dress out at only about 100kg instead of 130kg and upwards. This is not because they are in poor condition but simply because they do not appear to have grown out well, despite relatively good veld.
Concern has been expressed that if this is a genetic problem, the animals will continue to become smaller. The trend is not yet noticeable in cows, possibly because their size has never been a talking point. (It should be remembered, incidentally, that the Karoo kudu is markedly smaller than the kudu found further north.)
"Bull size has been a hot topic this season," says Neil Dodds, who farms game at Jansenville and is acting vice-chairperson of the Eastern Cape Game Management Association. "Males might be getting smaller because of pressure from biltong hunters, drought in some regions, and the recent Rift Valley Fever outbreaks."
Dodds, who has hunted commercially since taking out his first group of paying hunters in 1990, had concessions on 65 000ha by 2007 and was putting through 130 hunters a year, shooting about 150 kudu. "That wasn't excessive, even with the landowners taking off a few on top of those my hunters shot," he recalls. "And 50" bulls were not uncommon, with the heaviest weighing 206kg dressed. But I've scaled down over the past three years because there are simply not enough kudu and the thick-necked bulls of the past seem to have disappeared." Dodds recently bought in a young kudu bull from a bloodline of 58" to 60" animals for his game breeding operation and is looking forward to redressing the situation.
Seeking answers
There could be several reasons for the fall in body weight:
When kudus are sold on the basis of price per animal rather than price per kilogram, hunters will go for the bigger bull to get value for money. Doing this over a long period could have the same effect – as is seen in springbok when the biggest rams are eliminated – the animals get smaller.

The problem can worsen if the biggest cows are shot out, too, because the weaker animals then breed. (It is thought that the same occurred to the elephant and buffalo of the Eastern Cape when the settlers arrived in the 1800s and shot out all the trophies. Today, Addo buffalo are the smallest remaining ecotype.)

Game-proof fencing inevitably plays a role. Firstly, the gene pool on any particular farm is limited. Unless bigger bulls are preserved or new blood is brought in, runts get an opportunity to breed. Even on 'open' farms, game fencing limits the natural movement of kudu – stopping them from seeking better veld during drought.

Under natural conditions, a bull will not breed before it is socially mature at about five years of age; in fact, cows do not allow younger bulls to mate with them. But if most of the breeding bulls are shot out, the younger ones get a chance to breed without having to prove their superiority.

Poor veld conditions could, in some cases, result in a generation of kudu not growing well. This situation is worsened when the hunting season opens in June and the cows are shot before the calves are properly weaned. These calves struggle to survive.

On smaller game ranches, kudu calves tend to be born throughout the year instead of only in the traditional calving season. This is because, in restricted areas, bulls that would normally browse in bachelor herds away from the females come into regular contact with the cows and cover those in oestrus. This results in calves being born out of season – when feed is limited.
According to Deon Furstenburg of the Range and Forage Institute at the Agricultural Research Council, kudu cows normally calve between late December and early March. The rut is from May to early July but in good years can expand to year-round. The mean birth rate in the Eastern Cape is 84% and the weaning rate is 62%.

Too many?
It may well be that there just are too many kudu – a view supported by the large number encountered at night. These shy animals are vulnerable to disease, cold snaps and drought, but can breed quite rapidly when enough feed is available.
When grazing cannot support their numbers in one area, they may trek to another in search of better veld.
Researchers speculate that in recent history, two migrations took place in the southern parts of the Cape provinces – one before the rinderpest, which wiped out most of the game north of the Swartberg range in the late 1890s, and one after that, when kudu herds recovered and slowly re-inhabited areas where they had died out.
Before that, kudus were plentiful in the Little Karoo around Oudtshoorn, where they were shot out to keep them away from irrigated crops. Old timers recall that kudus started multiplying in the Steytlerville area in the early 1950s with the development of lucerne lands. By the 1980s they were seen as far west as De Aar, where bulls this year dressed out at 150kg and more.
Reasons for the spread over a larger area could be population pressure in the east as well as the expansion of sweet thorn (Acacia karroo) – a favourite source of food and shelter for kudu, birds and monkeys – along watercourses. Authorities are in all likelihood not paying enough attention to kudu populations. The species is safe as they are conserved on game farms and are spreading rapidly into the western and Little Karoo. And they have become important to farming and small-town economies. According to one meat trader, a surplus of kudu meat had a negative impact this year for the first time on red meat prices, particularly that of beef.
Research needed
Unfortunately, the kudu question gets onto the agenda just before or after the hunting season – and is then forgotten for the rest of the year. Perhaps greater effort should be put into getting researchers to do more accurate counts, establish sex and age ratios, determine carrying capacity, and investigate causes of disease. According to game rancher Arthur Rudman of Blaauwkrantz Safaris, farmers in the Uitenhage district have repeatedly – and unsuccessfully – asked the departments of agriculture and environmental affairs, as well as Nelson Mandela Metropolitan University, to assist in determining the mineral requirements and deficiencies of kudu.
"Clearly, if farmers want to know more about kudu mortalities, diets and population management, they'll have to finance their own research," he says. "They can't allow their animals to become inferior." However, Rudman is convinced that, under normal conditions, kudu body weight is determined mainly by the amount and quality of available forage. "Give them good veld and see how they grow," he maintains.
As an example, he says that camping them off into dense Eastern Cape Valley Bushveld can lead to the population losing as much as 30% body weight within a few years. The problem can be avoided by expanding the area to include open and river veld rich in phosphate and minerals from a greater variety of browse shrubs and trees, such as the witgat or shepherd's tree (Boscia albitrunca). Rudman contends that hunting pressure (selection) has only a 10% influence on body size.
"When hunting commercially, carcass numbers are more important than spending time on trying to select kudus while culling," he says. "In commercial culling, where efficiency in the number of carcasses per time unit is crucial, time is better spent in shooting than selecting." More than one farmer interviewed insisted there was no problem, claiming the dark, thick-necked bulls were there – hiding away in the mountains. Like black-backed jackal, they've learnt to avoid humans during the hunting season.
On the other hand, this season has seen an unusual number of unexplained mortalities among kudu. Are these due to tannins (and, by implication, overstocking), lung diseases or blindness caused by insect vectors? So far, farmers have been unable to find out.