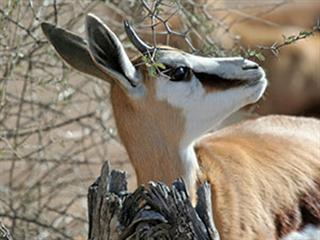 "There are 10 000 registered private game ranchers in South Africa. They manage more than 20 million hectares of land, generate 100 000 permanent jobs and contribute an annual R9 billion to South Africa's GDP. That's a massive industry and a massive responsibility," says Ron Thomson. "The private wildlife ranching industry deserves support from government," he adds, explaining that there are hiccups in many areas. Ron sees over-regulation as part of the problem, and says that some government authorities may wield power simply because they have it.
He feels that game ranchers should be given more freedom, asserting that "some nature conservation officials cannot claim the game rancher's level of expertise". He also finds some of the regulations governing the wildlife industry ill-considered. "In view of the man-induced changes in our habitats during the last 300 years, the dictum that no animal species may be introduced onto any land if it did not occur there historically, is scientifically pedantic.
"Outdated historical impositions restrict game ranching and make no sense. They should be quashed," says Ron, who believes that wildlife ranchers should, in most respects, manage themselves. "Every game ranch in the country is ring-fenced and these animal populations should be managed separately. To apply a national quota for each species represents mismanagement, as the environmental and management conditions, under which each individual game population lives, vary enormously."
Habitat integrity
Morné du Plessis, CEO of WWF-SA, suggests there is some danger in promoting a free-hand approach. He points out that good veld management practices are not evident in many parts of South Africa, neither by game ranchers nor by farmers. "Habitat change, as Ron explains is 'man-induced' and often caused by overgrazing and poor veld management," says Morné.

From left: Morné du Plessis and Ron Thomson. Photos courtesy of WWF-SA and Ron Thomson
"We need to understand where game ranching meets veld management and species conservation." Overgrazing, whether by domestic stock or game, causes changes to vegetation species composition," he adds. "This has reduced the carrying capacity in the Karoo over the past 150 years. So I cannot agree with Ron that game ranchers always know best about their land and wildlife species. There are many cases when making a quick buck may predominate over sound and sustainable wildlife management practices."
He stresses that conservation officials and scientists try to bring commercial game ranching and conservation together. Though attempts to do this may not be entirely successful, guidelines and regulations have this goal in mind. "If, for example, you introduce nyala into an area where there was no previous occurrence, it will have an impact on the bushbuck, which might be an endemic species, so you start altering your wildlife communities and habitats."
Morné does not believe this means that game ranchers or farmers need to run nature reserves, but that sound science and good conservation management must play a role in keeping landscapes and wildlife populations intact.
Ranching
But Ron says that game ranching is more like ranching cattle than managing a nature reserve and has different objectives. He believes the only difference between domestic animal ranching and wildlife ranching is that domestic animals are "tame products of the land", and wild animals are "wild products of the land". "I support Morné's views on veld management. The soil is our first consideration, then the vegetation, then the animals."
Ron adds that competitive browsers or grazers in the same enclosed habitat could certainly be a problem and species such as the bontebok and the blesbuck should not be mixed because they are races of the same species and will cross-breed.
He feels that problem issues should be identified and dealt with, not used to deny introductions that could have significant financial benefits for the game rancher.
"The impala, for example, is a bread-and-butter species for most game ranches, yet in the Eastern Cape it is considered an 'alien' species. "Provided the habitat and the composition of the other species on the property is suitable, impala should be allowed." Ron says that this is no different to a cattle farmer adding sheep and goats to his livestock mix.
He says that the bulk of the 'bread-and-butter species' such as impala, kudu, blesbok, blue wildebeest, mountain reedbuck and most birds should be assigned an unclassified or 'common' status that requires little or no paperwork. "The game rancher is equipped to look after common species, and the onus should be on him to do so," he says. "This would leave conservation officials with more time to concentrate on the rare species that need their attention."
Wildlife cultures – the American way
In discussing the American wildlife culture Ron says it is based on the belief that making money out of wildlife is immoral. Most Americans believe that market hunting caused the extinction of the passenger pigeon, the decline of ducks and the near extinction of the American buffalo. "It is not true to attribute these declines and extinctions to commercialisation."
Protection of indigenous wildlife from commercial trade is written into American law and indigenous venison cannot be bought in the US, except in Texas. "Most Americans are proud to tell you that their wildlife culture is anti-market hunting."
The South African way
The South African wildlife culture, on the other hand, is based on sustained economic utilisation. "You can buy and sell indigenous game venison here, and there is a lucrative market in buying and selling live wild animals and wild animal products," says Ron. He adds that South Africa's wildlife industry is threatened by the US and other First World cultures where powerful animal rights movements oppose animal-use industries.
"The International Fund for Animal Welfare (IFAW), purported to be the biggest, most affluent and most influential animal rights organisation in the world, is said to command an international annual income of over US$200 million. The Humane Society of the US (HSUS) commands an annual income of US$125 million. These and other animal rights movements worldwide have infiltrated the Convention on International Trade in Endangered Species (Cites), of which South Africa is a member."
International wildlife trade
Cites was established in 1975 to bring countries together for the collective regulation of legal wildlife trade, and to bring illegal trade under control. "Cites today comprises 178 member states and meets every three years. Each member state submits to the Cites secretariat whatever issue it wishes Cites to deliberate upon," Ron explains.
A request by South Africa for permits to trade internationally in rhino horn might be an example. The subject would then be listed on the Cites agenda. Each member state (or signatory) has one vote and the majority decision of the signatories is inviolable. From its inception, Cites invited NGOs of all persuasions to become accredited members. They don't have a vote but they attend workshops and conferences, are elected onto committees and participate in debates.
"Even though they don't have a vote, they have tremendous 'persuasion power' and they use it to win over delegates in every possible way," Ron says. He claims that a number of these NGOs are animal rights groups with the purpose of abolishing animal uses (including trade) in any wildlife and wildlife products.
Ron is of the opinion that these groups become accredited to Cites to sabotage requests for a trade consideration. What do they gain from doing this? "Potentially, their Cites accreditation generates huge funds from a gullible public back home," he explains. "Getting the elephant declared an endangered species in 1989, and having the ivory trade universally banned, is still earning these NGOs millions of US dollars every year."
Wildlife protection
The wildlife ranching community currently faces a significant challenge in rhino poaching, and many solutions have been mooted. "A rhino horn is worth more than its weight in gold, and we will not be able to stop the trade because the use of rhino horn is deeply ingrained in the cultures of eastern Asia," Ron explains. Some SA rhino owners have proposed that they should 'farm' white rhinos, harvest their horns and open a transparent, international trade in rhino horn. This trade would require Cites approval.
"Minister Edna Molewa (Water and Environmental Affairs) feels she has laid the foundation for a successful bid at the next Cites meeting to open transparent international trade in rhino horn. We would also like her to put on the agenda the need to change the NGO accreditation rules so as to purge Cites of its animal rightist NGOs," says Ron. He feels the minister may not fully appreciate the way Cites works and, with her intentions now laid bare, the animal rights NGOs have three years to plan.
Morné says there are also sustainable use NGOs driving the Cites agenda, including Resource Africa, that have played a prominent role in arguing for the rights of communities to benefit from the use of animals and plants. "What concerns me," says Morné, "is the fact that the issue of wildlife trade has landed itself a convention, whereas habitat loss, the biggest driver of dwindling numbers of important species and ecosystems worldwide, lacks a convention. The single biggest threat to wildlife sustainability is habitat loss."
Population pressure in Africa
Another major threat facing wildlife sustainability in South Africa and Africa is the rapidly growing human population.
UN statistics show that in 1900, 95,9 million people lived in sub-Saharan Africa. By the year 2000 there were 622 million people in the same region. By the end of this century, in 2100, the number is expected to exceed 2,5 billion. "By 2050 the South African population will be two-and-a-half times what it is today," says Ron. "Currently four adults out of 10 are unemployed, and the number of unemployed could reach 50 million by 2050."
The Kruger National Park is surrounded by impoverished rural communities. "Alongside them is a cornucopia of valuable wildlife resources. It comes as no surprise that poaching syndicates find willing helpers." Ron stresses that to stop poaching in Kruger, the needs of the national park must be integrated with the needs of local people. "My proposal, 'The African Wildlife Initiative Programme', is based on the extractive-resource-use principle," Ron explains.
As part of his programme, Kruger's boundary communities would be mapped, every village logged by GPS and all community members listed. "Listed people would benefit from a realistic policy of sustainable extractive-resource-use, including a controlled hunting programme in the park, which would raise revenue for the park and the neighbouring communities. Communities would commit to ending poaching and help authorities root out poachers," Ron continues.
Hunting levies would also be used to create businesses in border areas. Morné acknowledges the success of the Namibian Community Conservancy programme that operates on these principles and is extensively supported by WWF. However, he is concerned that tourism would be affected in our national parks. "While one may not have a problem with the controlled hunting and community benefit sharing model, as long as it is conducted in a sound scientific manner, Kruger might be risking its tourist market. A percentage of visitors will choose to visit parks that don't have hunting. The unintended consequences might be significant."
"Hunting activities will not clash with game viewing tourism," Ron responds. "While I was director of the Bophuthatswana National Parks Board we had tourism and trophy hunting going on in the relatively tiny Pilanesberg National Park with no conflict and no effect on our game viewing tourism.
Contact Ron Thomson on 072 587 1111 or email [email protected] Contact Morné du Plessis on 021 657 6600 or email [email protected]