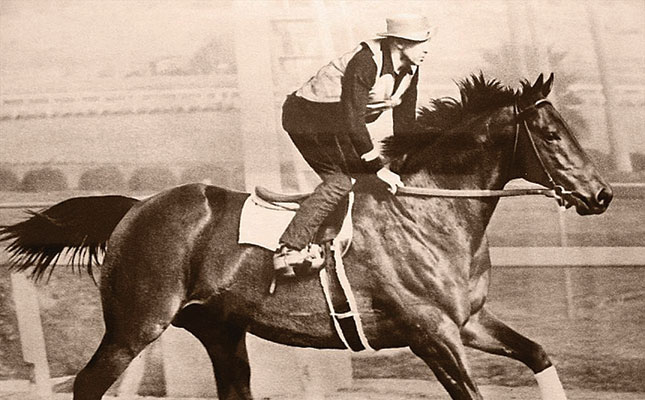 Jockeys have to be athletes; it is not only the horse that must be fit to race! While the main way a jockey makes money is by riding races on horses that belong to someone else, they must also know how to care for and train racehorses. Top jockeys can become internationally famous and earn a lot of money.
This is a career you learn at a jockey school, and you start when you are about 15 years old. The South African Jockeys' Academy (sponsored by Gold Circle) started in Summerveld, KwaZulu-Natal, in 1958, but has branches in the Cape. It offers training with a three-year diploma in horsemanship and stable management.
This includes practical horse care and horsemanship, as well as intense physical training to build muscles and balance. Training also includes speech and language training, numeracy, good manners, loyalty and honesty.
A similar school, sponsored by the Racing Trust, exists in Gauteng. In 1999, the South African Jockey Academy's Johannesburg Work Riders Training Programme was set up so that riders could learn how to manage and control racehorses being exercised at the gallop. This is a short course, and focuses more on exercising and managing racehorses, but these riders can also take part in races.
Physical attributes
Jockeys have to be small and slim. They also have to be fit and healthy, so a medical certificate is required. Boys around 15 years of age should weigh around 34kg and be no more than 140cm in height; girls should weigh around 40kg and be 150cm in height.
At 16 years old, boys should weigh 38kg and be around 147cm in height, while girls should weigh 42kg with a height of 152cm. When they reach 17 years old, boys should weigh 42kg and be 155cm in height, while girls can be 44kg and be 156cm in height.
Your shoe size must be between two and four. If you grow taller or weigh more than this, you cannot become a jockey and race. However, the training given at the jockey school will allow you to be a stablehand or work rider involved with racehorses and the racing industry.
Training life
During the first six months at a jockey school, students will learn to work with racehorses, which includes how to feed and water them; groom them; saddle and bridle them; walk them out to the paddocks; and clean stables.
Training to be a jockey is very demanding. It starts every day from Monday to Saturday at 4am. By 04.45am, the horses have to be clean and ready to be ridden out by more senior students, or taken out to the paddocks.
Stables must then be cleaned and fresh bedding put in. After this, students go to the biokineticist, where they participate in exercise programmes to increase the fitness and balance needed to ride racehorses. They then wash, have breakfast and attend the academic programme.
Just before having lunch at 1pm, they bring the horses into the stables to feed them.
After lunch, the school programme continues until mid-afternoon. Then it is back to riding, exercising, or analysing videos of rides, before unsaddling and rubbing down the horses, and feeding and blanketing by 5pm.
Apprenticeships last for five years and wins count towards obtaining a licence as a jockey, which enables you to race both locally and abroad.
Dr Mac is an academic, a practising equine veterinarian and a stud owner.