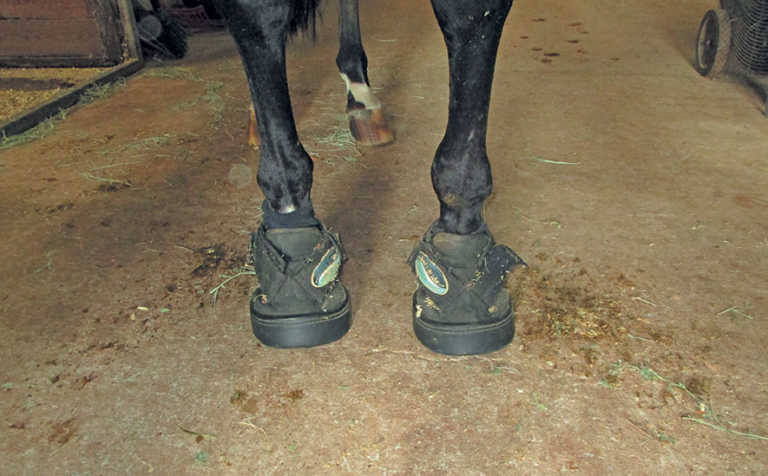 Veterinarians have long used supportive boots on horses' legs to promote healing after injury or surgery.
Ice boots are fitted to treat inflammation, while shorter support boots are employed to reduce the pain caused by navicular disease and laminitis.
In the US, many owners use Soft-Ride boots to improve the comfort of horses transported for hours on the road.
They also use them on horses kept in stables with hard, rubber floors rather than deep bedding.
The shoes help to cushion the ligaments and increase circulation in the hooves.
These shoes certainly have a place in South Africa, both for competition horses and in the racing industry, where animals are typically transported great distances.
At the American Quarter Horse Association World Show in the US, I saw a competition horse wearing these boots in its stable.
The owner took them off each time the animal was ridden, then carefully cleaned its feet, put its socks back on and fastened the boots, before returning the horse to the stable. The boots were, of course, kept on during the long journey to the show.
Protection
Soft-Ride boots consist of a flexible outer layer of polypropylene with thick soles.
The upper part is fastened with wide belts of Velcro. Inside the boot is a moulded gel support that cushions the structures on the underside of the hoof.
This is detachable and comes in various shapes depending on the weight of the horse and the specific problem to be treated.
The manufacturers make custom boots for horses with unusually small, narrow or wide hooves, or feet that require special support.
The US is a big country, and there is a show circuit, a rodeo circuit and a racing circuit.
Competition horses are transported thousands of kilometres a month, from one state to another.
The boots ensure that the animal's legs are cushioned against stresses and bumps in a horsebox. The thick soles also provide a better grip, and a horse is less likely to slip on concrete or other surfaces.
Riders that have used these boots on their horses report a significant decrease in travel sickness. They also find that hooves are better protected against the stones and nails often found around the off-loading areas at events.
Looking after the boots
The website softrideboots.com provides detailed instructions on caring for the boots and making sure they work as effectively as possible.
The manufacturers suggest using thin, stretchy human socks over the horse's hooves to prevent dirt from getting in. A groom should remove the inner gel support daily and scrape off excess muck and dirt inside and outside the boots with a screwdriver.
Once a week, the boots should be washed and scrubbed lightly with a nailbrush and soapy water, then towelled dry and hung up to air.
Dr Mac is an academic, a practising equine veterinarian and a stud owner.