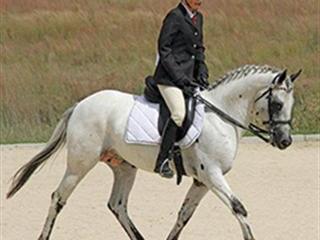 A dressage horse is trained to perform complex movements with an appearance of effortless elegance. This magical movement is asked of the horse in such a way that the spectator is unable to detect how it's being done. In other words, dressage is the training of the horse in deportment, response, balance and athletic ability, and ensuring the horse is able to submit to your control.
When your horse moves through its paces in a light, regular, harmonious and obedient manner, it will not only be a pleasure to ride, but its performance over fences and on the flat will also be much better. Dressage is interesting and absorbing. The hard work and dedication required is really a small price to pay. You can teach your horse in an arena and out on a hack. It must be calm and supple and there must be an appearance of 'oneness' between the two of you. Its movements must be fluid and free of tension. Your horse must engage its hindquarters and be on the bit at all times.
Simply put, it must give the impression it's doing everything out of its own will. It must appear almost magical. It requires great skill – and strength – for a rider to appear to do nothing while their horse moves at one with them. I always think of gymnastics when I think of dressage.
Benefits
Ideally, all keen riders need to learn elementary dressage – including the 'language', which allows you to ask your horse to respond – at as young an age as possible. It's so important that the rider is taught that dressage is neither difficult nor boring, as it's not only dressage competitions that require obedience, balance, lightness and sensitivity of aids.
Hunting, hacking, show jumping, eventing, polo, vaulting, driving, endurance, polo-cross and many more activities will benefit enormously from a basic knowledge of dressage.Any horse has the ability to do dressage if taught correctly from the start.
If dressage is the only discipline you would like to specialise in, a horse with a calm, obedient nature is best. It should be muscled and agile as it's required to be relaxed, but not lethargic.
In all, this discipline requires a great deal of muscle control and co-ordination from the horse. In addition, the horse must be very sensitive and responsive to the aids. The majority of the top dressage horses are German, Dutch, Swedish and Danish warmbloods, and Andalusians from Spain. However, many Thoroughbreds, Quarter Horses and Appaloosas also do very well.
Problem areas
The dressage horse will experience stress in the back, hips, stifle and hocks, as well as the lower leg. It's therefore essential that the horse be introduced gradually to all new movements. If your horse is strong enough, it'll have less stress. The same applies to you. If you go to gym once a month you'll be stiff and stressed once a month and weak for the rest of the time.
Ideally, then, you should let a qualified instructor give you a riding lesson at least four times a month. This will give you the confidence to continue on your own, and prevent any major bad habits from taking hold.
Emotional
Dressage can make you very emotional. The horse is such a noble animal. Watching it surrender and do exactly as you ask is amazing. This sport is essential if you want to have a very close feel for your horse. A horse without a rider is still a horse, but a rider without a horse, is just a human. Team work and dedication are essential.Start by doing the six weeks legging programme, which was covered in a previous Farmer's Weekly column. Then buy yourself a good dressage book, find a willing teacher and start gradually.
When you're confident enough you can contact the South African Equestrian Association. It will be able to put you in contact with someone in your area who'll be holding a training show. This is the ideal place to test your horse.
Contact Kim Dyson on 082 888 6511 or at [email protected]. Please state 'Horse therapy' in the subject line of your email.