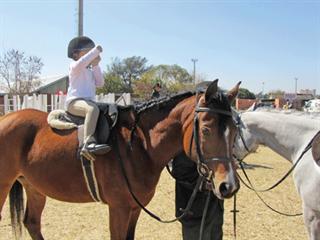 Probably the most common mistake parents make when buying a horse for a child to ride is to go for a "cheap" animal. Often this is a spooky young Thoroughbred fresh off the track, going for a song. Which is not good. Your child's safety is important. Rather buy a more expensive, reliable and well-schooled pony.
THE IDEAL TYPE
For younger children, size is a key aspect of safety. A "pony" is a small horse, less than 150cm high at the withers, and is ideal for children under the age of 14. It's not as far to the ground should a rider take a tumble and less strength is needed to control a pony than a large horse.
The small Section A, larger Section B and part-bred Welsh ponies are probably the favourite breeds seen at shows. However, other pure- or part-bred British ponies, such as the Connemara, small Arabian (both pure- and part-bred), Nooitgedacht, Boerperd and even Quarter Horse are often suitable, and can do well at trail-riding on a farm, endurance riding or in the show ring.
TEMPERAMENT
Temperament is far more important than conformation or breed characteristics when it comes to choosing a child's horse or pony, despite what breeders say. In horsey terms, a suitable children's horse is known as "kind". Those who don't understand such horses may call them lazy or slow. But, basically, a "kind" is a horse that reacts more slowly to stimuli than one suitable for an adult.
Children's horses should remain placid when being mounted, led or ridden. They should not shy, kick, rear or bite, even when something unexpected happens. And they shouldn't over-react when a child kicks them forward, by bucking or running away.
Certain breeds are considered to be more "steady" than others, but I've had personal experience of a pure-bred Arabian, which took my daughter gently through pony club competitions. This Arabian's pure-bred filly is now five years old and being shown in lead-rein with a toddler as a rider at shows.
In general, children need to ride older horses and the younger the child, the older and wiser the pony should be. As a child matures, they can start riding younger, more flighty horses, but only if they've already shown themselves to be balanced at all paces and are doing well in advanced classes in jumping, showing, western riding or gymkhana.
TEACHING KIDS TO BE SAFE
In addition to the rule that children under 16 should always wear approved headgear and closed (school) shoes or jodhpur boots, kids must be taught to be careful around horses:
No matter how tame the pony, the child must not stand behind it, as it might kick at a fly.
When leading a horse or pony they must not wrap the lead-rope around their hands in case the animal takes off and drags them behind.
Horses should not be allowed to go "nose to nose" with another horse "to make friends", as this can lead to one of the horses half-rearing and biting, or even swinging around to kick at the other.
Young children must always be accompanied when going into a herd of horses in a paddock, especially with food or carrots, as the horses may start fighting with each other and the child may get in the way of a kick.
Finally, children under the age of 14 should not ride or work with horses unless supervised by an adult – accidents can happen very quickly.

Contact Dr Mac at [email protected] Please state "Horse talk" in the subject line of your email.