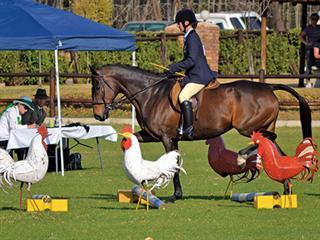 The discipline of showing aims to exhibit horses that are perfect specimens of a breed, with ideal conformation, movement, manners and temperament. In showing classes, horses should be in excellent condition and well-turned out. The recent National Team Championships (known as 'SA Champs'), held under the auspices of the newly-formed SA Showing Association (Sasa), included a wide variety of breeds, from huge Percherons to tiny Welsh ponies.
The SA Champs is held only if at least three provinces compete, and no province may send more than one team in each rider age category – adult, junior or pony. The five traditional showing categories are: show hack, show riding horse, show hunter, working riding horse and working hunter.
How teams are made up
Teams consist of five members, with each horse-and-rider combination selected because they had the highest, or most consistently high, score in a particular category over the previous 18 months. A sixth horse and rider is the team reserve, chosen because they are able to perform in any of the five categories. Substitution of a rider or horse is only considered if a medical or veterinary certificate is presented.
Teams are finalised at least 14 days before the event, and each rider gets provincial colours.All competing horses and riders must be registered with both Sasa and the South African Equestrian Federation (SAEF). In addition, riders and horses must be members of a SAEF-registered club close to where they live, and in the province they wish to represent. All competing horses must have a 'passport' documenting their markings, age, breed and vaccination status. Horses should also preferably be micro-chipped.
Travelling
Noticing the camaraderie between the members of the KwaZulu-Natal team, I asked them how difficult it had been to get riders and horses up to Gauteng for the SA Champs. Team member Courtney Smith explained that they had started organising it about a month before the show. They had travelled up in convoy to assist each other if there were problems along the way.
She said that teams had come from all over the province, and once the horse-boxes had met up, the journey had taken about seven hours. This included stops at service stations to check the horses and give them water. The horses were accustomed to being shown, so after unloading, they settled down in the stables. Then they were exercised and 'prettied up' for the next day.