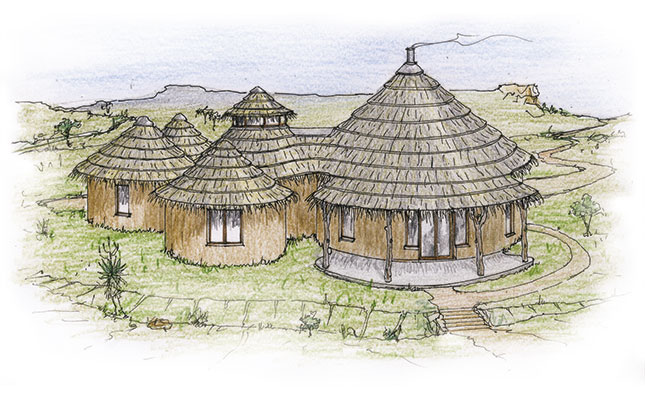 Dear Jonno
I sent you a rough sketch of a farmhouse I would like to build. Please look at it and maybe improve it where you can.
I live on a small farm in Zimbabwe and would like to use bricks and thatching from the farm. The house must be big enough to accommodate two couples and two children. The bathrooms in the centre of the home should have a shower and toilet in the one, and a bathtub with toilet in the other.
The main rondavel should have a raised kitchen floor with space for a table in the centre, while the living area should have a sunken floor. It would be nice to have large windows throughout. We also want to install gas appliances and solar lighting in the house. The bedrooms should be big enough and have room for en suite bathrooms to be added later. The entrance to the circular passage connecting the buildings should preferably lead to the parking area or garage.
Any help would be appreciated.
Brian Munjodzi

Floor plan:
Living room 
7m2 diameter
Bedrooms
4m2 diameter
Passage & bathrooms
5m2 diameter
Dear Brian
Certainly something different from the stereotypical design requests I usually receive. This one is truly African, but with all the 'mod cons'. I've had to rearrange the central bathrooms somewhat and also created a light and ventilation window arrangement in the roof above. All this is very necessary and no explanation is required. I've also added a central fireplace in the main area.
The built-up chimney stack of the fireplace will help support the roofing structure. I've included ample small windows, as any larger windows cannot be accommodated due to the fact that the outer walls are round. The room furnishings are shown to scale. Let me know if the room sizes are adequate and please telephone me to discuss any further options for the final plans.
Jonno
Author John Smith, better known as Jonno, can be contacted at Hillbilly Homes, PO Box 255, Estcourt 3310, tel 036 352 3178, fax 088 036 352 3178, cell 082 412 4459 or email [email protected]. Please provide details of the proposed development and any building material you have access to.
This article was originally published in the 25 October 2013 issue of Farmer's Weekly.