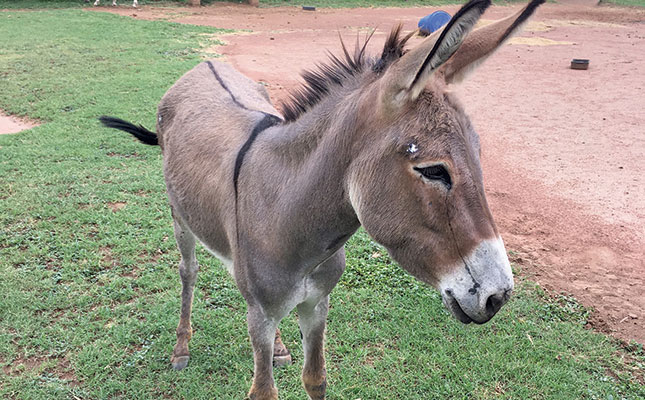 The Highveld Horse Care Unit (HHCU), situated in Meyerton, Gauteng, covers 16ha and is home to about 40 horses and donkeys.
These come from a variety of backgrounds, with some sent to the unit for treatment, others waiting to be rehomed, and still others that were confiscated because of neglect and abuse.
The HHCU was established in 1991 and is committed to ensuring the welfare of all equines across South Africa. Over the past year, it has inspected and treated around 5 000 horses and donkeys, visited 8 000 equines and stabled 500 equines, and its staff have collectively travelled about 200 000km.
In rural South Africa, equines are still used for transport and carting firewood, coal, household waste and water. Many of these animals suffer from lameness, poor hoof care, and wounds and injuries. They are also often overworked, underweight and infested with parasites.
Education
According to Farryn Day, head of fundraising at the HHCU, lack of proper horse care is often a result of a lack of education.
She says the unit is therefore committed to educating horse owners, particularly those in rural areas and townships, about proper horse care.
As part of its outreach and education programmes, the HHCU regularly conducts workshops and clinics in rural and outlying areas. One of the services it offers is the gelding clinic for stallions.
A team of qualified inspectors, veterinarians and animal health technicians thus regularly visit outlying areas to geld stallions in the community. This is encouraged to prevent unnecessary breeding.
"Stallions can also be dangerous, as they wander around to find a mate. They can then be hit by cars, damage property or damage themselves," says Day.
The HHCU also offers harness clinics. As many rural horse owners cannot afford to buy tack, they make harnesses and bits from harsh materials such as bailing twine and wire, which damage the horse's face and mouth.
The harness clinics teach owners how to make and maintain harnesses from safe scrap materials, such as stirrup straps, which are donated to the unit by the equestrian community.
As working equines often travel great distances every day, pulling heavy loads, the unit also offers shoeing and trimming clinics, at which owners are taught the importance of maintaining their animals' hooves.
The HHCU also offers deworming clinics and vaccines against African horse sickness if the unit has the vaccine in stock.
Inspections
Before working in a particular area, the unit is first required to obtain permission from community leaders. When allowed access, its inspectors treat wounded and/ or injured horses and donkeys on site.
If the animal requires veterinary care, it is transported to the unit to be assessed and treated by the unit manager and veterinarian, Dr Dale Wheeler. However, some owners are reluctant to hand over their equines for treatment.
"Some owners find this difficult to do, as these animals are their livelihood. If the animals don't work, the owners don't make money," says Day. "It's a very complicated and sensitive issue, and this is why education is so important."
Because these working equines are crucial to their owners' livelihoods, horses and donkeys treated by the unit for injuries and wounds are sometimes worked despite being booked off, which may exacerbate the animals' poor health.
Types of injuries
The most common wounds and injuries in these areas are often related to poor-fitting tack, says Ashley Ness, a senior inspector at the HHCU. Other common injuries are caused by animals being hit by vehicles.
"Because there's no fencing, the animals wander around, and can be hit by cars," she says.
Some injuries are the result of blatant abuse. "For example, someone finds another person's donkey eating their vegetables. They'll then throw boiling water on the donkey, or slash at it with a panga."
Further complicating the HHCU's work in rural areas is that many equines are used for carting water or firewood, and the owner of the working animal may not necessarily be the driver.
"We have cases in which the driver beats the animal, and then when we approach the owner, he claims to have no knowledge of the matter."
This means that nobody takes responsibility for the abuse or neglect of the animal, says Day. For this reason, it is crucial for the HHCU to establish working relationships with horse owners and drivers in these areas to build trust.
Despite these difficulties, Day says there are "some amazing horse owners out there, who are keen to learn and ensure the welfare of their horses".
Another common ailment the unit deals with is colic. However, Day says owners often seek their help too late.
Colic is the world's biggest killer of horses, and while there are different types of colic, which range in severity, it is mostly considered a medical emergency. Even after receiving treatment, a colicking horse still requires careful observation.
"Colicking horses in these areas are sometimes forced to carry on working. Owners may also give their horses substances such as fish oil, or homemade remedies, to treat colic 'quickly'," she says.
In these cases, the unit is often called out too late, and is then forced to euthanize the horse.
"If we are called out immediately when the horse starts colicking, we have a chance to save the horse. But by the time some of these horses get here, their intestines are already twisted and we unfortunately have to put them down," says Day.
Ness says that because of limited grazing and a lack of fencing, rural equines often consume toxic and dangerous substances, such as plastic and batteries. They may also consume other garbage, such as potato peels, which is highly toxic to equines. This can lead to colic, and eventual death.
When investigating a complaint, the HHCU must strictly adhere to legal processes. This is so that the unit can take legal action against an owner if necessary.
In most cases, a court order is needed to confiscate any animal. However, if the equine is in such a poor state that death is imminent, it can be confiscated in terms of the Animal Protection Act.
Rehoming
Equines that are brought to the unit are physically assessed by Wheeler. If they can be treated, they receive medication and rehabilitation, and are then returned to their owners. Unsound horses with untreatable lameness are euthanised.
"Unfortunately, we can't send unsound horses back to their owners, and we can't rehome them. If we cannot fix the issues, we're unfortunately forced to put the horse down. We don't have the funds to care indefinitely for horses we cannot rehome," says Day.
Sound horses that have been neglected or surrendered are rehomed. Each is also psychologically assessed to determine what kind of rider and home would be a good fit.
"For example, we need to determine whether the horse needs an experienced rider or can be placed with a child," she says.
According to Day, racehorse trainers often contact the unit to rehome Thoroughbreds that are no longer used for racing. These are often still quite young, and are quite capable of beginning a career separate from racing.
Before allowing a horse out of its care, the HHCU follows a rigorous rehoming programme. Possible adopters have to fill in an application form. When this application is provisionally approved, the unit's inspectors visit the yard.
"They look at where the horse will be kept, the stables and paddocks, and also pay special attention to the state of the other horses there. They also observe how well the grooms treat the horses," says Day.
If all of this is to the unit's satisfaction, the horse is rehomed. However, it remains the property of the unit, and the adopter is not permitted to sell, move or breed the animal.
The HHCU also conducts post-adoption inspections.
Future projects
The unit has several projects in the pipeline. One is its microchip drive, which will ensure that all equines treated by its staff are microchipped. As a non-government organisation, the HHCU relies entirely on donations. To raise money, the unit attends events and shows, and runs stalls. Good- quality donated tack is sold on the unit's online store to raise funds.
According to Day, one of the HHCU's main projects for 2019 is to raise money for an X-ray machine for its on-site clinic, which will make it easier to diagnose injuries.
The unit is also planning a new on-site tack and coffee shop to attract more visitors.
While it may seem that the rapid development of technology is making working equines obsolete, the HHCU's work for the welfare of these animals has never been more important.
"Due to the growth in population and migration to urban areas, informal areas are becoming bigger and more prevalent," says Ness.
"This results in more animals, but less available grazing, which causes a lack of food."
Email Farryn Day at [email protected].