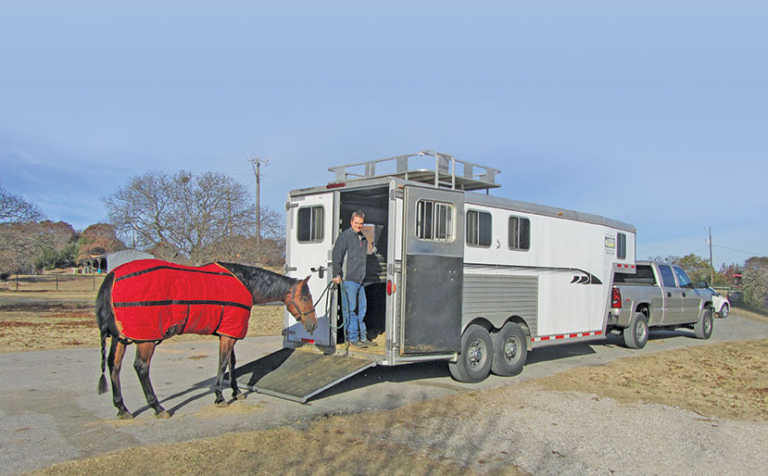 Research has shown that if a horse is transported by road for 600km, it becomes 3% dehydrated and its electrolyte balance is upset.
It recovers completely only six hours after the trip. Stress, injuries and colic can be further side-effects. Here are a few important steps to follow to keep your horse safe and healthy if transporting it a long distance:

Consult a vet
Have a vet check the horse 30 days before the journey. Horse sickness and equine influenza vaccines must be up to date and you may need a health certificate if travelling to or from the Western Cape.
Vaccination reactions can stress your horse during transport, so vaccinations should be administered at least three weeks before departure. Stress can be minimised by adding ulcer-prevention medication to the feed starting two weeks before the trip and continuing for a few weeks after arrival.
Identification
Micro-chipping is best, but at the very least you should photograph all the horse's markings. Make copies of all documentation, keep the originals safe and provide duplicates to the shippers. Include your contact details and a map to the destination, or carry them with you.
Gear
Your horse needs shipping boots, a solid, well-fitting halter and a lightweight, well-fitting travel blanket.
Feeding
Do not feed your horse concentrates during transport. Instead, make sure that it has ad lib access to good quality hay.
The horse should be watered before leaving and at least every six hours en route. It may not like the taste of unfamiliar water, so you can add a flavouring, such as Kool-Aid, to its water for a few days before departure.
The flavouring can then be added to water along the way and after arrival to disguise the taste.
What you need
Take along buckets, 5l to 10l of water, and a first aid kit that includes wound treatment, bandages, eye ointment and an oral tranquilliser.
Transportation
Racehorses are transported throughout South Africa and to neighbouring countries, and there are several experienced companies that specialise in this.
If you decide on your own transport, check and service your car and horsebox about 10 days before you leave.
Check that the weight of the towing vehicle and horsebox coincide, that all licence discs are current, and the driver has the type of licence needed to tow a trailer. Traffic officials love stopping horseboxes.
When entering Gauteng from another province, buy an e-tag and put R450 'prepaid' onto it. This will help prevent a heart attack when you see a gantry for the first time.
Emergencies
If you get a flat tyre or your car breaks down, you will need to offload on a highway, so always take someone with you.
It's very difficult to handle a horse on your own while heavy traffic is roaring past at 120km/h.
Being a member of the Automobile Association is an advantage, but it is even better to have a friend or family member with a backup vehicle and horsebox, or the phone numbers of a professional horse transporter, in case of emergency.
Stop regularly at petrol stations with truck stop facilities. Pull in alongside the trucks and check the horse, tyres, towing apparatus and doors.
Always stop for at least 40 minutes every four to six hours to water the horse and give it a chance to urinate.