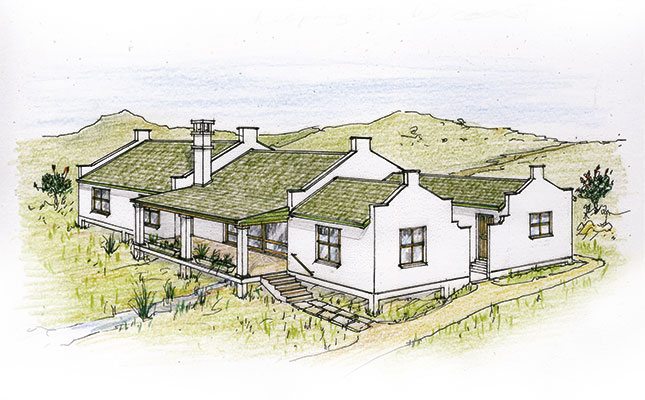 Dear Jonno
My husband and I have recently acquired a plot in a rural area of the Western Cape west coast. The area, however, has a natural water source and in winter, is always wet, but we still want to build there. Can you please give us some advice? We want to build a four-bedroom house with an open plan kitchen, a dining room and lounge area. The house must also have an office for my husband, but must be semi-attached to the house and have a garage.
Kind regards
Angie
Dear Angie
Thanks for the brief description of your future home. This layout for the house is one of many, but can be modified to suit your particular requirements, such as larger or smaller rooms, flipping the layout left to right, and changing the roof styling a dozen times or more. The styling that I've provided is that of a typical west coast house from when thatched roofs were the order of the day. I've shown this one with a regular concrete tiled roof.
Regarding the wet site, I assume that there is a winter-rainfall spring that runs through the property. As such, I've suspended the entire house on concrete stilts. This should prevent potential water damage and not cost much more than a conventional floor slab on the ground. The garage can be placed where convenient.
Let me have your further thoughts and I'll amend to suit.
Kind regards
Jonno