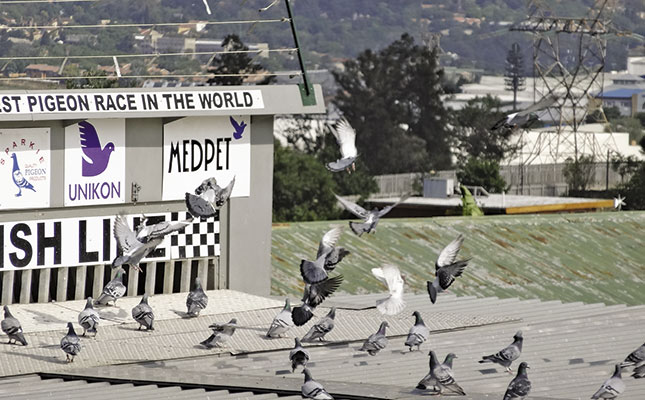 As regular readers of this column will know, the annual Sun City Million Dollar Pigeon Race is now known as the South African Million Dollar Pigeon Race (SAMDPR), and the loft where the pigeons are trained has been moved to Linbro Park. The race is still presented by Air Sport Internationale of Geneva, Switzerland, however, and the entry fee remains at US$1 000 per pigeon (about R10 000), as it has for the past 17 years.
Some of the pre-competition events of the 18th SAMDPR include the following:
Five Hot Spot Car Races: 

Cash prizes go to the first 20 birds, while the winner takes home a new car. 

Hot Spot Ace Pigeon: 

The pigeon with the fastest combined time over the five car races wins US$5 000 (R50 000).

Two-Pigeon Challenge : 

On each of the five Hot Spots, the velocity of the first two birds home in each team is combined. The team with the highest total wins US$2 000 (R20 000).

Three-Pigeon Challenge: 

The combined velocity of the first three pigeons home is calculated, and the team with the highest total wins US$3 000 (R30 000).

Knock-Out Winner: 

The most consistent pigeon wins US$25 000 (R250 000).
Initial results
At the time of writing two Hot Spots had been completed. The first, held over 138km on 16 November 2013, was won by the team Tage Gravesen from Denmark with Tage. Coming in at 10th position, DJ, entered by Glenda's Loft, was the first SA pigeon home. The two- and three-pigeon challenges were won by Abdulwahab Ali Aldahoum from Kuwait. The second Hot Spot, held over 156km on 27 November, was won by Zaruman from the US team RMC Loft. The first SA pigeon home
was Julia, entered by G de Necker and Joe Gomes. The two-pigeon challenge was won by Team Hooymans from the Netherlands. The three-pigeon challenge was won by the team of Jan Hooymans and Hu Zhen Yu.

The final
Weather permitting, the final of the SAMDPR takes place on 24 January 2014. The liberation point will be in the vicinity of Trompsburg, and the distance is 550km. Last year's final started at Petrusville and covered 578km. It was a fantastic race, eventually won by Untamed Desert, bred by Hans and Evert-Jan Eijerkamp and entered by Ton De Kovel from the Netherlands. No fewer than seven countries featured in the top 10 positions and 10 countries scored within the top 20.
On Sunday, 26 January 2014, the first 100 pigeons back from the final will be auctioned at Linbro Park.
For more information, visit to the SAMDPR website at www.scmdpr.com.