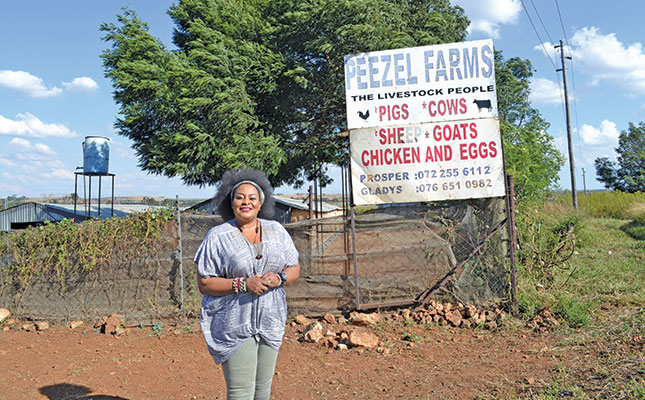 The littered, potholed municipal road leading to Gladys 'Nana' Towbola's farm near Irene, Gauteng, could not be in sharper contrast to the smoothly run small-scale poultry operation and its dynamic owner.
Towbola was born in Nigeria 44 years ago, but has called South Africa home for the past 32 years. For the past 13 of those she has been running her poultry business, Peezel Farms, where she sells day-old chicks, broilers and eggs. She has also trained over 500 small-scale farmers.
"In the 1980s, my father, who's a gynaecologist, was invited to open a practice in South Africa, and the family moved here," she explains.
READ Poultry: choose the right bedding for better broilers
After matriculating, Towbola obtained a degree in Animal Science at Canterbury University in Christchurch, New Zealand, and also completed a few courses in business management. An entrepreneur by nature, she went on to run several small businesses such as a hair salon and an Internet café, while simultaneously starting a family.
Her passion for agriculture never left her, however, and in 2009, she finally received her chance to begin farming when her husband, Prosper Momabahgan, bought the land near Irene for her.
"I received no government support and I believe this was one of the reasons I succeeded. I had to work hard for everything I have today."
She does, however, enjoy excellent support from her husband, who is lecturer of electrical engineering at the Vaal University of Technology and oversees many of the farming activities for her.
"This helps free me up to host workshops for other small-scale growers every two to three weeks."
Though poultry production is Peezel Farms' main focus, the couple also run a few cattle and goats.
Similarities between broilers and layers
Towbola stresses that there are a number of differences between farming broilers and layers. However, there are also similarities, and it is these that a poultry producer needs to understand first.
"The first thing that's needed for both types of chicken is fertile eggs and it's important to obtain these from a reputable producer. It takes about 21 days for a chick to hatch, so it's important to have the right equipment to [incubate the eggs]," she says.
READ Choosing the right feed for your chickens
Towbola makes use of Poltek for her equipment needs. "They've been very supportive of my business and truly are one of the only companies I've found that really caters for small growers' specific needs."
All the chicks have to be vaccinated within a day of hatching. Broilers and layers are vaccinated for Gumboro and infectious bronchitis, while layers are also vaccinated for Marek's disease.
"Last year, South Africa was hit very hard by avian influenza. This showed the importance of vaccinations," says Towbola.
Once the chicks have hatched, they are placed in brooders. "It's a good idea to have separate, smaller brooders, as this makes it easier to manage the birds," she says.
The temperature in the brooding area has to be regulated and the floor covered with wood shavings. There should also be enough feed in the feeders and ample water (as well as any medicine that is required) at the drinking stations.
Broilers and layers require a comfortable temperature, but the former are more demanding in this respect.
"Over the years, people have bred broilers to gain weight in the shortest possible time. Unfortunately, the downside of this is that they're unable to regulate their own body heat during the first two weeks. Heat helps improve the chickens' overall well-being, which includes skeletal development," says Towbola.
The first difference between these two poultry types that farmers need to focus on is feed. Broilers and layers each require a diet specifically formulated for how the birds are utilised. The former, for example, needs to grow rapidly.
READ Broiler producer uses her position to uplift others
"Within six weeks, a broiler should be ready for slaughter," says Towbola, adding that this can be achieved by following a simple formula.
"Give the chicks starter feed for two weeks, then grower feed for two weeks, and finally finisher feed for two weeks. There are other ways or formulas that can be used, but I work with this tried-and-trusted, standard way of feeding."
Layers, on the other hand, start laying eggs at 16 to 18 weeks, and the goal of their feeding regime is to keep them in optimal health and ensure strong eggshells. Towbola advises small-scale farmers to buy appropriate commercial feeds and not try to make their own, without the required expertise.
"Feed is expensive and I know farmers can be tempted to mix their own feed. However, it's very difficult to get this right and it's also [a lot of work]. Therefore, I wouldn't recommend going this route."
Broilers
A farmer needs to check his or her broilers and their housing daily, as these birds are highly susceptible to disease.
"Biosecurity is the number one thing to pay attention to […] If you don't follow biosecurity measures, the birds can become sick."
The correct vaccines should also be given in a timely manner.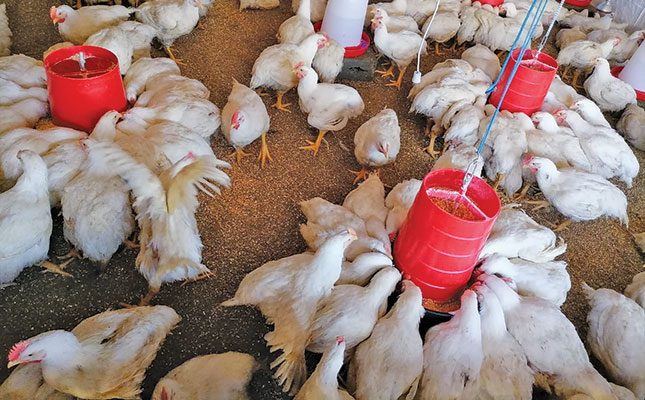 "Most diseases are always there, so it's important to manage them. Vaccinate the birds correctly to keep the flock healthy."
Correct ventilation and general cleanliness are important for the health of the birds.
"Wood shavings should always be clean," Towbola stresses.
She adds that many new small-scale poultry producers fail to realise how important the placement of their broiler houses is.
READ Make money with free-range chickens
"Firstly, you need to ensure that the house is the correct size for the number of birds you have. Then it's important to ensure that it's exposed to enough sunlight.
"You can use a corrugated iron or a brick house, but remember that a structure that gets too hot will be detrimental to the chickens' health."
Towbola cautions that wild birds can introduce diseases and predators can be a threat. The farmer should therefore ensure that nothing is able to enter the chicken house. "No birds, snakes or rats. All of these animals can bring real harm to your farm."
As mentioned, broilers should reach their ideal weight in six weeks. On a large broiler farm, this would be the time that a broiler is sent to the abattoir for slaughter, while a small-scale producer is more likely to sell the birds live.
"Alternatively, many small-scale growers slaughter the chickens themselves." Towbola prefers selling live chickens, as few of her customers have the luxury of cold storage.
"I used to sell the majority of my chickens in Tembisa. People quickly came to know the chicken lady in the white bakkie!"
Today, she targets shisa nyamas, households, taxi ranks and pensioners, and advises other small-scale poultry farmers to do the same. Farmers should be realistic about the selling price, she stresses.
"When considering all the costs, it's very expensive for a small grower to raise a broiler. Last year, it cost me R40 to grow a chicken. Currently, it costs between R45 and R50."
Inputs include feed, vaccines, fuel, labour, electricity, and water costs.
"When purchasing vaccines, you'll have to buy enough for at least 1 000 birds. If you only have 500, the rest of the doses will have to be thrown away. Misuse of a vaccine renders it ineffective."
She warns farmers not to underestimate the electricity they will use. "I was shocked when I raised my first batch of broilers. It cost me R2 500 to keep them warm for two weeks."
Towbola says customers are bound to question the selling price of a chicken, but the farmer should keep his or her own profits in mind.
Layers
One of the first actions that a layer producer has to take is to sex the birds. Unfortunately, warns Towbola, male chicks have little commercial value. While farmers can dispose of these chicks, Towbola has a piece of land where she rears her male chicks as naturally as possible.
They are allowed to roam freely and, rather than being given bought-in feed, forage on whatever they manage to find. They are also given no medication, apart from the vaccines administered on the first day. They are sold live for consumption to the same set of customers as the broilers, but marketed as naturally raised, free-range chickens.
"It's a very niche market, however, so I wouldn't recommend this as common practice. I'm fortunate to be able to do it."
As layers can live for more than two years, they require many more doses of vaccine than broilers do.
"A layer can produce eggs for 72 weeks, so it's really worth the extra effort," says Towbola.
However, as mentioned, it takes up to 18 weeks for a layer to start producing eggs.
"This is a long time and a farmer might decide not to vaccinate due to the cost. It can easily cost you R1 600 to vaccinate 1 000 birds against Mycoplasma.
"And remember, there are no smaller quantities of vaccination doses available: a 1 000-bird supply is the minimum order.
"If you wish to farm layers in a conventional way, you will also need to invest in a conventional caging system. "Alternatively, you could opt for either a free-range or a semi-free-range nesting system, which enable the birds to wander around outside. "However, [you] should then not give your layers genetically modified feeds or vaccines [to maintain the free-range standard]. Birds can be kept healthy with the correct herbs in their water."
Towbola says there is a niche market that is willing to pay a premium for these eggs,
but admits that it is not a cheap farming operation to start.
"It'll cost you around R4 000 to get approximately 96 hens into production. However, once the operation is functioning, it can be quite profitable."
Email Nana Towbola at [email protected].