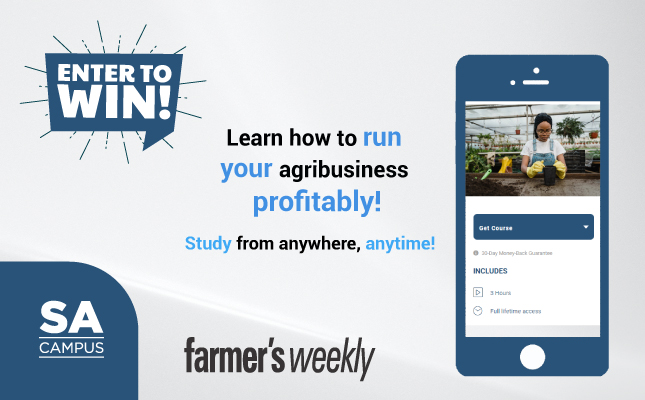 [Competition is closed!]
To stand a chance to win, fill in your details below to be entered into the draw:
Competition terms and conditions
The competition runs from 1 to 31 August 2022.
The competition is only open to South African citizens who are 16 years and older.
Entries are limited to one per person.
The prize is limited to the predetermined SA Campus Online Course of the month.
The prize must be used within 12 months from the issue date.
The prize may not be resold or exchanged/refunded for cash.
The judges' decision is final, and no correspondence will be entered into.
The course will be presented online.
The prize does not include a device and/or data to view/complete the course.
Upon completion of the, learners will receive an SA Campus Certificate of Completion. If the learners wish to complete the course through SETA, they can contact SA Campus directly; learners will be responsible for the costs involved in SETA accreditation.
Employees of the promoter, partners, directors, members, as well as their spouses, life partners, children, siblings, or associates are not eligible to enter or participate in this competition.
The promoter shall not be liable if they are unable to contact any of the winners after three (3) attempts made within three (3) working days of their name being drawn, for whatever reason, including incorrect entry steps followed, incorrect contact details, inoperative telephone numbers, or no answer. Such winners will be disqualified, and new winners will be drawn from the eligible entries.
In the event that the competition is cancelled or suspended, all participants/entrants agree to waive any rights that they may have in terms of the competition and acknowledge that they have no recourse against the promoter, their employees, agents, partners, suppliers or sponsors.
All queries in connection with the competition should be directed to Farmer's Weekly's head office on 010 971 3765 or email

[email protected]

.
By participating in this competition, participants give Farmer's Weekly and SA Campus the consent to publish and/or use any and/or all content submitted. This excludes personal information, as per the POPI Act.
About the course
The online 'Running your agribusiness profitably' course can be completed at your own pace.
The course includes three hours of video content, for which you will need a device with an Internet connection, such as a cell phone, tablet or computer.
Upon completion of the course, learners will have gained an understanding of the importance of applying business principles to agricultural production, with specific reference to inputs, sourcing and resources.
Learners will also have garnered the knowledge and skills necessary to move from subsistence to commercial farming, and will be able to run their operations as businesses.
What you will learn:
Store inputs;
Production management;
The importance of marketing your farming enterprise;
The principles of HR in agribusinesses;
How to choose the best cultivar for your enterprise and plan accordingly;
Understanding your expenditure and income to ensure profitability and future forecast planning.
More on SA Campus
SA Campus is an education and training company with a highly experienced team dedicated to bringing about transformation through higher education and training. Online studies are designed for students whose scheduling commitments would otherwise make it difficult to enrol in a full-time higher education programme.
SA Campus offers individual courses, diplomas, associate degrees and certificate programmes through online studies. The content of the course material is carefully selected from reputable developers and institutions.
For more information on available courses, click here: sacampusonline.com