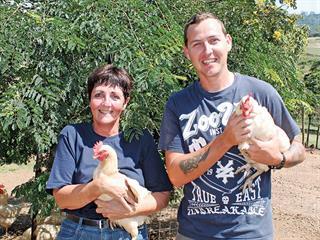 As consumers are becoming more concerned with the humane production of animal by-products, Felicity Vonmoos, a chicken farmer in KwaZulu-Natal, produces free-range eggs to meet this growing demand.
Felicity  can sit down in any of her eight houses of older free-range layer chickens and before long birds are jostling to perch on her head, shoulders and lap. And she is not handing out treats – the chickens appear to seek her company.
"My aim is to have my layers as comfortable and happy as possible during their productive lives here," says Felicity.
"If you look after them, they give you very few problems. I'm rewarded with calm, unstressed birds that produce the eggs I want."
Sunshine Farm is a 4ha smallholding in Drummond, KwaZulu-Natal. Felicity and her husband Peter bought the property in August 1996.
After generating her own income by producing, processing and marketing 1 000 broilers every six weeks from 1996 until 2002, Felicity grew disillusioned with what she describes as repeatedly "getting cute yellow balls of fluff and then having to slaughter them six weeks later".
Free-range eggs
Looking for a less distressing income-generating enterprise, Felicity conducted a small-scale trial producing free-range eggs from 25 layers that she bought from the late Mike Humphries, a neighbouring commercial egg producer.
READ: Free-range layers – at home in a trailer
The trial was successful and she was so impressed with the egg production of her small group of layer hens that she and Peter immediately set about converting the existing 22m x 9m broiler shed into two equal-sized houses for her 6 500 Hyline layers. These consist of 6 000 brown and 500 silver-brown layers.
"To make sure our layers would have proper free-range conditions, we constructed pop holes along one side of the shed.
This allowed them to have voluntary access during daylight to either the inside of the houses or to the fenced outside yards," she recalls.
Her first layer shed, together with the two more added as the business grew, is open-sided, with the ventilation controlled by manually adjusting the height of the canvas curtains running the length of each side of the shed.
The farm does not utilise artificial lighting to stimulate egg production. Instead, in keeping with her philosophy of keeping her layers as unstressed as possible, the birds are subjected to natural light cycles. Layers are enclosed in a house from sunset to sunrise as protection from predators.
"The fenced outdoor area for each of the eight layer houses across the three sheds is where the chickens can take dust baths, scratch in the dirt for grass cuttings and other plant foods that we provide, lie in the shade, or perch in the trees and shrubs. We're just letting them do the things that chickens like to naturally do," says Felicity.
While she is intent on keeping her chickens comfortable, she, farm manager Nick Joubert and the farm's eight general workers still have a business to run.
This involves sourcing and settling a flock of up to 850 18-week-old point-of-lay pullets into a house two to four times a year. Until they are at point-of-lay, the 6 000 Hy-Line brown birds on the farm at any given time are reared by Rodney Smith of Drumnadrochit Farm at Balgowan.
Felicity buys her Hy-Line silver-brown birds from the KZN Poultry Institute on the outskirts of Pietermaritzburg, not for any particular reason other than because they are from the institute.
"I like getting the majority of my point-of-lay birds from Rodney as he rears them on the floor of a barn. This allows the birds an easy transition to the free-range housing and production system that we have," she says.
Felicity pays about R70 for each pullet and a flock will arrive having been given a comprehensive range of vaccinations.
"Some of the important diseases that Rodney vaccinates our pullets for include infectious bursal disease, Newcastle disease, infectious bronchitis, fowl pox, and avian influenza," she explains.
Nick says that a delivery of point-of-lay pullets arrives to a cleaned house, with the concrete floor covered in a 15cm to 20cm layer of wood shavings. There are 50 nest boxes in each house in which the birds can lay their eggs and from which the eggs can be easily and regularly collected by the farm employee responsible for overseeing the well-being and smooth running of that particular house.
Optimum nutrition
Unlike most commercial egg production businesses that use a specific feed ration formulated for a particular phase of a layer flock's productive life, Sunshine Farm feeds one type of ration across all its flocks, irrespective of their age and productivity.
"This is not only because we have one bulk feed storage tank, but because we want the birds to have the best nutrition possible throughout their lives," he says. "It's not necessarily the most cost-effective idea but it's the simplest for our set-up and the price of our layer ration is not much more than the prices of other rations that we've seen."
Layers are fed Afgri Animal Feeds's Optilay 40 ration, with the farm going through about 12t of feed every 18 days, at a current total cost of approximately R43 000 per delivery. "Our layers are fed three times a day at 6am, 10.30 am and 3pm," says Felicity. "This was on the advice of Dave Spark, technical advisor with Afgri Animal Feeds and one of our key go-to people for advice on managing our business optimally.
READ: Get layer hen feeding right
"Each house's overseer collects the feed ration from the bulk storage tank and transports it to the house. The feed is poured manually into the hanging feeders. "We never allow the feed to run out, and aim for each bird to get a minimum of 160g of feed daily," explains Felicity.
This is more than a battery egg business typically feeds its layers, because the birds are free-range and thus more active, requiring enough nutrition to cover both their exercise and optimal egg production requirements, says Felicity.
Managing egg production
Felicity and Nick aim to have each of their 850-hen houses producing a minimum of 750 eggs daily for at least 18 months from when a point-of-lay flock arrives on the farm. Although a house overseer collects eggs constantly during daylight hours, peak laying time is within three hours after sunrise. Eggs must be collected as soon as possible after being laid to ensure they are not damaged by other hens entering the nest box.
READ: Good management: key to poultry farming success
Felicity keeps detailed records of each flock's egg production. If a flock is underperforming, she will investigate the birds' health and the management practices in their house and take action to correct the problem. "While it's expected that a flock's egg production will slowly start to taper off from 22 months, we have had the odd flock that has maintained economically viable egg production until 36 months," she says.
"Once a flock's egg production drops to 50% of peak production it becomes economically unviable to keep the flock. It will then be sold live to one of our regular buyers." Sunshine Farm is inspected regularly by the Department of Agriculture, Forestry and Fisheries's inspection services based in Durban. Random eggs are sampled and tested for weight accuracy, shell quality, yolk and albumen quality and cleanliness. Felicity is proud of the fact that the farm always receives good reports from these inspections.
Healthy hens
Having been a free-range egg farmer since 2002, Felicity is no stranger to some of the unpleasant realities of livestock farming. These include pest and disease challenges, potential egg breaks in the oviduct and culling when a flock is no longer economically viable. With their good rearing, comprehensive vaccinations, generous feed ration, and low-stress living and production conditions, it is perhaps not surprising that Felicity sees relatively few significant health problems in her flock.
Zanele Khumalo and his colleagues on Sunshine Farm ensure that the free-range layers regularly get greens, such as chopped grass, in their diet.
In case of emergencies, she calls on poultry vet Dr Greg Celliers of The Poultry Practice to identify health problems quickly and recommend effective treatments. Felicity and Nick source treatments from the Pietermaritzburg branch of animal health products company Avipharm, represented by Dean Royden-Turner.
The farm does not blanket-apply broad-spectrum antibiotics through the layer feed. Instead, sick birds are isolated and treated individually. "Dr Celliers regularly takes blood samples randomly from our birds and tests them to generate a general picture of our flocks' health," says Felicity.
"Once a month, through their drinking water, we vaccinate against Newcastle disease and infectious bronchitis. Every three months we deworm the birds too. On hot days of 29°C or more, we add vitamins and electrolytes to the drinking water to help keep the birds hydrated."
Serving a niche market
Although it has been 12 years since she began producing free-range eggs commercially, Felicity is still amazed at how, from day one, word of mouth has been the sole marketing method she has had to depend on. Despite her business growing significantly over the years, Felicity has never been short of buyers for her niche product.
Sunshine Farm's free-range eggs are sold in packs of six, 12, 15, 18 and 30, with each egg weighing between 55g
and 65g. About 5% are outside of this weight range, and pullet eggs weighing 25g to 35g are donated to a local charitable NGO, while jumbo eggs too large for packaging are sold informally to customers on request.
"Nick makes daily egg deliveries to clients in the Mount Edgecombe area just north of Durban, to Glenwood in Durban and then to Pietermaritzburg," says Felicity. "Our client base includes a well-known restaurant supply chain company, a number of upmarket restaurants, health shops, some independent retailers, a chef school, artisanal bakeries and a private school."
According to Felicity, these clients want her eggs because they appreciate the fact that her chickens are free-roaming and comfortable, and because the eggs are guaranteed not to contain antibiotics residues. She adds that some literature suggests that free-range eggs are healthier to eat, and this may also be a reason her eggs are in demand.
"Even though many people expect us to, we don't specifically charge a significant premium on our free-range eggs. I just can't justify it. At what we currently charge for our eggs, we're able to cover all of our production costs and still make a worthwhile profit, and that's all I need."
She says it has required patience, hard work and shrewd use of business income to get her commercial free-range eggs business to where it is now. She thoroughly enjoys what she does, especially the aspect of working with her layer hens.
"They're such lovely creatures. They ask for so little but give so much in return."
Email Felicity Vonmoos at [email protected].