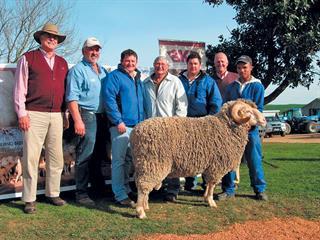 Heidelberg – The third annual production sale of Goedeverwagting Merino Stud was held on 19 July. The offer consisted of 55 rams, of which 48 were sold.
The highest-priced ram was sold to Sinon de Jager, Boetie de Jager, Lollie de Jager and Andries Pienaar for R40 000, and the average price was R7 958.
The sale was conducted by BKB Western Cape, with Appie Maritz as the auctioneer.