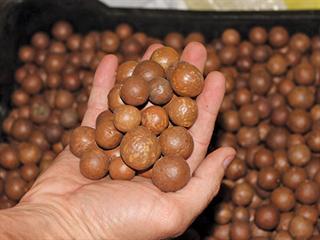 A posting on the World Trade Organisation's website in the late 1990s predicting that the nut industry would be the fastest-growing food industry in the next 10 years caught Alan Sutton's attention. "In 2001 I decided to invest in a macadamia nuts in Hazyview," he recalls. "I always knew I would get into farming. I just had to identify the right industry." We look at how Macadamia nuts are a growing market.
READ: How teamwork works for KZN's macadamia growers
Macadamia nuts are a growing market in South Africa
Today, Sutton Crest Macadamia Farms has 204ha under macadamia orchards. Alan is also managing director of Sabie Valley Macadamias (SVM), which can process about 12 000t nuts per season. Adding value and achieving a greater degree of vertical integration is essential if someone is to become a player in the industry, says Alan.
"This industry takes grit and determination because you wait seven years for a return on your investment. "But if you can stick it out, you'll never be sorry." The macadamia industry is relatively new to South Africa, but Macadamia nuts are a growing market in South Africa, with the first orchard planted in 1965. But Alan says it has now come into its own and is poised for prosperity. "We're seeing a global market growth of 33% per year, and an insatiable global market makes for attractive prices," he adds.
Processing
The processing season at SVM runs from May, when nuts from 149 growers start arriving at the plant, to September. The nuts are dehusked on the farm and dried at SVM to a 1,5% moisture content. In all, this process takes seven days. Nuts from each orchard are kept in separate batches throughout processing and marketing to ensure traceability.
Pieter du Preez, SVM's procurement officer, explains that the crack-out rate (the percentage of edible kernel retrieved from the nut) depends on the variety and the moisture content of the nut when cracked.

Alan Sutton
For example, while Variety 791 bears throughout the year, the crack-out percentage is not great. Variety 816 has a very high crack-out rate, but it takes three to four years longer to match the production of Beaumont. A crack-out sheet is compiled for each batch of nuts that comes into the plant. A random sample is then sent to the laboratory for testing to predict the crack-out rate for the batch.
"If the laboratory shows that I should be getting a certain crack-out rate and the processed batch does not match this rate, I go back to the processing plant to see what went wrong," explains Pieter. "The plant's efficiency is crucial, as a farmer is paid according to the crack-out rate as determined in the lab. It's a more equitable payment method for the farmer, who's not penalised for the plant's inefficiency in cracking his nuts."
The average crack-out rate is 30% to 34%, and is achieved by around 70% of the farmers delivering to SVM. The national average is 27,6%. The average yield of the SVM farms is 4t/ha and 14kg/tree dry nut in shell.
The nuts are sorted according to the quality and size of the kernel. While there's a demand for whole nuts in shell in China, European markets want whole shelled nuts, and the USA prefers crushed nuts to use in confectionery.
Some 80% of SVM's produce is exported to China; the balance is split equally between Europe and the USA. As nut prices are quoted in US$, a weaker exchange rate greatly favours macadamia producers. On the day SVM is paid, an immediate
transfer to the farmer ensures payment based on the exchange rate for that day. Typically a farmer is paid for his crop within 35 working days of delivery.
SVM is exploring alternative energy generation, since it currently depends on Eskom power. "At an average crack-out rate of 30%, we have 70% waste in the form of shells," says Pieter. "This equates to about 700t of shells per season that we could burn to generate electricity."
Industry prospects
The price of macadamia nuts has risen drastically over the past year proving that Macadamia nuts are a growing market. Martin van der Merwe, non-executive director of SVM, says the Chinese market has opened up, while Australia had a poor harvest last year that reduced the supply.
"The prices for kernel across the style sheet went from around US$12/kg in 2012 to about US$16/kg in 2013. "In 2014, South Africa will surpass Australia as the largest global supplier of macadamias," adds Martin.
"Last year this country produced 37 000t of macadamias. We anticipate that this will double during the next five years, as the local industry has been growing by about 8% a year since 2009." Although China also plants macadamias, at 17 000t/season local demand far outweighs production. As with all other commodities, China is hungry for macadamias.
Malawi, Kenya and Australia are South Africa's main competitors. Currently SA's quality surpasses that of the African countries, but Martin say it's only a matter of time before macadamia quality in Malawi and Kenya catches up. Local processing capacity currently outweighs supply, and the industry is geared for expansion.
"Current processing capacity will be sufficient to deal with the supply in five years' time when South Africa produces 70 000t," predicts Pieter.
Martin explains that the macadamia nuts are a growing market and as such provide an attractive investment opportunity because it's an easy crop to deal with. It's not alternate bearing, has a low labour requirement (about 0,4 seasonal workers/ha) and farmers get a return on their investment in about five to seven years. "Avocados come close to meeting the profitability of macadamias, while citrus is way behind."
Pieter adds that macadamias' water requirement is lower than that of bananas, with the dripper set to 28mm a week. The orchards can also be dryland. Mechanisation is possible, "but it's not an easy transition," says Martin. "The land must
be level, which is not typical for our orchards. And only extensive orchards can justify the expense."
Pests in the orchards are limited, the main culprit being stinkbug. "Research and development of control methods have increased substantially over the past four years so this pest is being controlled," says Tommy Moore, field extension officer at SVM. "About six sprayings per season is enough." He says the main constraint in the macadamia nut industry is the long wait for return on investment.
"It costs about R100 000/ha to establish an orchard. This means a farmer must have a cash crop to see him through in the meantime." The high demand for rootstock has farmers wanting to expand their orchards on a two-year waiting list. For this reason Sutton Crest Farms has established its own nursery to supply new trees.
Land availability for macadamias could also constrain the industry. "Macadamias can be grown anywhere, but high production needs a specific climate. And not many areas in SA are optimal," explains Pieter.
Emerging farmers
Martin notes that macadamia nuts are a growing market and as such are a good crop for emerging farmers, provided they have a cash crop to generate income before the orchards start bearing. "Local supermarkets are eager to help emerging farmers and offer support to these growers," he says. "The prospects for the industry are endless. But we need more entrepreneurs who are willing to take the risk and make the investment."
Contact SVM at [email protected] or visit www.svmd.co.za