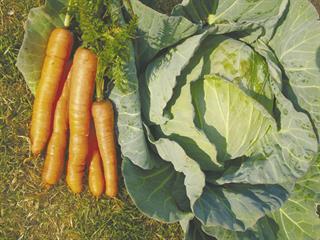 Recent claims maintain there is no benefit in organic produce, either in taste or nutritionally, and that also depends. I've seen results of surveys from North America and France that tested the nutritional content of dozens of samples of organic vegetables against those of the conventional product.
These found that organically produced vegetables were around 40% higher in nutrients than conventionally produced vegetables. But in noteworthy exceptions, produce from certain individuals scored substantially below that of conventional produce. It's very logical. Plants reflect the soil's nutritional content and balance. In certain regions of the world, specific elements are in short supply in the soil and this affects the animals that eat the vegetation.
A classic example is abnormalities in wool and bone structure in sheep-grazing areas where the copper level of the soil is low. Eventually, the cause was discovered and corrected.Legislation on producing organic vegetables stipulates neither the organic content of the soil nor the nutrients applied, provided they fall under organic classification. The mineral content of such soils can also be way out of balance and may be very difficult to rectify organically. This causes some organic producers to have a product that's comparatively deficient in nutrients.
A barren, gravely soil with an organic matter below 0,5% can immediately be classified as organic if no prohibited chemicals have been applied for three years and only certified organic fertiliser is used. Its produce will be hugely different from that of a neighbour with soil with 5% humus and the desired balance of minerals. The mineral content, both in volume and range, of properly grown organic produce would be different, as would the phytonutrients our bodies need to fight disease.
The taste would also be vastly different, as I experienced first-hand on transforming my soil. A thorough soil test will check volumes and balances, as even a low sulphur content can have a detrimental effect on taste.Where does this leave us in the face of skewed surveys? It boils down to the fact that there are differences in the quality of organic produce, and that we have to look after ourselves and produce a product that will taste better and have a longer shelf life. In other words, brand marketing, but still under the organic label.
We should challenge our customers to spot the difference between organically and conventionally grown vegetables – other than not containing banned chemicals. We need to mention on the label that the product has been produced in soil with a high organic content and a well-balanced mineral content.
Organic produce is more expensive. When the general public thinks that it's no better, a huge advantage is lost. Organic production is best done under the no-till system, especially where mulch is used. Done correctly, organic produce can even be cheaper to produce than conventionally grown produce.
Larger producers who are confident of their produce can have its nutritional value tested against produce randomly sourced from the market by an independent person and make the results known in the local press. This is good, long-lasting advertising when accompanied by a story explaining the benefits and methods understandable to the consumer. If it's better, it must be seen as better . |fw