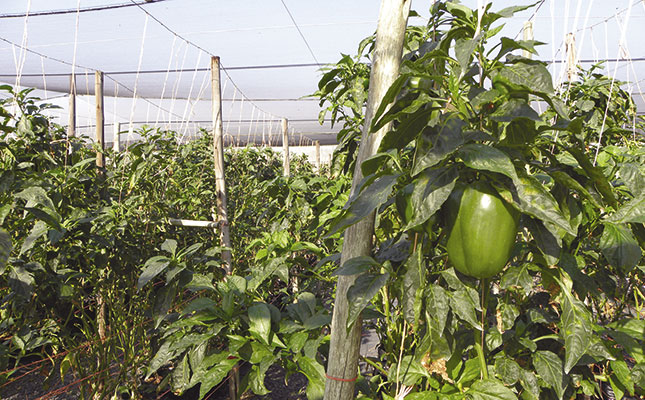 Today, Charles Farming produces between 450 000 and 500 000 a year by tunnel farming with cucumbers, but when they were first shown the 2,2ha plot in Margate, Lewis Alcock thought the estate agent was crazy. For 16 years Lewis had rented a 600ha mixed farm in Underberg and now, with a young family to support, he was looking to strike out on his own. But not only was coastal property far from the brief he'd given the agent, it was also a tunnel farm. "I thought tunnel farming was for the lunatic fringe," laughs Lewis.
READ: Cucumbers save the day
Tunnel farming with cucumbers, methods for a successful harvest
Now, 11 years later, after a lot of trial and error and a paradigm shift or two, he and his wife Charmaine are more than happy to be counted as a member of that 'lunatic fringe' that has made a success with tunnel farming with cucumbers."Even though this is an intensive farm, it's far less stressful than running a mixed farming operation," he explains. "I can leave the farm without worrying that something major might go wrong in my absence."

Financial benefits
"Financially, it has proven to be a good move, although vegetable growing is a fickle game," says Lewis. "When prices are good, everyone jumps in and the prices drop. There have been times when the petrol and fertiliser prices were so high we thought we couldn't carry on."Over the years, Charlew Farming has grown to 3ha and they've increased the number of their 8m x 30m tunnels from 25 to 45.

Lewis and Charmaine Alcock
"We're very conservative in our spending, but I don't believe in stagnation. We've grown slowly. And when we expand, we try not to increase the labour too much or it'll erode the financial benefit," says Lewis.Their main crop is cucumbers, with one tunnel of brinjals and three of peppers. Some 60% of the cucumbers are sold on municipal markets in Durban and Pietermaritzburg, with the balance going to retailers on the South Coast.
"Cucumbers grown in tunnels offer good cash flow, as they can be planted and picked all year round," says Lewis. "It's a quick turnover, unlike peppers or brinjals which grow for a year. We really grow those crops just to offer customers a wider basket of goods, and to help with cash flow when the cucumber price falls."

Trial and error
Lewis has learnt how to tweak plantings to get them to market at peak times. "The market always crashes in January and February, so we might pull out tunnels early to ensure the new crop is ready for Christmas, Easter and July peaks. But sometimes we get it wrong, or everyone comes to the market at the same time, and we all fall flat on our faces," he explains.
Charmaine has smoothed out the business's transition from mixed farm to tunnel farming for cucumbers. With a science degree under her belt, and several years of experience as an extension officer, she put in place scientific variety trials from day one."In the beginning, we didn't know what varieties performed well on our farm," she recalls.
"Over the years we've singled out the good performers and weeded out the bad. "We're now working off such a high base that the varieties we use realise 90% of their yield potential. We're constantly running trials for seed companies, but to take a new variety into commercial production, it has to outperform the existing top varieties."

The grafting experience
Fusarium wilt is a serious problem and can kill off more than 50% of plants. But two years ago the Alcocks ran trials with grafted seedlings from Hishtil SA in Mooketsi, using the scion of a high-yielding commercial variety and vigorous rootstock which offered better disease resistance.
Now it's a whole new ball game," says Charmaine. "Compatibility between the rootstock and the scion is essential for success as not all genetic matches work. We're taking it slow and constantly running trials. "We're looking at two parts of the plant. We graft the scions that have performed best on rootstocks that offer Fusarium protection. We need repeatable results.

Healthy young cucumbers planted into a growing medium of pine shavings.
At R4/cucumber to R6/cucumber, a bad cultivar choice can cost us R5 000 in lost yield." This is only the second year the Alcocks have been using them, but already 50% of their seedlings are grafted. "As soon as the cucumbers came under load or were stressed, from about the fourth or fifth week, the Fusarium would kill the plants," says Charmaine.
"With grafted cucumbers, we get a more vigorous plant and, because of the strong root systems, we're picking for longer and replanting less often. "The grafted cucumbers yield 13 to 15 cucumbers per plant – at least two more than a regular plant. This pays for the extra cost of the grafted seedling. And we've reduced Fusarium mortalities by 90%."
In the Alcocks' case of tunnel farming with cucumbers, the economy of grafted seedlings is further improved by clipping the seedling so that it produces two stems instead of one. A standard tunnel houses 455 plants, planted at a density of 1,9/m2. With grafted seedlings with two stems, the Alcocks can reduce the plant population to 1,4/m2.
"We reduce the plant population by a third to save on the seedling costs, " explains Lewis. "Fewer plants mean fewer bags. The grafted plant is far stronger and can grow two stems in summer, although only one stem is used in winter.Now it's a question of getting production up to convince the Alcocks that grafting is worth the cost and extra effort. "It'll take time," says Lewis.
This article was originally published in the 03 September 2010 issue of Farmers Weekly.