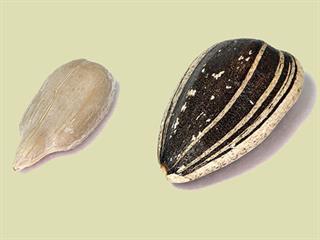 The sunflower has a finely branched and extensive root system. This enables the roots to come into contact with nutrients that cannot be utilised by other crops. For this reason, sunflower tends to use soil nutrients better than grain crops. Sunflower normally reacts well to nitrogen and phosphorus fertilisation where these elements are in short supply in the soil.
A fertilisation programme for sunflower should be based on soil analyses.These will lead to more appropriate fertilisation levels and significantly limit unnecessary fertiliser costs.
Nitrogen
When there is a shortage, the growth rate decreases dramatically, leaves turn pale green and the lower leaves die off. (See Table 1)
Phosphorus
A shortage of phosphorus is characterised by retarded growth. In serious cases, necrosis occurs on the tips of the lower leaves. The optimal soil phosphorus level for sunflower is about 10mg/kg (Ambic 1). This means that phosphorus fertilisation is essential at a level of phosphorus in the soil of below 10mg/kg. (See Table 2)
Potassium
Although sunflower draws a large quantity of potassium from the soil, potassium fertilisation is usually unnecessary. South Africa's soils generally have adequate quantities of this nutrient.
Molybdenum and Boron
A shortage of boron and molybdenum often limits the growth and yield of sunflower in the eastern parts of the country.
To avoid problems with these two elements, apply fertiliser containing boron and ensure that seed is treated with molybdenum. Seed from local companies is usually treated this way. If no soil analysis is available, apply between 50kg/ha and 100kg/ha of a 3:2:1 (25) fertiliser at planting. This is adequate for a yield potential of 1 000kg/ ha to 1 500kg/ha.
Source: Directorate Agricultural Information Services, department of agriculture, in co-operation with the ARC-Grain Crops Institute.