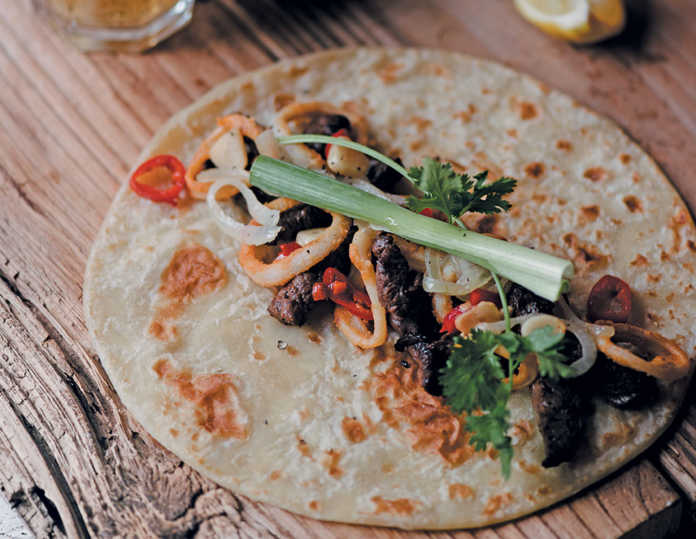 To make 4 beef and seafood roti wraps, you will need:
250g calamari rings
350g lean rump steak
1 large red chilli
1 onion
2 spring onions
3 cloves of garlic
1 teaspoon of Thai or Vietnamese fish sauce
2 lemons
4 sprigs of fresh dhania (coriander)
For the rotis:
400g cake flour
250g maize meal
200ml warm water
Serious pinch of salt
Start with the rotis. You can, of course, buy frozen rotis, which cuts down on labour, but fresh is best.
To make fresh rotis, combine the sifted dry ingredients and mix well. Add the warm water in small quantities, mixing as you go. Knead the fresh dough for five minutes, then break the mass into six equal balls, which you roll out into a thinnish circle.
Fry these one at a time in canola oil, turning once. Remove and store between greaseproof paper for later in the proceedings.
Filling time. Crush, peel and mince the garlic. Peel and thinly slice the onion. Remove the roots of the spring onions and then carefully – a spot of finesse required here – cut each in half along its entire length.
Chop the chilli, dumping the seeds if you prefer a flavour accent rather than an oral veld fire.
Discard the fat from the rump and cut the remainder into strips 5mm thick. Uniformity in thickness ensures even cooking.
Thaw and drain the calamari. Select a large, heavy-based frying pan, pour in 30ml of canola oil and gently fry the garlic, onion and chilli until the onion is soft and golden. Tip the contents into a bowl, cover, and reserve.
Add a little extra oil to the same frying pan, and rapidly fry the calamari rings for two minutes, no longer. Swiftly remove them from the heat with a slotted spoon and reserve under cover.
In the same pan, stir-fry the beef strips for 60 seconds, then add the cooked calamari, onion, garlic and chilli mixture.
Stir well to evenly distribute the cooked ingredients, then remove at once from the heat to a covered bowl on the counter. Drizzle in the fish sauce and stir it in.
Arrange a hot roti on each plate, then spoon a generous quantity of the beef and seafood mixture into the middle.
Lay a half spring onion across the contents, squeeze a quarter lemon over it and sprinkle a little black pepper. A sprig of fresh dhania completes the contents of the wrap.
Carefully roll the stuffed roti into a thick cigar shape, and cut it diagonally in two pieces.
Just before serving, open the beer, which, ideally, should be an ultra-cooled pilsener.
David Basckin is a freelance journalist and videographer.