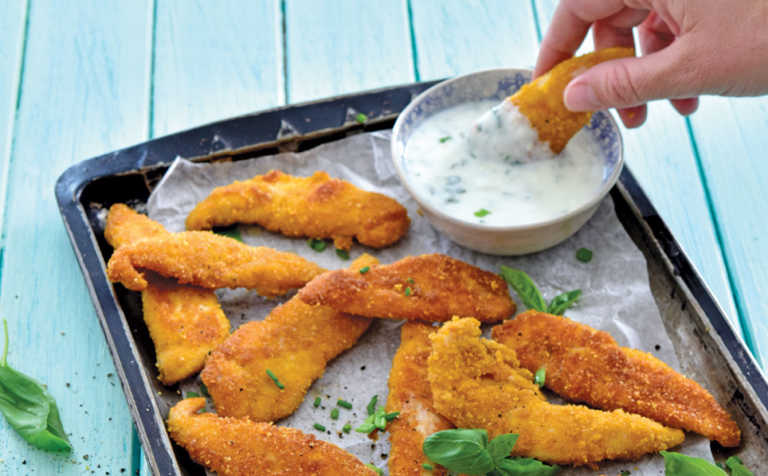 To make a batch of chicken tenderloins and dip, you will need:
For the tenderloins:
700g chicken tenderloins
45ml extra-virgin olive oil
1 cup plain flour
2 cups breadcrumbs
2 eggs
1 teaspoon freshly ground cumin
1 teaspoon paprika
Salt and coarse-ground black pepper to taste
For the dip:
350ml plain yoghurt
2 cloves garlic
½ cup chopped chives
½ cup chopped basil
30ml lemon juice
Salt and coarse-ground black pepper to taste
1 We begin with the dip. Chop the fresh chives and basil ultra-finely. Peel and grate the
garlic. Squeeze the lemon and strain out the pips. Combine everything on the ingredient list and stir well. Adjust the seasoning with salt and coarsely ground black pepper to taste. Cover the bowl with clingwrap and chill it in the fridge until the tenderloins are ready to serve.
2 Set the oven to 230°C. Combine the freshly ground cumin, paprika powder and flour, as well as a little salt and black pepper, in a wide-mouthed bowl. In a second bowl, lightly beat the eggs, then season with a little salt and black pepper. In a third bowl, pour in the breadcrumbs.
3 Line a large roasting dish with foil. Using your hands, dip the raw tenderloins a few at a time, first in the flour and spice bowl, then in the raw egg, and finally in the breadcrumbs. In each case, shake off the excess before proceeding.
4 Arrange the crumbed tenderloins in one layer on the foil-lined roasting dish. Lightly drizzle with the extravirgin olive oil before roasting in the oven. Be vigilant! As soon as the tenderloins begin to darken after seven minutes or so, turn them over and let them continue to cook for another seven minutes or until both sides are the same colour.
5 Plate the tenderloins on a large server and serve with the dip. Feel free to double or triple the quantities if the occasion demands. Take care to maintain all ratios and proportions if you do so.
David Basckin is a freelance journalist and videographer.