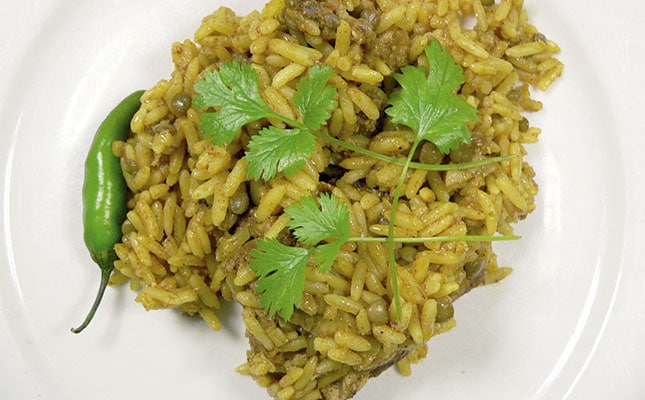 To make a classic Durban chicken breyani for four, you will need:
400g fresh chicken
4 cups white rice
4 tomatoes
4 onions
50mm section fresh root ginger
3 to 6 cloves fresh garlic
1 curry leaf sprig
½ cup fresh dhania (coriander) leaves
1 or 2 tablespoons freshly packed curry powder
1 can brown lentils
Curry powder? What the hell is curry powder? I put it to my fellow curry fanatics that the term "curry powder" hides a multitude of sins.
Many new cooks regard a curry as a good basic stew to which a couple of tablespoons of yellow patented dust sold in a tin is thrown it at the last minute.
This is bad, bad stuff. Don't do it. Real curry cooks mix their own masala.
But this is meant to be a quick meal, easy to prepare. Hence the curry powder in my list of ingredients. It's the rare supermarket that doesn't carry a range of KZN spices, usually packed in small plastic bags. Buy the minimum each time as costs are low and shelf life, once opened, very limited.
Moving on: boil the rice in lightly salted water for the time indicated on the packet. Drain, cover and reserve. You've got two choices when it comes to the chicken. Either cut the fowl through the bone into small sections, or select breast meat only, free of bone and skin. Bone marrow adds flavour while chicken skin makes its way slowly to your hips and upper thighs.
You decide.
Crush, peel and finely chop the garlic and fresh ginger. Peel and thinly slice the onions. Blanch, peel and coarsely chop the tomatoes.
Pour a little sunflower or canola oil into a large heavy-based frying pan and stir-fry the garlic and ginger at high heat for 60 seconds.
Reduce the heat to simmer and let the sliced onions fry until soft and translucent. Add the sprig of curry leaves (optional) and the one or two tablespoons of KZN curry powder. Pour in the chopped tomatoes and a cup of canned lentils and stir well.
Add the chicken pieces and let them cook until done. Check from time to time to prevent burning. Add a little extra water or liquid from the canned lentils if needed.
When ready, combine the contents of the frying pan with the boiled rice. Stir well, garnish with fresh coriander leaves and serve to roars of applause.
Note that this basic recipe can be used with prawns, crab sections, mutton and beef instead of chicken.
You'll need little experimentation to discover an ultra-chilled Windhoek lager adds its own magic to the feast