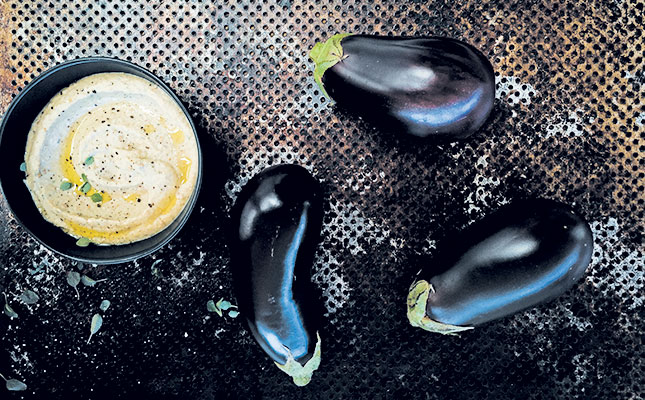 To make Levantine brinjal (baba ganoush) for four of the Middle Eastern fans who love this page, you will need:
4 generous-sized brinjals (aubergines or eggplants) total mass 1,5kg
1 tablespoon extra virgin olive oil
4 tablespoons tahini
5 cloves garlic
Juice of two large lemons
1 tablespoon oregano or majoram leaves
1 tablespoon freshly ground cumin seeds (jeera)
Salt and coarsely ground black pepper
Rice or ultra-thin pasta
Burning fresh brinjals may seem an odd idea. But this alarming process is essential to produce the smokey flavour that every baba ganoush lover wants. Traditionally, this was done over a small charcoal fire, so you can attempt this
on a braai. But here is a simpler, easier-to-control method.
Arrange the fresh brinjals on a rack mounted on a fireproof surface such as a couple a bricks in the garden. With a butane torch, scorch or char the skins of all the brinjals. Try to do this evenly.
Back in the kitchen, preheat the oven to 250°C. Arrange the scorched and lightly charred brinjals on a baking tray, shove this brutally into the hot oven and let them roast for 15 to 20 minutes. Remove, discard the skins and reserve the soft, hot brinjal pulp. Let this cool. In the meantime, crush and peel the garlic, adding a few extra if that is your wish.
Squeeze the lemons and dump the pips.
Lightly and swiftly toast the cumin seeds in a dry frying pan, then grind them to powder.
Next, tahini. This is truly a gift from the divinity of your choice. Made from roasted sesame seeds, it comes in bottles.
If sesame seeds were peanuts, tahini would be peanut butter. Find it at Asian supermarkets or specialist delicatessens. Unless you intend to eat a lot of the stuff, buy the smallest jar you can find and keep it refrigerated once opened. Tahini goes off faster than discount sushi. Give it a stir before use, since it separates in the jar.
In a bowl, mix the tahini, ground cumin and olive oil into a lump-free paste. Pour the scorched, roasted brinjal pulp into a liquidiser, with one tablespoon of lemon juice, the peeled garlic, the fresh oregano or majoram, and the pre-mixed tahini, cumin and olive oil.
Rev the machine to the red line until the contents are a paste. Taste it. Sharp enough? If not, add more fresh lemon juice. Add salt to taste, then sprinkle a couple of fresh origanum leaves as a garnish.
Pour it all into a large bowl and use it as dip or better, a fragrant spread on pita bread, sourdough rolls, naan or even roti.
What's all the fuss about burnt food? It's delicious!
David Basckin is a freelance journalist and videographer