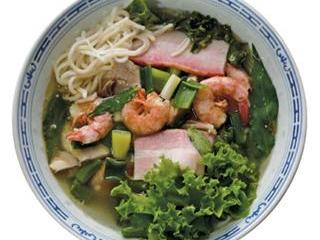 To make this meal for four you will need:
6 cakes of Asian noodles or 500g vermicelli
1 chicken
200g fresh or frozen prawns
150mm fresh root ginger
100g smoked pork belly
1 lettuce
6 spring onions
Peanut oil on demand
1-2 kieffer lime leaves*
10 leaves of Vietnamese mint*


This cooking experience began with a chance meeting at the Karkloof Food Market when I bought a couple of Vietnamese mint plants. The Vietnamese mint, plus the kieffer lime leaves, are unfamiliar but marvellous taste and aroma accents, adding their own special touch to this splendidly over the top meal. Skin the fowl. Place the whole chicken in a large saucepan with sufficient water to cover.
Coarsely chop the ginger, crushing it with the back of a heavy knife. Chop the two carrots and one onion, then add the ginger, carrots and onion to the pot. Let this simmer away for 40 minutes or so, then strain, reserving the ginger accented chicken broth and the boiled fowl for later in the proceedings. Thaw the prawns then cut out and discard the colon. Leave the heads and carapaces in place. Pour two tablespoons of peanut or canola oil into a frying pan, bring up the heat and flash-fry the prawns for a minute on each side. Remove and reserve under cover.
Once the boiled chicken has cooled, remove the meat by hand from the carcass and reserve under cover. Boil 2l of lightly salted water in a saucepan and cook the noodles or pasta for the time suggested on the packet. When ready, drain and keep warm under cover. Assembly time! Bring the chicken broth to the boil in a large saucepan. Add the flash-fried prawns, the pieces of cooked chicken meat, the Vietnamese mint, the kieffer lime leaves and the spring onions which have been coarsely chopped.
In each bowl place a spoonful or two of cooked noodles plus a few fresh lettuce leaves. With a very sharp knife cut thin slices from the smoked pork belly, arranging two or three of these in each serving. Pour the very hot broth, prawns and chicken meat into the bowl. This will wilt the lettuce and allow the pork belly flavours to infuse the serving. Be parsimonious with the pork belly as too much will allow the overly strong smoked flavour to dominate.
Make sure, immediately prior to serving, that each diner has a fair distribution of the prawns and other ingredients. Add a quarter to half a teaspoon of fish sauce to each bowl. Note that the fish sauce and the pork belly are salty in their own right.
This magnificent meal is enhanced by ultra chilled lager or pilsener.
Enjoy.
Contact David Basckin at [email protected]. Please state 'Real cooking' in the subject line of your email.