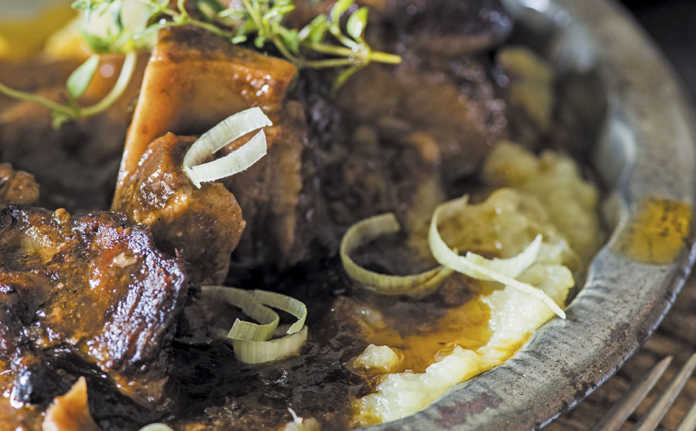 To make slow-cooked oxtail with burnt sugar for four, you will need:
2kg of oxtail
1 can of white butter beans
1 bunch of spring onions
3 tablespoons of brown sugar
2 red onions
6 cloves of garlic
120mm of fresh ginger root
1 big, red chilli
10 allspice berries
3 sprigs of fresh thyme
2 tablespoons of white sugar
1 tablespoon of Worcestershire sauce
3 tablespoons of dark soya sauce
2 tablespoons of flour
3 tablespoons of tomato sauce (not concentrate)
Salt and freshly ground black pepper on demand
1. We begin with the big, red chilli. Do absolutely nothing to it, as it will be used whole.
Peel and chop the garlic, peel and thinly slice the red onions, chop the spring onions, and peel then grate the fresh ginger.
2. Select a large, heavy-based pot with a lid. Bring it up to high heat on the hob, then add the brown sugar. Stir until it melts and emits smoke.
When black (no really, I mean this) stand away from the pot and gingerly pour in two tablespoons of boiling water.
This will react powerfully with the heat and burnt sugar. Take care. Be alert. Stir.
3. Rub salt and pepper into the raw oxtail sections, then add them, about five at a time, to the pot.
Stir while they brown under close supervision, then remove and reserve under cover.
4. Meanwhile, back in the pot, cut the heat to medium, then add half each of the onions, garlic, spring onions and grated ginger, the entire chilli, the sprigs of thyme, and the allspice berries.
Allspice berries may require some searching; mine come in a little bottle with a delicate screw top. Let all these fragrant things cook for five minutes.
5. Return the browned oxtail sections to the pot and pour in sufficient water to cover them.
Cut the heat to a simmer, fit the lid and cook for 60 minutes, breaking for a few moments of stirring.
6. Add the second half of the ginger, garlic and onions, plus the white sugar, and soya and Worcestershire sauces.
Stir, then cook for another 60 minutes or until the meat nearly falls off the bones.
7. Vigorously mix the flour (no lumps!) with 200ml of the stock, then pour this back into the pot with the tomato sauce. Stir and allow to simmer for 15 minutes.
8. Carefully remove and discard the chilli; its work is done. Adjust the salt and pepper, or even better, don't; the first seasoning of the pre-browned raw sections may be enough.
9. Pour in the white beans and let them soak up the heat. Garnish with spring onions and serve with rice or mashed sweet potatoes.
Tuck in!