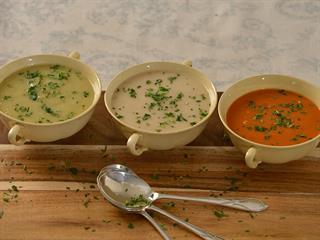 To make three quick soups in three colours for four lunchtime diners, you will need:

Green soup
1l chicken stock
500g shelled peas
3 potatoes
3 bunches dhania
2 onions
3 cloves garlic
1 teaspoon freshly ground jeera (cumin seeds)
Salt and freshly gound black pepper to taste
White soup
1l chicken stock
4 potatoes
6 leeks
3 cloves garlic
A generous pinch of freshly ground nutmeg
Salt and freshly ground black pepper to taste
Cream and finely chopped parsley to garnish
Red soup
1l fresh orange juice
2 cans best quality tomato soup
I grant you that this looks like a hell of a lot of work, but looks are deceiving. What matters is the payoff: an astounding set of tastes all served dramatically in three espresso cups arranged on a standard dinner plate. The guests will be talking about it for weeks, sending your soup selfies to all their friends.
We start with the Red Soup. This is made of equal quantities of canned tomato soup and fresh orange juice. The taste is spectacular, especially in combination with the other two soups. You can of course make work for yourself by creating a pot of fresh tomato soup. But why bother? Good quality canned soup is delicious and all you need.
Now for the Green. Peel and thinly slice the onions and then mince the peeled garlic. Fry these in canola or sunflower oil, until the onions are soft and translucent. Pour in the chicken stock, made fresh or from the industrial stock cube of your choice, then add three peeled, diced potatoes, half a kilogram of fresh or frozen shelled peas, and the leaves of three bunches of dhania.
This last is a little bit labour-intensive as the leaves must be separated from the stems and roots. Bring to a boil, then reduce to a gentle simmer for 30 minutes. Blend the mixture until very smooth.
Finally, White. Chop the leeks, thinly slice the onions and peel and mince the garlic. Combine and lightly brown them. Peel and dice the potatoes and boil them separately. Combine the leeks, onions, garlic and drained potatoes and add the chicken stock. Bring this to a boil, allow it to cool, and give it a 10-second blitz in the food processor.
At serving time add a drop of Tabasco to each serving of the Red Soup, a fresh dhania leaf to the Green Soup, and chopped parsley and cream to the White Soup. Pose for the celebratory selfies, and enjoy.