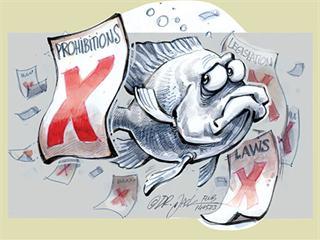 In any democracy, government legislation is normally intended to provide an enabling environment for investment and project development. In the case of aquaculture and similar industries, precautions are also taken to ensure that projects are environmentally acceptable, sustainable use of natural resources is promoted, and legislation governs what can and cannot be done. In theory, this means a short list of factors that might restrict aspects of a project, and a longer list of positives that encourage development.
Bureaucratic bungling
How does South Africa fare in this scenario?
Aquaculture development falls under several government departments, most notably the Department of Agriculture, Forestry and Fisheries (DAFF) and the Department of Environmental Affairs (DEA). A food-fish farm designed to produce more than 20t/year of edible fish requires an Environmental Impact Study (EIA). This is expensive and may make a small project unviable from the outset. The Tilapia Aquaculture Association is trying to have this threshold raised substantially. At present, little distinction is made between extensive pond farms and intensive re-circulating systems when it comes to the legislation governing EIAs.
Government's lack of capacity
One of the most serious problems encountered in all new projects is the chronic lack of capacity in government departments. South Africa is in the bizarre situation of having First World legislation in a Third World environment. Entrepreneurs wanting to establish aquaculture projects are forced to walk through a minefield of rules, restrictions and documentation from a plethora of departments, all seemingly designed to prevent, rather than encourage, development.
As if this were not bad enough, government officialdom itself can prove to be utterly frustrating. Documentation is often lost, phone calls are not returned, appointments are not kept, and there is a lack of relevant expertise. In some cases, officials have proved to be totally obstructive. Inevitably, all this means that the process itself is extremely lengthy.
Despite government's claims in the media that it wants to promote the aquaculture industry, the experience of entrepreneurs seems to point to the exact opposite. This is an absolutely unacceptable situation, but it is hardly unique to aquaculture development. Departmental heads need to get their acts together.
Across the border
It is undeniable that establishing an aquaculture project is far easier in neighbouring countries. Large projects in Zambia, Mozambique and other sub-Saharan countries are currently under development with minimal bureaucratic obstruction. These comprise large tilapia farms sustainably producing substantial volumes of fresh fish. Farms like these are nowhere to be found in South Africa. This is not because local investors have failed to conceive such projects, but because of the maze of contradictory legislation and the poor calibre of the officials administering it.
I have often pondered on the difference between governments in 'real' democracies and our own. The former are elected to do the bidding of the public – or be kicked out. The latter, with apparently no fear of ever being removed from office, have long lost the ability to be public servants in the proper sense of the title.
Read more on Aquaculture here
The views expressed in our weekly opinion piece do not necessarily reflect those of Farmer's Weekly.