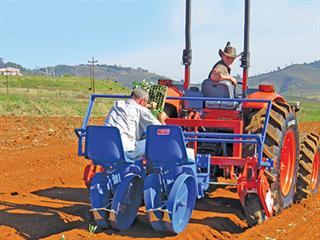 The Seed Growers' Association of SA recently hosted a vegetable growers' day at the Cedara Agricultural College in the KZN Midlands. A number of machinery distributors took the opportunity to show off their products.
Kubota B1820 tractor (marketed in SA by FMS)
The B1820 has a three-cylinder diesel engine rated at 13,2kW, six forward and two reverse gears, and 4WD. It is easily transportable, with a length of 2,3m, a width (at narrowest track setting) of 940mm and a total weight of 560kg. It is fitted with a foldable ROPS frame.
Landini Solis 20 tractor (marketed by Reapers)
Powered by a Mitsubishi 16W three-cylinder water-cooled diesel, the new 4WD Landini Solis 20 offers the choice of a conventional six-forward, two-reverse gearbox or a hydrostatic transmission. Length: 2,6m. Minimum width: 1,1m. The Solis 20 has a standard 540rpm rear PTO, with a 2 000rpm mid-mount PTO as an option.
Ferrari FMAX transplanter (marketed by Rebelo)
This can be fed with different module types – pyramidal, cylindrical or conical – or with square blocks, and can be used to plant seedlings up to 250mm high. It is suitable for a variety of crops, including lettuce, tomatoes and cabbages. The intermittent rotary carousel guarantees the timing of the planting and can achieve a rate of 3 500 plants/row/hour.
Forigo G35 stone burier (marketed by Rebelo)
Available in widths of 1,3m to 2,5m, the Forigo operates in the opposite direction to a conventional rotovator, throwing the soil over the top and through a screen. Stones and crop residue remain below the screen, covered by a layer of completely friable stone-free soil that forms a smooth, level seedbed.

Comeb inter-row cultivator
This multi-row rotary cultivation and strip tillage machine is efficient in all row-crop applications. The separate tilling heads work independently of each other and are adjustable to work on raised beds or full field crops. They are available with two to seven units and with head widths from 220mm to 1m. There is a choice of three different clearance heights under the hexagonal toolbar.
Fertiliser units can be added so that weeding and fertilising is carried out in one operation, putting fertiliser only where it is needed, either in-between or on the rows. (Marketed in SA by Zuiderwint.)