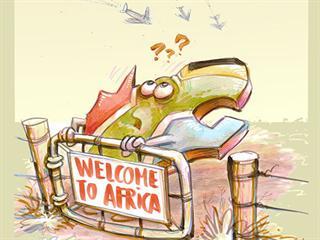 In South Africa, we tend to think of our country as both the gateway and gatekeeper for the development and commercialisation of the continent's agriculture. But on-the-ground experience gives one the sense that this is not so.There are indeed a number of South African companies that have aggressively entered the African marketplace, including retailers such as Shoprite, Checkers and Freshmart and agricultural companies like Afgri and Senwes.
Bungi, the world's third-largest agricultural company, gained an instant African footprint by buying into Senwes. But there is another side to the story. Logistically, it is easier to enter the continent through the airports of Nairobi, capital of Kenya, or Addis Ababa, capital of Ethiopia, than to do so through OR Tambo. Addis has the added advantage of being the home of the African Union, and therefore the place where many of the continent's policymakers sit.
Cross-border investment and business
In the meantime, farmers and businesses are rapidly establishing cross-border value chains to keep things out of the hands of local politicians and petty politics at a national level. Recently, a European company decided not
to establish an assembly plant in South Africa despite this country being its primary marketing site. Setting up across the border in Mozambique freed this business from BEE requirements, and meant that the jobs went to Mozambicans.
It is well-documented that businesses often procure raw materials in South Africa and process them in other sub-Saharan countries on the other side of our border, where electricity and labour are cheaper and the tax dispensation is friendlier. Investors complain that it is expensive to bring money into South Africa and difficult to get it out again.
They prefer to hold funds in a place such as Mauritius, where money has better mobility. Indeed, some South African companies have moved to Mauritius to enjoy this and other advantages. The administered costs of agriculture – labour, electricity, water and tax – are hurting the South African producer, who can do better producing in Mozambique, Zambia, Congo or Malawi. These administered costs have a domino effect on the rest of the value chain in both directions.
Standardisation
In East Africa, a standardisation process is currently gathering momentum. The East African Community has 15 open borders with a one-stop system through which people may travel with an identity document. South Africa's orders are porous, with a ceaseless flow of money, goods, people and ideas. Despite the risks, there is no stopping this flow. Diseases, for example, do not recognise international borders and it is no longer sensible or even possible to have effective control from one country.
It would be far more relevant to have a one-stop southern African facility to manage the movement of stock and food, to check the migration of infectious diseases, and to accredit chemicals and seed hybrids. Research is too expensive for one country to handle alone. Standardisation would be far more accessible if there were a single SADC facility responsible for research, control and accreditation.
Better standardisation of agricultural policies is also needed, or production will move to the friendliest environment and spill over from there to others. South Africa does not offer enough advantages in this respect, and the competition is strong. Although South Africa could be seen as the entry point to southern African countries, our access to central and west Africa is limited.
The Nigerians, for example, see South Africa as a potential market rather than anything else and compete with us, measuring their performance against ours. East African countries, equally, maintain their own positional strength.
It would seem that South Africans were caught napping, trapped in a complacent belief that this was the continent's only powerhouse. Now, our growth rate is below the African average and according to economist Dawie Roodt, may drop even further.
The agri-political environment
Just as water cannot run upstream, so agricultural produce, food, fibre and renewable fuels, cannot flow from less competitive to more competitive areas. It works the other way around. Today, South Africa imports tea from Rwanda, Malawi, Uganda and Kenya, although a large portion of our consumption was produced locally five or six years ago. Tea can only be harvested by hand, and labour costs and land claims meant it made more business sense for the tea companies to move to Kenya.
Neither the Chinese nor the Indians use South Africa as any kind of gateway, and one runs into Chinese businesses in some of Africa's remotest corners. Fortunately for SA agribusiness, the Chinese have not been agriculturally successful in the region. At last count, they had 124 large-scale products across Africa, but not one of these operations can stand alone.
About two years ago, the Chinese offered finance, equipment and inputs to South Africans in exchange for management of farms and an off-take agreement. To have accepted such an offer would have been political suicide, as it is the prerogative of the hosting country to make these agreements. The first duty of expatriate producers is to ensure that the markets of the host country benefit and that there is proper food security.
While South Africans cannot claim to know the African environment, it is probably true to say that we know it better than the Chinese, the Indians or the Brazilians. Local farmers intuitively calculate the risks and figure in the time lost in negotiations and administration processes.
Regional competition comes from the Brazilians, especially in Mozambique and Angola, where they have the language benefit, and decent backing for large projects, notably in sugar. Brazil's research and technology development has remained strong and the government supports agricultural investment in Africa. On another level, Brazilians are frustrated with community demands and time spent in engagements.
SA farmers also understand that there is no such thing in our region as land without people. To go onto that land, a 'marriage' of sorts is needed between investor and community. This concept is not familiar to the Brazilians, the Chinese and the Indians, who do not consult with communities in the 'right' way. For example when local people are barred from using a well-worn route to the river because it goes through a foreign-owned farm, they feel not just frustration but deep anger.
Once a farming deal has been struck with a community, there is a celebration – like a wedding party. The two parties involved are to share land for the next generation, so there should be a sound contract in place. Like any marriage, the relationship has ups and downs. Sometimes the contract must be renegotiated, compromises made and a certain style adapted. At other times, walking away is the only solution.
SA farmers from KZN, Limpopo and Mpumalanga seem able to grasp the concept of these relationships quickly. There are large parts of South Africa where a farmer can turn over between R5 million and R8 million with four big machines and four labourers, and believe that he can close his farm gate and watch Africa go by. These farmers find it hard to understand and adapt to the practicalities of expanding their businesses elsewhere in the region.
SA expats
The South African agricultural community is not in the business of exporting farmers, and a single farmer leaving the industry is one too many. But when farmers want to broaden their footprint, diversify, hold land here as a home base but invest into Mozambique, Tanzania or Botswana, they should be helped. There are now more than 300 SA farmers in Botswana. Land is expensive here, but the policy environment is excellent and the government goes to some trouble to make things easy for farmers.
There are a number of SA farmers in Mozambique, where entry to agriculture is a process that can be likened to a lengthy courtship. The locals want to get to know the potential farmers. They want to talk about education, health care, roads and capacity creation, and understand how they will benefit. The relative ease of forming relationships and building trust differs from village to village; much depends on the personality of the chief and his advisors, and at times expectations are unrealistic.
In organised agriculture, negotiations are generally difficult because the demands, reactions or outcomes of the engagement are predictable. Proposals may need to be adapted on the spot, so flexibility is vital to ensure that negotiation continues despite tough engagement. Now is not the time to limit organised agriculture to advocacy. It must be empowered to play a greater role than simply that of influencing policy. – Nan Smith
Email Dr Theo de Jager at [email protected].
The views expressed in our weekly opinion piece do not necessarily reflect those of Farmer's Weekly.