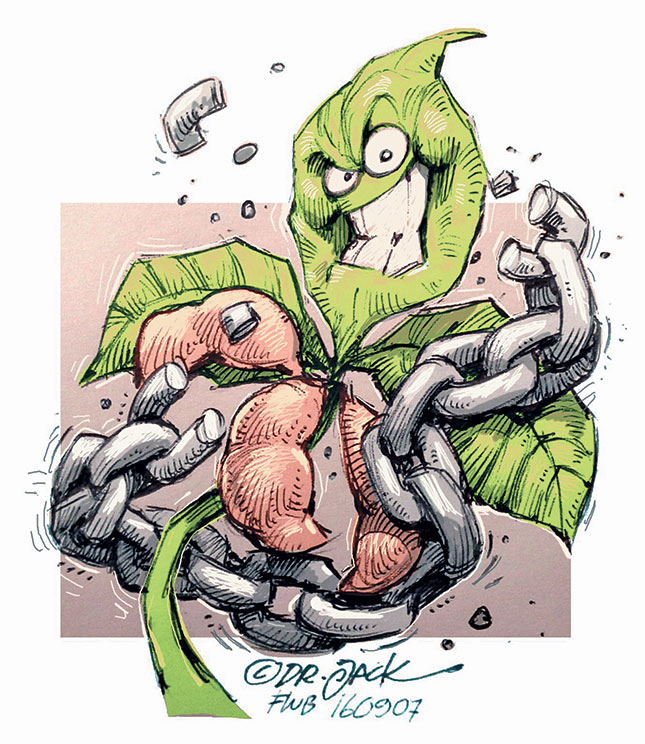 The soya bean, a relatively simple and low-cost crop, has a short growing season, and because of its high nutritive value for both humans and livestock, demand for the crop is increasing.
Production at scale would enable value-added processing opportunities for key soya growing countries like Zambia, Mozambique and Zimbabwe. This is particularly significant, as agriculture-led development has been identified by African heads of government as key to achieving food security and stimulating rural development in sub-Saharan Africa.
Increasing regional soya trade and production will also improve the production of other commodities, such as maize, rice and wheat. When rotated with maize for example, a soya bean crop improves maize yields by 10% to 20% through replenishing nitrogen in the soil.
This could drastically change the continent's food security narrative.
Soya bean benefits
Soya beans can be used as a high-quality protein in poultry and pork feed, and are also beneficial to human health. As there is a growing market for processed soya beans in the form of corn soya bean blends (CSB), which are low-cost sources of protein, it is important to encourage the cultivation and trade of soya beans for the sake of human nutrition.
To build this industry, agronomic practices need to improve radically, with the quality of inputs managed, and proper training provided, to smallholder farmers. A number of improvements must occur along the value chain so that producers and aspiring farmers can take advantage of the opportunities in soya bean production.
Key constraints
FoodTrade ESA has identified a number of key constraints that need to be addressed and reformed to create a more enabling environment for farmers and private sector players in the soya bean value chain.
In recent years, there has been little government backing for the soya bean industry. Therefore, strong government buy-in and cross-border cooperation is important to facilitate the growth of effective regional soya systems.
Additionally, poor quality and counterfeit soya bean inputs have plagued the value chain across SADC, while seed contamination has affected yields. Quality control is also a huge hurdle that needs to be overcome.
Non-GMO soya bean demand
Currently, South Africa's demand for non-GMO soya beans is increasing. Textured soya bean protein processors are now demanding non-GMO soya beans from outside South Africa to use as raw materials in their processing plants.
Countries like Zambia and Malawi have capitalised on this opportunity and supply this market with non-GMO soya beans at very lucrative prices. In some cases, this issue has helped strengthen the argument against GMO crops in these countries, as there is an obvious demand for non-GMO products in niche markets.
Research is currently underway to boost the productivity of soya bean production to meet regional demand, without necessarily depending on GMO varieties. Early results from trials conducted by Zambia's Crushers and Edible Oil Refiners' Association (CEDORA) have shown promising results in achieving greater yields with non-GMO soya beans in the country.
While every country has a unique approach to genetically modified seeds, regulations for seed in the region are unnecessarily complex; this is partly due to widespread scepticism about GMOs.
These policies may take time to change, and it is therefore important to strengthen awareness and compliance in the application of soya bean and GMO research to create buy-in from government, the private sector and the general public.
A better policy environment would encourage private sector investment, and support higher and more predictable demand for soya beans as a critical input for value addition.
Access to finance
Access to agricultural financing has also been an issue across the region, particularly in the current economic climate. In the future, agro-financing will become more and more important in the expansion of regional markets.
Akinwumi Adesina, president of the African Development Bank (AfDB), recently pointed out the opportunity presented by agro-allied industrialisation, and said that Africa needed to diversify from raw material production to developing value chains.
In Adesina's speech at this year's African Union summit, he signalled a new approach to the sector, saying that "the key is to use agriculture as a sector for wealth generation and not one to fight poverty".
Generally speaking, until the region's trade policies are improved and streamlined, policy blockages will remain a barrier to a viable regional soya industry. In any value chain, unpredictable trade policies and competing interests within the industry will inevitably cause problems.
Regional trade integration must be the cornerstone of SADC member states' trade policies, including the strengthening of public institutions and private sector organisations for export promotion, and closer trade ties with other economic partners.
There are significant gains to be made if governments are able to create a favourable tax environment for the sector, but they need to hear directly from those working in the soya value chain about the effects of crop cess, as well as taxes on soya products and equipment used in the sector.
Overcoming obstacles
These barriers can only be removed when value chain role players unite to form strategic partnerships and advocate for policy change, and existing policies that are beneficial to the sector's growth are implemented.
There is a need to assess gaps in the enforcement of laws against counterfeit soya products and seed, and research material needs to be publicised to create awareness of the benefits of a better integrated regional soya industry. Over time, it will also be worth addressing transport links – a perennial issue for trade across borders.
We are working tirelessly with partners in the public and private sectors to overcome these barriers. To have an effective regional trade system, ineffective policies, weak institutions and inadequate infrastructure will need to become a thing of the past.
We have the knowledge and capacity to succeed, and with predictable regulation and clear market signals, we can build a vibrant soya bean industry and create jobs and wealth across the region.
For more information, visit foodtradeesa.com.
The views expressed in our weekly opinion piece do not necessarily reflect those of Farmer's Weekly.