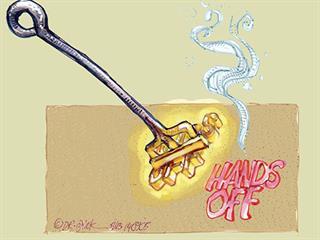 Stock theft is a threat to South African livestock producers' very existence, impacting on the long-term sustainability and profitability of the industry. It has become a lucrative business and affects the emerging farmer and commercial farmer alike.
An average of 30 000 cases per year have been reported for the past five years, representing a monetary loss of
R750 million annually.
READ MORE: Hot or cold branding: both demand good technique
From 1 April 2013 to 31 March this year, 56 954 head of cattle to the value of R592 321 600 were stolen. Of this figure, 22 070 were recovered, meaning 34 884 head of cattle to the value of R363 793 600 were lost. As regards sheep, 79 713 were stolen at a value of R135 512 100. A total of 16 663 were recovered, resulting in the loss of 63 050 sheep. This cost sheep producers R107 185 000. A total of 34 988 goats were stolen of which 10 600 were recovered, a loss of R47 556 00.
Mark all livestock
Without identification, it is impossible to prove ownership. Many of the respective role players in the livestock production sector contribute directly to the high incidence of stock theft by ignoring the legal requirements as set out in the Animal Identification and Stock Theft Acts, which control the marking and movement of livestock.A legal, permanent mark is our responsibility and the first line of defence.
Unmarked livestock also means that feedlots, producers, speculators, auctioneers, buyers and abattoirs cannot tell whether an animal was stolen or not. Should the animals be stolen, these parties are contravening the law and are at risk of prosecution in terms of the Animal Identification Act (Act 6 of 2002). Hot iron brand marks for cattle and tattoo marks for smallstock are the most effective and cost- effective ways of marking.
Know your role
Ten stock theft hotspots within police districts have been identified in South Africa:
Eastern Cape: Sulenkama, Mthatha, Qumbu, Maluti

KwaZulu-Natal: Ladysmith, Bulwer, Utrecht, Bergville

Free State: Harrismith
Unmarked animals make it very difficult for the SAPS stock theft units to properly investigate a theft, and an unacceptably high number of cases have to be scrapped as a result of poor or no animal identification. We cannot expect SAPS to work in isolation and without our support. Should a livestock owner become a victim of stock theft, he or she can play a key role in the successful investigation of the case, and the crime should be reported as soon as possible.
#RPOcon14 RPO vice chairman Jaco Mare: Nearly 57 000 heads of cattle were stolen in SA between 1 April 2013 & 31 March 2014.

— Farmer's Weekly SA (@FarmersWeeklySA) August 14, 2014

Many cases cannot be investigated properly because of poor witnessing, a lack of proof of ownership and incomplete statements. The way a crime scene is handled often makes or breaks a case; it's a valuable source of information and must be treated accordingly.
Know your rights
It is the responsibility of the first police officer on the scene to compile a scene statement. The plaintiff's statement must be taken on the scene. However, it is important to note that the police can still open a docket even if the plaintiff is not on the scene because of an injury that calls for urgent medical attention. Remember that if you have been a victim of crime – regardless of the type of crime – you have certain rights embedded in the South African Bill of Victim's Rights.
READ MORE: Keep stock thieves away
This bill contains the minimum standards of service for victims of crime, and victims have the right of compensation and restitution in terms of the bill. It is important to familiarise yourself with the protection that the bill offers. The fact that convicted stock thieves are let out on parole without our knowledge is another obstacle to overcome. A victim of crime, however, has the right to attend a parole board sitting when the possible release of an offender is considered. Please make use of that right.
It is vitally important that livestock producers increase their active involvement in the investigation and prevention of stock theft.
In summary: brand all animals, keep a detailed record of identification documents and removal certificates, count stock regularly, keep a detailed stock register, report all cases to SAPS timeously, and know your rights as a victim of stock theft. Finally, become involved in the stock theft information centres in your district.
Phone Jaco Maré on 082 388 4294.
The views expressed in our weekly opinion piece do not necessarily reflect those of Farmer's Weekly.