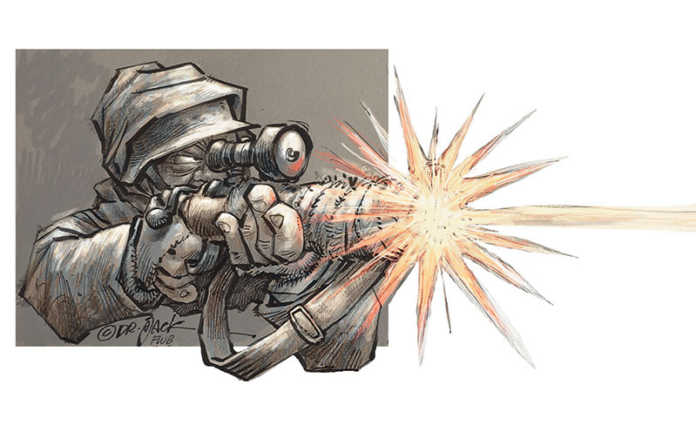 When I think of transformation in the South African agricultural sector, I am reminded of a story of a Second World War sniper.
A group of German prisoners of war were being led, hands above their heads, out of a building by their Allied captors.
High above them, a German sniper, unaware of his compatriots' capture, shot one of the Allied captors. Suddenly finding themselves under fire, the Allied soldiers gunned down the German prisoners of war.
The sniper had anticipated achieving a small victory, but had been unaware of the tremendously negative consequences of his misguided action.
In South Africa, our endeavours towards achieving agricultural transformation remind me of that scene. The South African players could be substituted with the characters described above: there is misunderstanding, a limited view of the situation, and ultimately, suffering through misaligned communication and an incomplete grasp of the landscape.
It seems that we are all at each other's throats.
The players
There are commercial farmers willing to actively participate in agricultural transformation, even though they are kept awake at night by their worries about cash flow, weather patterns, broken tractors, labour relations, their bank managers, and the possibility of an attack on their families.
So what is this thing called agricultural transformation, and what more can be expected from these commercial farmers in making it real? They are already sending the children of their staff to good schools, their induna is almost a family member, and they are actively involved in the community school.
What more can they do in their already overloaded day?
On the other side of the coin, farmworkers are still forced to call their employer's four-year-old son nkosana (master); they still earn R3 000 a month to sustain their families; they have no medical aid; and they will never own their own farms. This is all despite having run the farmer's dairy for 15 years while he goes away on his annual trip to Europe.
I am not for a minute making light of the complexities and challenges facing a globally competitive farm. So where are we missing each other? Why is the sniper taking aim? Has no one told him of the damage he will do by destroying what he thinks is right?
I believe that we are expecting generations of imbalanced power relationships, centuries of programming and deeply ingrained prejudices to disappear overnight. It is impossible.
Humans are creatures of habit and of comfort, and are reluctant to change. On my farm, it took Mr Maje Zondi six years not to call me nkosana and not to remove his hat in my presence, despite my continued insistence to the contrary.
Now I'm finally 'James' to him, and we both enjoy this new-found level ground of mutual respect and acknowledgement. But both of us had to shift. All that Maje needed was a hand-up and we were equal.
I am the one who had to offer it to him first.
Change management, otherwise known as transformation, is a science. It's the practice of changing human behaviour. So, what is the current pattern, where do we want it to go, and what do we need to make that shift?
The science of change management
Change management is used extensively in the corporate world. If a company such as Microsoft introduces a new in-house programme, it budgets 17% of the total project cost to change management.
To see how relevant change management is in our global society, simply google it: you will come up with 80 million results.
'Transformation' shows 412  million! Why is it that something so critical as shifting massive cultural and racial dynamics for our country's well-being is left to people during their day jobs, without the required skills and sufficient resources?
Transformation is change that needs to be managed. It's unrealistic and naïve to expect the agricultural sector to heal itself and lead transformation, when racial and social programming is a complicated and inherited burden to carry; when racial rhetoric is bandied about by our political leadership; and when farm murders are more frequent than ever.
From what I understand, government has acquired many farms that are still to be handed over to beneficiary communities, while the majority of land reform farms are in a state of disrepair and poverty.
So why is there a cry for more land to be taken?
Surely we should be focusing on healing prejudices and developing cultural tolerances, more shared business farming transactions and more programmes designed to get young black people into the complex world of competitive agriculture?
When I sit in a Landless People's Movement meeting or an organised agriculture transformation committee, I see that everyone wants the same things: safe tenure, balanced representation, and inclusive participation in the sector.
So when does this pattern stop repeating itself? When do we all jump off the spinning wheel and say, that's it!
Enough! And what tools do we have to deal with this mammoth task?
The crucial steps to Making the change
Firstly, we need to understand and acknowledge the racial imbalance of land ownership and participation in formal agriculture. It's huge, and it's ugly.
Secondly, we need to admit that unless we address this, we are all going down together because the resources we have here in South Africa are finite.
So how do we share what we have? How do the privileged give something back, even an acknowledgement, of the fact that their white skins got them an excellent education, while young black kids walked to inadequate farm schools?
Thirdly, we need to be brave and really change and make visible shifts.
Don't let anyone call you nkosana or nkosazana. And insist to nxamalala that he should keep his hat on when speaking to you.
A respectful relationship is not measured in titles; in fact, disrespect hides in titles. Respect is measured in genuinely equal relationships, in recognition of the quality and wisdom of the people in your team. With these racial nuances still alive, it's no wonder there is still so much anger.
Fourthly, I believe that government should spearhead the development of a change management strategy. This is not simply about 'projects', changing land ownership, equity and minimum wages.
It is about practical means to shift prejudices and power nuances, and it's good business. Stakeholder organisations, including organised agriculture, the Landless People's Movement, non-governmental organisations, and others, need to take on this process, dispel the myths and fears, and agree on how to achieve the same objectives.
Then it's only the lone sniper who can endanger the rest of us. At that stage, however, we shall hopefully be more unified, and thus unmoved by his destructive actions.
For more information, phone James Martin on 083 741 0002, or email him at [email protected].
The views expressed in our weekly opinion piece do not necessarily reflect those of Farmer's Weekly.