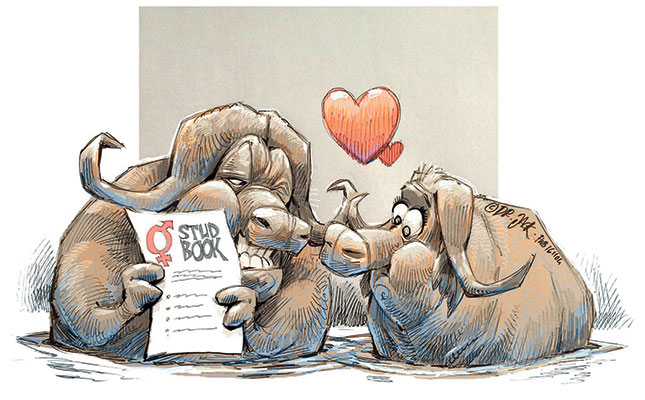 Although the standardisation of recording practices for game is not yet fully established locally, South Africa has a long history of livestock recording.
The essence of livestock recording is to bring animal and breeder information together in one unified database. The requirements for livestock recording and improvement in South Africa conform to international standards as set out and audited by the International Committee for Animal Recording (ICAR).
Exactly the same principles currently used for livestock can be used for game recording and management to achieve genetic improvement and track progeny and pedigrees of breeding stock.
Livestock breeders are well aware that production recording is a valuable management tool in making informed management decisions.
This is achieved by measuring and assessing the input/output ratio of animal performance. Production recording also enhances profitability; it has been proven that animals that are recorded for economically important traits usually realise better prices.
The age-old principle of 'to measure is to know' sums up the value of production recording. It is a genetic principle that the actual variation measured among animals for any recorded trait is the result of the treatment (mainly feeding) that such animals have received, as well as the genetic differences among them.
Animal Identification
Proper recording starts with comprehensive identification of individual animals. Breeding animals need to be accurately identifiable.
If, for example, an animal of a prominent sire is bought or sold, it is crucial that its identity is proved to be 100% accurate. A biological sample should be taken from each breeding animal and sent to a recognised DNA laboratory for identification.
This information is then included in that animal's permanent records. DNA testing is the only foolproof technique for identifying an animal's parentage or progeny, or for proving ownership.
Ear tags are the easiest way to visually identify animals from a distance. Each registered herd receives a unique identifying herd name and game herd designation mark (GDM) consisting of two to four letters.
Each animal is then tagged with its GDM–year–number: the herd in which it was born, the year of birth, and a number that usually indicates the birth order.
GDMs can be identical to the herd designation mark if the game breeder is already a Stud Book client for any other livestock species. At a sale, for example, the basic number on the ear tag makes it easy to identify the breeder of the animal and its age.
Different groups of animals can be identified by using differently coloured tags, and other information, such as the sire of the animal, can also be added to a tag.
Unified database
Standardised identification allows for sensible, unified and unique animal identification and keeps track of breeder and ownership particulars. This, in turn, gives an accurate account of all relationships among breeding animals, including lineage and progeny.
SA Stud Book's Logix Game is a good example of such a unified database.
Unified systems offer easy data exchange between farming software, even handheld devices, and the main database. Service providers also offer data handling, including capturing data on the database.
Game breeders will be well advised to select a service provider with an established track record, and should carefully assess the services offered, as well as the provider's international accreditation and credibility.
The technical and scientific personnel of the service provider should be registered with the South African Council for Natural Scientific Professions (SACNASP) as animal scientists, while products and services offered should carry ICAR's certificate of quality.
Continuous and easy access to central data and information is important. The Logix central database, for example, is accessible on the Internet, and all data and reports can be submitted and obtained electronically at any time. Such a database ensures direct web access and electronic data exchange with farming software and other databases.
Data and reports collected in this way are valuable tools in making efficient management and breeding decisions. Service providers such as DNA laboratories, diagnostic services, animal nutritionists, veterinarians and technical advisors can access relevant information, with the consent of the owner, via the Internet.
This opens up new possibilities for game breeders. For example, it allows all staff on a breeding farm and assigned advisors access to the latest data. However, the greatest advantage of a central database such as Logix is that analysis of the species can be done among herds and within the species.
The system not only provides statistics, but allows access to extensive reports and facilities to help livestock and game breeders improve their animals.
The system helps to prevent duplication of biological samples in bio-banks, as confirmation of parentage is available on Logix.
It is also possible to record where and when animals were transported, where animals originated, and transfers of ownership.
Genetic evaluation
Every serious game breeder's ultimate objective is to apply useful information on genetic selection, and consider all breeding animals as candidates to produce the next generation. As mentioned, variations in animals' performance are the result of environmental influences, such as feeding regime, and genetic differences.
The first step in establishing the merit of any animal is therefore to assess its ability to breed superior progeny to that of other breeding stock.
The only way to establish such a system is to record the important traits, apply unique identification across herds, and keep accurate records of the environmental factors that can influence performance of traits.
Once these are in place, the data can be used to apply appropriate models to separate environmental influences from genetic merit, and use the estimated heritability values to predict the expected superiority of progeny's performance.
There are no short cuts or silver bullets.
SA Stud Book is a non-profit animal recording and improvement association owned by livestock breeders' societies, and has been in existence for 111 years.
Services on offer include data capture, checking, editing, processing and generating of reports for 63 registered animal breeders' societies, including beef and dairy cattle, horses, sheep, goats, pigs, dogs, alpacas and game.
A wide array of scientific and technical services is offered. SA Stud Book also collaborates with a number of local and international organisations such as the University of Pretoria, Geneseek in the US, and ICBF in Ireland.
At present, 42 different game species can be recorded in the Logix Game database. Sub-species, bloodlines and colour variants are also accommodated. As game breeding is still a relatively new industry in South Africa, breeders need record only pedigree information and births at this stage.
However, all information recorded during darting events, including horn measurements, can also be captured and stored on Logix Game.
In addition to the full spectrum of horn traits, other important traits include reproduction traits in females, number of progeny, sexes of progeny, birth weights, and scrotal circumference in males.
As with livestock, production information is included on various reports, including pedigrees, certificates, progeny reports and herd reports.
As soon as adequate data is available, breeding values for horn measurements will be available. – Annelie Coleman
The views expressed in our weekly opinion piece do not necessarily reflect those of Farmer's Weekly.
For more information, phone SA Stud Book on 051 410 0900, or email Dr Japie van der Westhuizen at [email protected] or Dr Helena Theron at [email protected].