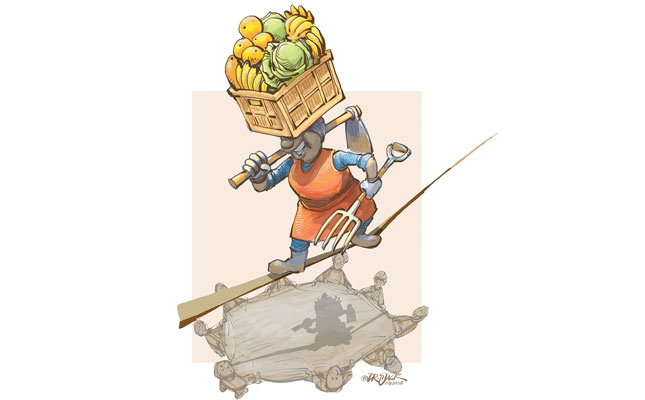 Over the past 20 years, sub-Saharan Africa (SSA) has seen 4,3% growth in annual agricultural output, the highest of any region in the world.
Most of this growth has come from area expansion, not input intensification or increased productivity. Despite this growth, 73 million people remain acutely food-insecure.
There is an urgent need to support sustainable agricultural intensification across a wide segment of the rural farm population, while at the same time enabling rural dwellers to exit agriculture if it is not a viable livelihood option.
Studies of structural transformations in Asia show how the adoption of new farm practices and technologies helped boost agricultural labour productivity. In turn, this provided farm households with more disposable income, which they tended to spend on local consumables.
As a result, new employment opportunities in the non-farm sector were created. This helped to pull marginal farm households out of agriculture and into more remunerative non-farm enterprises.
However, this vision of rural transformation is complicated by the severe resource constraints faced by many people in rural SSA, and the fact that markets for insurance and credit are often absent or unavailable to poor households.
Livelihood and investment decisions are inseparable from concerns over food security for many farm households in SSA. This tends to push them towards production choices that minimise short-term consumption risks but are often low in return and aligned with subsistence.
One approach to this is merging agriculture sector interventions with social protection. While the latter, particularly non-contributory social assistance, is typically thought of as a tool for helping the extremely poor to maintain sufficient consumption levels, evidence demonstrates its transformative power in rural areas.
Public-private interventions
Social protection interventions are public or private initiatives that seek to reduce poverty. The most common types of social protection are:
Social assistance/safety nets. Provided by government, they transfer resources to individuals or households to reduce poverty and inequality.
Social insurance. These are contributory programmes, such as health insurance, which protect against financial instability.
Labour market interventions. These include job training and services like placement assistance to promote employment. They also include unemployment insurance.
Currently in SSA, 1,5% of the GDP is spent on social policy programmes. However, there are substantial differences at country level. In 2015, almost 36% of South Africa's vulnerable populations were receiving non-contributory cash benefits, while Cameroon and Nigeria reached just 0,2%. Only 18% of Africa's population is covered by at least one social protection benefit, excluding health protection.
Improving agricultural labour productivity and enabling marginal farm households to beneficially exit agriculture requires them to be able to bear the risks and costs of new investments.
While social protection programmes are rarely designed to explicitly influence the economic activities of their recipients, they may contribute to changes in economic behaviour through various means:
Relaxation of credit
Rural households in poor countries typically have limited access to formal credit markets. Social protection and cash transfers provide a steady stream of cash that changes current and future economic prospects of beneficiary households.
By improving liquidity conditions, cash transfers also create opportunities for improved savings, with implications for farmers' capacity to manage income shocks and access credit.
Transfers via social assistance programmes also offer an important source of investment capital to move into non-farm activities.
Risk
Risk and uncertainty are pervasive features of rural life. Variability in prices and weather conditions leads to large fluctuations in farm output.
In many parts of rural SSA, the absence of markets for insurance and credit, which can contribute to locking households into poverty traps, compounds these risks.
Addressing high levels of risk adversity in economic decision-making is critical for fostering food system changes. By providing beneficiaries with a regular source of income or food, social protection programmes help to reduce the consumption risks associated with new and uncertain investments on and off the farm.
Evidence on cash transfers indicates positive effects on beneficiaries' psychological well-being and boosts their propensity for forward-looking economic behaviour.
Labour
By enabling farm households to better allocate their labour to time-sensitive agricultural activities like planting, social protection programmes allow recipients to improve agricultural productivity.
Moreover, farmers may be undernourished during the farming seasons, and cash transfers can give them access to more and better food, which will in turn improve their labour productivity and eventually their productive income.
In addition, transfers can contribute to a decrease in family labour dedicated to farm activities and increase the use of hired labour. This then enables households to free up labour to dedicate to non-farm businesses and diversify out of farming.
Working together
These social protection programmes aren't merely handouts to prevent destitution and hunger. In the absence of credit and insurance markets, they enable households to make investments, take on risks, and engage in markets.
From a political economy perspective, government budgets and programme development are typically carried out in designated ministries with limited coordination between them.
As a result, planning and implementation of social protection programmes rarely consider activities developed by agricultural ministries, and vice versa.
Co-operation between relevant ministries and joint work programmes in rural areas is an important starting point for building this coherence.
Improving the coordination and implementation of social protection with rural development interventions requires increased capacity to track and target interventions.
In recent years, some countries have begun investing in digital farm and social protection registries. However, none of them have harmonised the registries to facilitate more integrated actions. Investments to build and harmonise household registries that track information on agricultural and social protection interventions can enable better coherence in implementation.
Moreover, these systems can enable governments to respond to crises more rapidly by scaling up and scaling out support when disasters occur.
Financing
Finally, there is the issue of financing for social protection programmes in SSA. Among other things, governments can consider reallocating a greater share of current public expenditures towards social protection.
The emergence of climate financing also creates opportunities to increase resources for social protection. In rural SSA, these financing projects typically seek to promote the adoption of new land and resource management practices by farmers and to incentivise them to allocate their land and labour to public investments in ecosystem restoration.
These activities entail private costs and risks to farmers while generating mainly public goods.
Payments for these services through cash transfers or public works is a potential avenue for increasing social protection coverage, at least in the short term.
Enhancing integration between social protection and rural development initiatives holds promise for addressing the failures of standard sectoral development models and may be the missing link to transforming food systems in Africa.
The views expressed in our weekly opinion piece do not necessarily reflect those of Farmer's Weekly.
This article is an edited excerpt from the Alliance for a Green Revolution in Africa report titled, 'Africa Agriculture Status Report 2021. A Decade of Action: Building Sustainable and Resilient Food Systems in Africa'. To download the full report, visit agra.org