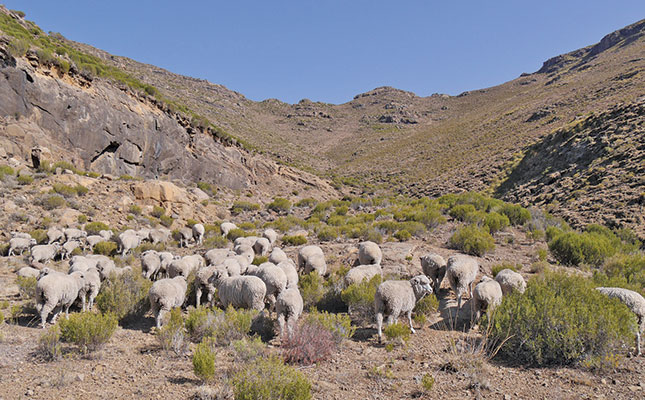 The Kingdom of Lesotho, which is entirely landlocked, shares a border of 909km with three of South Africa's provinces, namely the Free State, KwaZulu-Natal and the Eastern Cape.
In many instances, the border does not exist in any physical sense, but is an "artificial border on a map", according to researcher Richard Chelin.
Chelin works on the Enact Africa programme, which is funded by the EU and aims to enhance the response to transnational organised crime on the continent, at the Institute for Security Studies (ISS).
He specialises in three areas, namely cybercrime, natural resource exploitation, and wildlife crimes such as poaching and illicit trade in fauna or flora.
It was his research in these fields that prompted him to take a closer look at the affects of transnational livestock theft committed by crime syndicates operating between South Africa and Lesotho.
"We've found that this [livestock theft] has a much more detrimental effect on the economy than previously thought, and is becoming more violent," he says.
He adds that organised livestock theft feeds into other, more serious, types of transnational organised crimes such as drug, weapons and human trafficking.
Ultimately, this results in the creation of illicit financial flows, which are estimated to cost African countries more than US$50 billion (about R700 billion) per annum.
Porous border
Dr Jane Buys, a safety risk analyst at Free State Agriculture (FSA), has been following the situation along the Free State-Lesotho border for years.
She says that FSA has become embroiled in numerous legal battles over the problem since the agricultural organisation first engaged with government stakeholders 10 years ago due to insufficient protection for South African citizens living along the border.
Challenges to safety included no fencing along large stretches, and the lack of a suitable road to enable South African National Defence Force (SANDF) troops to conduct border patrols effectively.
The FSA took various departments to court in 2009. In June 2010, a court agreement was
reached between FSA and the departments of defence and public works in which government agreed that the fence, roads and patrols were a priority.
However, subsequent court cases regarding the implementation of this have been met with mixed results, culminating in a case brought by FSA being dismissed on appeal.
"We tried to pursue the case through the Constitutional Court, but the court found it
did not have the necessary jurisdiction," she recalls.
Buys says that despite this, government has implied that it views the Lesotho border as a
priority. In 2015, the Department of Public Works appointed Delta BEC as lead consultant to provide town planning services for an upgrade project.
It produced a draft basic assessment report for the Proposed Lesotho Border Road and Associated Infrastructure project, which was available for public review in October 2019.
However, consolidated activities by various government departments have failed to improve
the security situation alongside the border area, says Buys.
Impacts
According to a scoping report by Delta BEC, there are 262 farms along the provincial
border. Buys says that FSA has more than 320 members along the border or farming slightly inland from border towns such as Clarens, Clocolan, Fouriesburg, Ficksburg, Hobhouse, Kestell, Ladybrand, Tweespruit, Wepener, Vanstadensrus and Zastron.
Statistics show that 11 of the top 17 spots for livestock theft in the province are located along the Free State-Lesotho border, she says.
Those with the largest increase in stock theft over the past four years are also more likely to be located near the border, with three Free State locations, namely Harrismith, Bethlehem and Selosesha (in Thaba Nchu), counted among the top 30 for livestock theft
on a national level.
Aside from stock theft, farmers along the border also have to contend with life-threatening and property-related crimes, including murder, assault, theft, malicious damage to property and arson.
Buys says that FSA regularly receives reports of theft of diesel or seed inputs. In some cases, farmers reported that the tyres on their centre pivots had been slashed.
Broader threats
Buys says the attacks and crimes are not only against commercial farmers, but also against new and emerging farmers, as well as farmworkers.
In a presentation on farm attacks in the province over the period 2016 to 2019, the FSA/ VKB Safety Desk recorded 20 farm murders. Of these, seven were cases of commercial farmers being murdered and three were of emerging farmers.
A total of 174 attacks were recorded over the years in question. Twelve attacks were recorded near Bloemfontein, with the town of Clocolan taking second place at 10.
Towns such as Ficksburg and Ladybrand averaged five to six incidents, with many other border towns reflecting one to three attack incidents over this period.
For farmers along the border, the cost in terms of direct losses through theft of livestock or implements is huge.
A less quantifiable example is the cost of stolen grazing and infrastructure damage due to Lesotho livestock being grazed on farmland in South Africa.
Researchers have estimated that as many as 300 000 Lesotho cattle graze illegally on farms in South Africa, says Buys.
"Lesotho residents chase their livestock over the border to come and graze here. They cut farm fences to do this. I've had some farmers who tell me that for weeks at a time they chase cattle back over the border and repair cut fences every morning, only to have the fences cut again that night."
An additional risk of these incursions is that stray animals can cause animal health problems, such as the anthrax scare in 2019.
Organised crime
In a piece published in November on the ISS website, ISS Today, Chelin wrote that stock theft was on the rise in South Africa, with 29 672 cases recorded by the South African Police Service (SAPS) for the 2018/2019 financial year. This represented an increase of 2,9% over the previous year.
He says the problem is exacerbated by porous and poorly secured borders, lack of capacity to monitor the border, and mountainous terrain that is difficult to police.
"Such challenges create opportunities and trafficking routes for criminal networks to smuggle livestock, drugs and, at times, firearms across the border."
Chelin adds that transnational livestock theft affects farmer revenue and adds to consumer costs.
"You have a situation where thousands of animals are stolen and then sold via the black market. This hurts the economy, but goes even further to impact consumers, as these animals could have provided meat," he says.
Modus operandi
According to Buys, any crime involving two or more people can be considered an organised crime in terms of the Prevention of Organised Crime Act. She points out that syndicates are increasingly organised and innovative in where and how they commit the crimes.
"In some cases, they even bring branding irons to the farm when they steal young calves that farmers have not yet brand-marked. They mark them right there on the farm," she says, highlighting four such cases recorded in the eastern to northern Free state in November alone.
In many cases, the thieves use forged movement permits that appear legitimate, especially
when inspected by police officials without relevant training.
"Police officials need to be trained regularly to be able to identify fake documents," she says.
Livestock are often stolen from South Africa, taken to Lesotho for a cooling-down period, and then brought back into the country to be sold, mostly in Gauteng.
"There are at least 26 illegal crossing points along the border between Lesotho and the Free State of which we're aware," she says.
"The effective policing of markets and auctions where presumed stolen livestock is sold, especially in Gauteng, needs improved compliance inspections and monitoring."
Technology and poor connectivity
One of the shortfalls in addressing crime along the border is a lack of resources and manpower, not only in the SANDF but also SAPS.
"High visibility would prevent criminals from using those illegal crossing points," Buys stresses.
Technology, such as installing high-tech motion detection cameras at strategic points to enable SANDF patrols to take proactive action, could also play a positive role.
There have been talks about using technology such as drones, for example, to patrol inaccessible areas more effectively. However, limitations on the use of certain technologies exist.
Buys says the use of drones, for example, is subject to numerous legislative requirements, including licensing of operators, requirements set out by the Civil Aviation Act, and issues arising from international relations.
"You can't just fly a drone over an international border," she says.
In many cases, technology is also dependent on connectivity. For example, the poor cellular signal along many parts of the border makes the introduction of high-tech cameras problematic.
Better connectivity would also enable individuals or groups of farmers to better utilise social media applications such as WhatsApp groups. Buys says that for this, cellular service providers need to come to the party.
FSA is also in the process of creating awareness of how to avoid risk.
"Farmers are being sensitised not to employ illegal foreigners. [We're informing them] that it's against the law, [and could also] become a big security threat to them," she says.
Coordination and border safeguarding 
Buys believes that greater co-operation and coordination are needed between the police, army, various government departments, municipalities, farmers and community safety initiatives attempting to combat crime through platforms such as the rural safety strategy.
On the upside, the border safeguarding forum started functioning again two years ago, with role players from various structures, including the police, army, organised agriculture and community structures coming together to seek solutions to the problems along the border.
They are hopeful that a joint operations committee for the border will result in positive solutions by planning detailed crime prevention operations in hotspot areas.
"We've also placed a lot of pressure on the army to communicate, coordinate and integrate approaches better," says Buys, adding that this seems to be yielding positive results in some border areas.
Email Dr Jane Buys at [email protected], or Richard Chelin at [email protected].