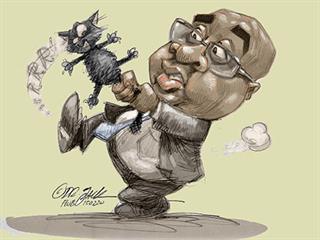 Former US president Ronald Reagan once summed up his country's government's view on the economy in a few short phrases: "If it moves, tax it. If it keeps moving, regulate it. And if it stops moving, subsidise it." With reference to Reagan's words, the South African government's fiscal stance and ability in 2015 is highly concerning.
It's time to face the music
The simple truth is that our government is left with very few options. It is cash-strapped, faces low growth expectations, is carrying a large and increasing social burden, and has shameful dependents such as Eskom and SAA. The general population expects Finance Minister Nhlanhla Nene – and Reserve Bank Governor Lesetja Kganyago – to save the day. But their hands are tied.
Previous governor of the Reserve Bank, Gill Marcus, used to say that South Africa no longer has the advantage of choosing the best options; now it's about choosing the least bad options. We need to make decisions and accept the consequences.
Looking at the budget deficit, it is frightening to see that we are back where we were in 1994, and this time there is no 'Madiba magic' or territories of unexplored opportunities. Instead, we have an enormous social burden driven by unfulfilled expectations, deteriorating infrastructure defined by a backlog of maintenance, and low official and unofficial confidence.
The cost of corruption
Various budget speeches in the past emphasised the need for measures to control losses due to corruption. A lot of important people said a lot of things, but it is difficult to implement such measures if Number One does not answer to allegations brought against him.
Corruption is costing the country a great deal of money – money passed under the table, much of it probably paying for luxury imported cars and whisky (and security upgrades), instead of funding what it is supposed to, such as maintaining and upgrading sewerage plants, secondary and rural towns' roads, and energy facilities.

Austerity measures
What can be done to change South Africa's dismay reality? What are we to expect from Nene? Drastic austerity measures are a realistic option. Austerity measures are a combination of spending cuts and/or tax rises introduced by government to reduce its budget deficit. Ideally, these would demonstrate fiscal discipline to credit rating agencies, who have not been particularly lenient to us over the past year or two. We have good reason to expect rising taxes, especially in the higher income scales.
Spending cuts
During the Medium-Term Budget Speech, Nene announced government spending cuts, and they are a fairly clear indication of where we are headed and what we can expect in the February Budget Speech. Cuts should not be limited to departmental budgets and state employment, and despite the minister's good intentions, we saw that those cuts sometimes landed in the wrong places.
Bail-outs
Spending cuts should also include releasing government from its ever-increasing burden of bailing out state-owned enterprises.
There is no financial sense in endlessly flogging these dead horses. Selling them is the only way to resuscitate them! Now is the best time to privatise institutions such as Eskom and SAA, especially the latter. Treasury is using up its last cents to fund SAA's inefficiencies.
Social grants
It is time to rethink the social grants system, no matter how unpopular the discussion may be. The system had good intentions, but has allowed for a dependency syndrome that has seen more negative and unintended consequences. than benefits. The system must be injected into areas where it will have a positive impact in the future, such as food stamps or free schooling, rather than encouraging the poor to have more children and discouraging them from finding work.
Above all, Treasury must not even entertain the National Union of Metal Workers' suggestion to the National Economic Development and Labour Council to introduce a universal unemployment benefit of R4 500. This is ludicrous! Many will be disincentivised to work, never mind risk starting a business.
Encourage investment
We need to open up our economy to foreign and local investments. A paradigm shift is needed. Although this is beyond the minister's control, he can do much to drive policy reform, which will boost confidence. Fiscal support is necessary to enable and grow the business sector to absorb the unemployment burden. There are great initiatives, such as the jobs fund, which can make a significant contribution.
The economy should be grown to allow Treasury to reduce the deficit over time. This should be prioritised; if taken lightly or ignored due to political pressure to please the masses, in a few years' time the government of those same masses will have nothing to hand out.
All eyes now on Nene
To summarise, referring to Reagan's words:
Yes, we understand that whatever moves will be taxed, relative to the momentum of its movement. This is seen across the world, and whether we like it or not, our government needs more space to manoeuvre, and will have to increase taxes. The South African government has an obsession with control, and it is very evident that everything that keeps moving is over-regulated.
The laws and regulations make it difficult to make progress, especially for start-up entrepreneurs. This is completely unnecessary. Subsidising or 'bailing out' companies when the country's economy is no longer moving is the very last thing we should be doing. Our government does not have the money – or rating – to cope with it.
All eyes are on Nene. We look to him to be brave and bold, and to do the right thing, even if it's the unpopular option.
Email Lindie Stroebel at [email protected].