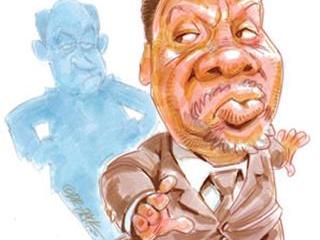 Honourable Minister, the road to hell is paved with good intentions, many of which emanate from this department. It's not what we say but what we do that will translate good intentions into improving the lives of the millions of poor and disadvantaged people who eke out an existence linked to the land.
My interaction with this department spans 13 years and my experience to date has been of ineptitude, carelessness, lack of batho pele (people first), lack of professionalism and integrity and blatant dishonesty. For those exceptions I have encountered, I wish to say thank you. For the rest, I say shame on them. The central objective of creating vibrant, equitable and sustainable rural communities, and food security for all, cannot be opposed by any sane person.
The outcomes and sustainability of this department's rural development and land reform projects more often than not flatter only to deceive. This deception unfortunately goes hand in hand with corruption. One example is the theft of more than R1 million from a woman's group in Muyexe by a consultant who has left them indebted to a financial institution from which he borrowed the money, ostensibly on their behalf.
There are very serious allegations of major corruption in the mentorship programme, where mentors are helping themselves and not their mentees. This, and the practice of buying productive, going concerns, only to allow them to collapse due to corrupt and nepotistic beneficiary identification, all serve to undermine this department's objectives.
Responsibility
The president has identified 23 districts for priority attention regarding revitalisation of small towns, provision of service delivery and job creation in rural areas in order to improve the lives of the rural poor. Establishing local stakeholder committees in these pilot programmes is critical to their success. I was shocked to hear that the reason there is only one stakeholders' committee in Mlhontlho is that the mayor and the municipal manager are so committed to the success of the programme that they wanted to chair the committee and combine the four wards.
This defies the idea of devolving responsibility, accountability and oversight to ward level. Controlling these programmes allows 'big' people to abuse their power and seldom results in the upliftment of those whose lives the programmes are aimed at improving. This department will have to reconsider its legislative targets because of its poor historical track record of promulgating legislation, and because of how it has dealt with the Green Paper on Rural Development to date.
The portfolio committee was almost completely ignored until we insisted on a briefing. The DA rejects the department's intention to draft relevant legislation on a piecemeal basis as and when it's ready. This would allow the selective implementation of the Green Paper at the ANC's discretion.
Scrutiny
The Green Paper's provisions about communal land and its tenure have been placed on the back burner and are not receiving the scrutiny and public consultation they need. Equally, the provisions of the Traditional Courts Bill will serve only to entrench and compound the lot of the rural poor, especially women in the former homelands. Its provisions will relegate certain communities to an extra-constitutional existence in a constitutional state. This will eternally fulfil Verwoerd's vision of separateness.
Aspiration to own land is not unique to the South African poor; it is a universal aspiration of all people. In SA, however, we have a government that uses this issue injudiciously by using outdated landholding statistics for its own political gain and to cover for the ineptitude and poor performance of this department's land reform programmes.
This financial year cannot be allowed to pass without a complete and comprehensive state land audit and credible land register. No one should labour under the misconception that the integrity of a title deed can be short circuited. If this happens, we will drive away potential foreign investment, which holds the key to economic growth and job creation in our country.
This department has a tragic track record concerning the successful establishment of sustainable land reform projects. The real beneficiaries aren't the rural poor but the consultancy corps and officials with vested interests and a highly evolved dependency on kickbacks and corruption in the supply chain process.
Incompetence
The DA respects that this budget is derived from the blood, sweat and tears of patriotic taxpayers who expect us to use their contributions towards reconstruction and development wisely, efficiently and effectively. I have, however, experienced that the reporting and accountability of departmental officials appears to be venal and often intentionally blurred and misleading.
My travels to assess the outcomes and impact of departmental projects have exposed departmental incompetence. In contrast, where I have encountered meaningful private-public partnerships, share equity schemes linked with multi-departmental co-operation, especially with the department of Agriculture, Forestry and Fisheries, I have witnessed sustainable and impressive progress.
The dairy manager of the Fort Hare Dairy Trust, Leonard Mavhungo, who's running a model dairy operation, recently said to me, "Land does not improve our lives, it's how we use it and manage it that determines what happens to our lives." I found this statement to be profound. Proper planning, management, dedication and hard work are the recipe for the success of these projects. Land reform will be successful, food security will be improved and jobs will be created.
Blame
I would like to conclude, Honourable Minister, with a contention that, despite what you and the president say, it is not the constitutional provision of 'willing-buyer, willing-seller' that constrains land reform success. The state is not a victim, nor is it a 'compelled buyer', as you contend. The blame for your department's glacial progress in driving meaningful land reform lies fairly and squarely at you and your department's door.
In this regard, I wish to place on record that it's your department and certain officials therein that are responsible for the artificial land value inflation that stifles your ability to acquire land and makes the acquisition of land by bona fide farmers, who want to expand their operations, almost impossible.
The prevailing attitude of the courts toward restitution litigation is to almost always summarily award costs against the department because of its notoriety regarding preparation of documents and feasible arguments in restitution litigation.
My colleagues and I are committed to ensuring redress of our shameful past of dispossession and we know how pivotal sustainable land reform is to achieving this.
Equally, we want you to know that we will not allow you nor your officials to blame your poor performance on anyone or anything else. The DA supports this budget but only on condition that it is properly used and appropriately accounted for through visible and measurable outcomes. We will be like your departmental shadow in our role as overseers – you can count on it.
The views expressed in our weekly opinion piece do not necessarily reflect those of Farmer's Weekly.