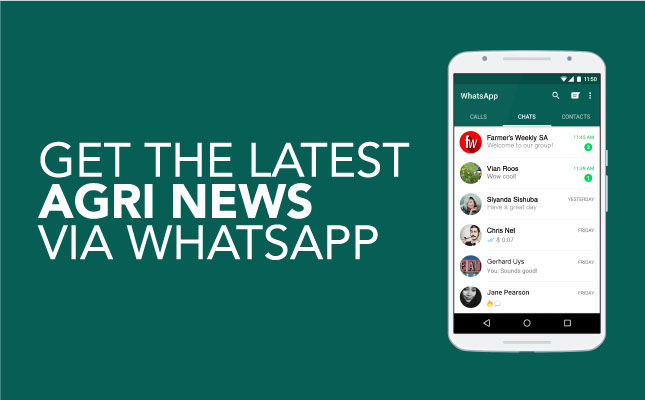 Want to stay informed and stay in touch?
Now you can, thanks to Farmer's Weekly and WhatsApp. Get agri news updates on your mobile.
Receive reminders of important events. And, if you have a breaking story, an interesting photograph, or feedback you want to share, get in touch with us at the click of a button.
To receive daily updates from Farmer's Weekly on WhatsApp, simply:
Add 081 562 4842 as a contact on your phone and save as 'Farmer's Weekly SA'.
Send us a message with your full name so that we can add you to our database.
You'll start receiving messages from us within 24 hours. 
Frequently asked questions
Can I chat with other people on the group?
No, you can't send messages to other people on the group. You won't be able to see other members. You can send messages to Farmer's Weekly that only we will see.
How much does the Farmer's Weekly WhatsApp news service cost?
It is free of charge. Only data service provider charges apply.
What about my privacy?
We will not share your name or number with a 3rd party. You will only be contacted by Farmer's Weekly.
How often will I receive messages?
We will send a roundup of agri related news daily from Monday to Friday between 7am to 5pm, excluding public holidays.
I don't want to receive messages anymore. How do I opt out?
Simply send a WhatsApp message saying "STOP" and you will be removed from the group.
I haven't received messages for more than two days?
Send us a message to double check. If you have changed your number, please let us know.
Can I call Farmer's Weekly on this number?
No, you cannot call this number. Our office number is 087 087 8878.
For general inquiries email: [email protected]
Tell a friend about Farmer's Weekly on WhatsApp
Follow us on Social Media
Facebook – Farmer's Weekly SA
Twitter – @FarmersWeeklySA
Instagram – @farmersweeklysa
YouTube – Farmers' Weekly SA
LinkedIn – Farmer's Weekly SA