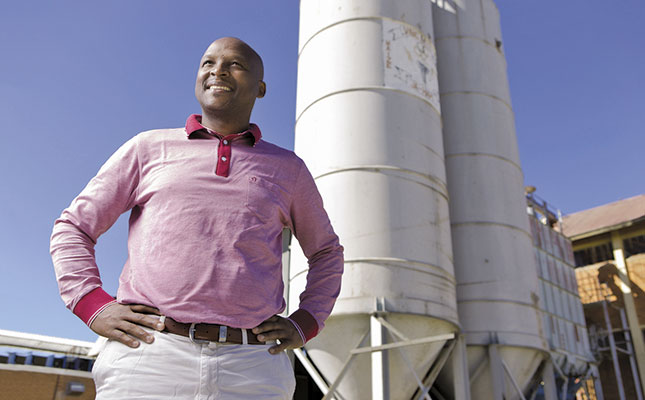 Xolani Ndzaba, owner of Lethabo Milling, still remembers the day his father Victor brought him a bag of oranges. "I owned my first business when I was eight years old. I sold those oranges at school and later progressed to selling peanuts and apples," says the 50-year-old businessman from Emdeni in Soweto.
READ:Saving your assessed losses
The entrepreneurial bug had hit Ndzaba and he soon moved on to sell perfumes on trains around Soweto. When his father passed away in 1977, he was sent to live with relatives at Lady Frere in the Eastern Cape for a year. "This is where I fell in love with ukungqusha [a traditional maize milling process]. I herded cattle, milked cows and ploughed the fields during my twelve months there."
Ndzaba returned to Soweto and matriculated from Emdeni Secondary School in 1984. The following year he joined construction company Grinaker LTA as a labourer when the company was building the Johannesburg Sun Hotel, the largest hotel complex in Southern Africa at that time. In 1987 he was retrenched from Grinaker LTA and got a job at SA Breweries, once more as a labourer. He soon progressed to machine operator, however, and then supervisor in the packaging department.
Ndzaba remained at SA Breweries for 21 years, finally leaving in 2008 to join alcohol beverage company Brandhouse as its regional sales manager. After this, he worked at Tiger Brand subsidiary Bromor Foods, and in 2010 joined Papa Super Maize Meal as its commercial manager.
"In late 2010 I started working on the Lethabo Milling project," explains Ndzaba.
He says that there is always opportunity in food because people eat every day and maize meal is a staple food for most South Africans. "Over a billion people globally are food-insecure and go to bed hungry, and a large number are in sub-Saharan Africa. I wanted to come up with a product that was affordable for our people and that would also change the face of the industry."
When he decided to launch Lethabo Milling, there were no other black-owned companies and he commends government for creating programmes aimed at ensuring black participation in the mainstream economy. After working on the Lethabo project for a couple of months, Ndzaba took a leap of faith in 2011 and approached Massmart to buy his brand, Lethabo Super Maize Meal.
"Their reaction was simple: give us a sample which we can test at the laboratory. After it was tested and found fit for human consum-ption, we drew an offtake agreement where they committed to buying from me. The agreement was finalised after their merger with Wal-Mart in 2012."
Following this, Ndzaba obtained a R4,2 million loan from Absa bank to acquire a milling facility and as well as another
R4 million for working capital.
"Massmart gave us a R1,6 million grant to refurbish the milling facility we acquired at Ventersburg in the Free State according to their standards."
Lethabo Milling, which Ndzaba runs with his wife, Thembi, supplies Massmart with 10 000t of maize meal per annum, which is split between Massmart's private label brand Econo-maize meal and Lethabo Super Maize Meal.
The Lethabo brand is sold at all Massmart Group's outlets, which include Masscash and Makro. Ndzaba also supplies United National Breweries, supermarkets and spaza shops. Ndzaba understands the importance of the Proudly South African campaign and buys his maize from farmers in Ventersburg at Safex prices, with SenWes being his main supplier.
"So far, we are doing very well. We are happy. Lethabo Milling is self-sustaining as I'm not involved in any other business," says Ndzaba, who is a new member of the National Chamber of Milling. Asked about future growth, Ndzaba says that he intends looking at the possibility of selling other food commodities in addition to maize.
"That's the long-term vision. We produce a quality product. Once you eat our product, you will not stop."
Phone Xolani Ndzaba on 082 758 3799 or email [email protected].
This article was originally published in the 2 October 2015 issue of Farmer's Weekly.