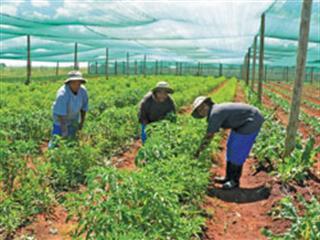 South Africa's agricultural sector employs fewer people today than at any time in its history. Yet the sector has been targeted as a major job creator over the next 18 years. This is not an impossible dream. Assuming enough political will, and that role players execute a careful expansion of arable land, irrigation and the correct crops, agriculture and agribusiness have the capacity to provide a million additional jobs by 2030.
This is the belief of Dr Ferdi Meyer, director of the Bureau for Food and Agricultural Policy (BFAP). Speaking at the recent Agricultural Business Chamber Congress 2012, he pointed out that South Africa's agricultural and agribusiness sector had an important role to play in helping government achieve its National Development Plan goals of eliminating poverty and reducing inequality by 2030.
"The overall target is to reduce the number of households living on less than R418 per person per month from the current 39% to zero. In order to achieve this, the country's current 27% unemployment figure must be brought down to 6% by 2030. This means that 11 million jobs need to be created," says Dr Meyer.
The research project began when Professor Mohammad Karaan, Commissioner of the NPC and Dean of the Agri Sciences Faculty of the University of Stellenbosch set agriculture a target of providing one million additional jobs by 2030, and approached the BFAP for help in planning this.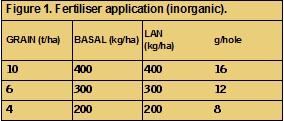 Figure 14: Employment trends
Ideal conditions
"Prof Karaan said that for the first phase of the project we should ignore the constraints towards achieving the one million jobs. He asked us to imagine an ideal world scenario and then give him the estimated potential based on natural resources and markets. Working out this potential was the BFAP's assignment on behalf of the NPC," says Dr Meyer.
For Phase 1 of the project, the BFAP assumed that policy frameworks, including labour legislation, fiscal allocation for infrastructure development, and all other government support for the country's growth would be in place by 2030. The BFAP then identified the following five ways in which employment in agriculture could be significantly improved:
Expanding irrigation agriculture – According to the BFAP, the current 1,5 million hectares under irrigation, which produces virtually all of South Africa's horticultural harvest, and well over a third of the country's land crops, can be expanded.
Commercialising communal land – As much as possible of the underused land in communal areas and in land reform projects should be brought into commercial production, keeping in mind the objectives of the land reform programme and the country's food security needs.
Choosing top crops – Those commercial sectors and regions that have the highest potential for growth, specifically growth that helps to create employment need to be supported.
Creating employment in the value chain – Jobs have to be created in agricultural industries both 'upstream' and 'downstream'. For this to work, the first three strategies will have to be successful, increasing growth in output.
Using creative combinations of these opportunities – This will include greater emphasis on land that has the potential for, or that has already been serviced with, irrigation infrastructure, targeting successful farmers in the communal areas as land reform beneficiaries, and supporting industries and areas of high employment creation potential.
"With these focus areas in mind, we then took stock of South Africa's natural resources. In total, we have 16 166 062ha of potentially arable land. Of these, we are currently farming on 13 088 412ha. Some of this potentially arable and currently unused land is marginal but some of it is high potential land found in the former homelands," says Dr Meyer. "There are also reports that about 90% of failed land reform projects equating to about 5,9 million hectares of land could be put into optimal production again."
Irrigation
South Africa has four main drainage basins: the Indian Ocean coast, the Orange, the South Atlantic coast and the Limpopo basin. Although there might be an opportunity to expand irrigation, especially through more efficient water use, consideration needs to be given to balancing agricultural and human consumption water requirements. The BFAP estimates that South Africa needs an additional 145 000ha of irrigated land, mainly under labour-intensive crop production, to meet the target of one million new jobs in the agricultural sector.
According to Dr Gerhard Backeberg, director of water utilisation in agriculture with the Water Research Commission, the country could expand its irrigated lands by 280 000ha simply by improving water loss controls and irrigation efficiencies – without having to build new irrigation infrastructure. The relative efficiencies of the main irrigation methods are: 55% to 65% for flood irrigation, 75% to 85% for sprinkler irrigation, and 85% to 95% for micro/drip irrigation. Fortunately, there has been a trend towards greater irrigation efficiency over the years, as can be seen in Figure 2.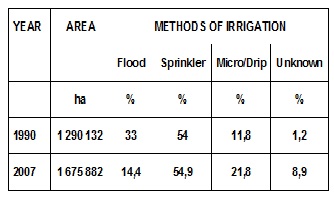 Figure 2: Improved efficiency
Labour-intensive companies
The BFAP used three approaches to find export industries with high labour requirements: targeting those businesses employing more than one labourer per hectare, finding high-volume imports that could be substituted for locally produced goods, and growing small agri-industries with high labour requirements (three to four labourers per hectare).
"We ranked industries on their potential to expand." (See Figure 3.) "On the horizontal axis, the middle is one labourer per hectare. At face value, the winners are those agri-industries that combine growth potential with high labour requirements. However, others, such as soya beans and poultry, have extensive opportunities along their value chains. The agri-industries in Quadrant 1 alone could add 10 000 to 30 000 jobs. But Quadrant 2 agri-industries have the greatest potential."
Horticultural industries, such as citrus, apples, grapes, avocados and mangos, could create approximately 47 000
new on-farm jobs, with 30 000 additional jobs along the value chain. Micro agri-industries, such as pecan nuts, olives, rooibos, strawberries, cut flowers and cherries, could create about 50 000 new on-farm jobs and 33 000 new jobs in the value chain. In non-labour-intensive agri-industries (maize, wheat, barley, soya bean, sunflower and canola and similar crops), approximately 9 000 new on-farm jobs and 5 200 new value chain jobs could be created.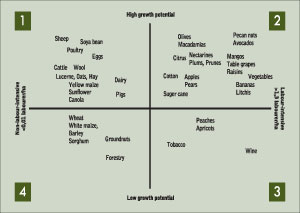 Figure 3: The employment creation matrix
If the livestock production sector and its value chain could achieve its full potential and produce a further 1 826 000t of products annually over the long-run, then about 66 500 new on-farm and value chain jobs could be created. Taking all of the available opportunities in mind, the BFAP found that South African agriculture has the potential to create 969 500 new jobs.
At the same time, it has to be borne in mind that the movement of South Africans out of the poorest Living Standards Measures (LSM) 1 to 3, as well as the movement of people upwards through LSMs 4 to 10, is slowing down dramatically.
This has the potential to negatively impact consumption rates of the products listed in the paragraph above. This is already evidenced by the fact that from 2000 to 2010, chicken consumption increased by 70%, whereas the increase from 2010 to 2020 is projected to be 40%. This scenario is likely to be reflected in many other food commodities nationally. Another challenge to South African agriculture's job creation potential is the country's energy needs.
Already there is conflict in Mpumalanga. The province has 4 554 344ha of high, moderate and marginal potential farmed and potentially farmed land. Current and planned mining operations there could use up 2 634 629ha of this land, leaving only 1 919 715ha for agricultural production in the province.
Exports to africa
A complicating factor is the increased agricultural productivity in the rest of Africa. Countries that traditionally relied on imports from South Africa are becoming less reliant on these, potentially inhibiting the growth of our country's agricultural sector.
On the other hand, the development of these countries could lead to a rise in consumption of South African food and other exports, providing excellent opportunities for South African agribusinesses. The BFAP is currently researching solutions and policy options. Sugar cane, for example, has massive potential for the co-generation of renewable electricity, leading to increased production, profitability and improved job creation.
Another innovative idea is to re-channel a portion of social grants through special school feeding schemes that could, in addition to boosting nutrition, stimulate local economies through financing food production by community members in the areas surrounding schools. "We need policies that will create an enabling environment for South African agriculture to contribute to economic growth and job creation," argues Dr Meyer.
"The danger is that government may not take the necessary concrete steps to achieve these, so it is crucial for organised agriculture to take the lead," he said.
Agricultural think tank
Founded in 2004, the Bureau for Food and Agricultural Policy (BFAP) has offices at the University of Pretoria, Stellenbosch University, and the Western Cape Department of Agriculture. The bureau comprises 28 public and private sector experts who pool their knowledge and research to inform decision-makers among South Africa's food producers and processors.
The BFAP also has international partners with whom it shares ideas.
The bureau consults to both private sector national and international companies as well as the national government, particularly when the latter is developing initiatives such as the National Development Plan 2030.
Contact Dr Ferdi Meyer on 012 420 4583, email [email protected] or visit www.bfap.co.za