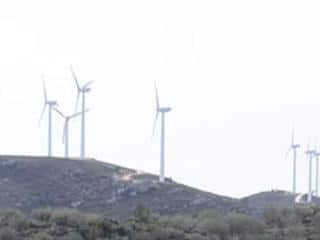 Following the controversial Gasland, an award winning documentary WindFall is now doing the rounds. The film claims, what some scientists have suggested all along, that wind power is not all it's blown up to be. So far, not much has been said about the ecological impact of renewable energy facilities in South Africa, although bird and bat lovers have come out strongly against wind turbines.
According to Simon Todd, an ecological consultant who specialises in EIAs for renewable energy projects, we could be stepping on the rat while we keep our eye on the bat. "Most research has focused on the ecological impact of wind farms on birds and bats – which is justified on the basis that these creatures are the most vulnerable," he explains.
"However, the potential impact on land animals and biodiversity has largely been overlooked. "The South African environment may be particularly open to negative impacts as a result of the relationship between wind farm location and the ecological patterns and processes operating at the proposed sites," he warns.
Todd says that we will have to be more careful when selecting sites for wind farms, and more serious about the ability and willingness of wind farm operators to implement strategies to reduce the potential negative and cumulative impact of these facilities. "One does not want to be negative but it is dangerous to assume that renewable energy is necessarily environmentally friendly."
Developers have proposed at least 50 wind farms, of which more than 20 could be operational within five years. Projects can only be submitted to the Department of Energy (DoE) for a bid once the EIA has been completed and the project has received environmental authorisation. Todd doubts that tax breaks are funding renewable energy facilities, as some critics claim. "A competitive market should ensure that prices stay reasonable. And banks as well as overseas investors see opportunities here because of our vast space and solar resources," he says.
Wildlife warnings
Save The Eagles International SA believes the public has been kept uninformed about threats to wildlife. The organisation suggests that developers have been able to choose unsuitable locations by abusing the ignorance of farmers, communities, municipalities and government officials under the pretence of dispensing clean, green energy.
"South Africa faces a huge environmental challenge from the cumulative effect of wind farms," says Professor Phil Hockey, Director of the Percy Fitzpatrick Institute of African Ornithology at UCT. "Environmental experts are currently being asked to comment on the likely impact of wind farms. The problem is that there is only one functioning installation in the country, with four turbines. They have no data to work with."
Birds, including eagles and other endangered species, often use the sites engineers select for turbines. One calculation has it that the world could have 400 000 turbines by 2025, killing one million birds a year, with another 250 million dying annually from collisions with the extra power lines. But there is more to this than worrying about birds. Andrew Muir, executive director of the Wilderness Foundation, is concerned about the impact on larger animals and ecotourism near protected areas.
"Elephants, for example, use both infrasonic and seismic sound for communication and we do not know how the noise and ground vibrations generated by wind farms could interfere with this. I am not convinced that huge structures with rotating blades flickering reflected light do not leave a negative visual impact. Because wind is so unreliable, wind farms do not really reduce a country's carbon emissions. Denmark has 6 000 turbines generating 19% of its energy but has yet to close down a single fossil fuel plant."
Location, location
Muir believes wind farms should be used on a smaller scale to generate on-site power, or be located in built-up landscapes such as development nodes. "Constructing one at Coega, near Port Elizabeth, and twinning it with desalination plants could be a smart move," he says.
One of the technical drawbacks of wind farms is that as a single turbine produces relatively little power – between 2MWa and 3MWa each – a wind farm could require up to 500 turbines in grid formation spaced about 500m apart and taking up 100km2 of land. Some are constructed in strings through valleys or along mountains. Todd says that a 500 turbine wind farm could power Bloemfontein.
Imagine the impact of wind farms on the 8 000 ha recently bought by Eskom for this purpose at Aberdeen in the Karoo. First will come the construction of roads, blasting of quarries for fill, excavation and blasting for turbine foundations, overhead line erection, general construction noise and human presence. Then will follow the whooshing and thumping, the moving shadows and vibrations that could have an as yet unknown affect on the region's wildlife – from kudu and black-backed jackal to burrowing animals and birds.
The noise factor
"Most modern wind turbines are designed to keep noise levels at or below 45dB (decibels) at 350m which should drop to 35dB to 40dB at 1 000m. However, typical background noise levels in natural environments are less than 20dB. Animals that use hearing for prey detection, predator avoidance or mate selection might be more sensitive to the new noise." He notes that, under South African law, a disturbing noise is noise at a level that exceeds the ambient sound level measured continuously at the same point by 5dB or more.
Temperature changes
Other experts warn that turbines can raise the temperature by up to 1°C, especially at night, again with unknown results. Blades churn up the air, mixing the various temperature layers. More frightening are predictions that the number of turbines could climb into the millions. The turbulence or wake created by a wind farm can be measured several kilometers downwind and can change airflow patterns.
According to an analysis conducted in the US by Ron Prinn, a professor in atmospheric science, and Chien Wang, a researcher, millions of turbines over large areas of land and sea would indeed affect the climate. In a paper published by Environmental News Network, they concluded that, over land, temperatures around wind farms would rise by 1°C due to the friction created with air (similar to that created by trees on hills).
Wind farms reduce the wind speed downwind of the turbines. This, in turn, reduces the strength of vertical turbulence, which is heat being transferred from the land surface into the lower atmosphere. Turbines decrease airflow from high pressure to low pressure areas, affecting places far from the wind farms. Compare this to a hot day at a windy beach; when the wind dies, the beach gets much warmer. On the other hand, over water, wind turbines could lower the temperature by more than 1°C.
According to the study, new wind patterns from large-scale wind farms might also affect rainfall, especially in the mid-latitudes of the northern hemisphere. Changes could exceed 10% in certain areas. Scientists don't want their results used in arguments against the development of wind energy. They prefer that their findings are used as guides for researching the disadvantages of large-scale wind farm development before serious investments are made.
Research published by Proceedings of the National Academy of Sciences of the USA (PNAS) explains that the turbine blades increase drag, removing speed and energy from the air flow. The added drag slows mid-latitude winds by a few percentage points, shifts the jet stream toward the pole and increases surface stress. Increased drag in areas comprising only 10% of global land surface can produce statistically significant changes in the general circulation.
The PNAS study concludes it may be easy to reduce the climatic impacts of wind farms by modifying the turbines and positioning them in such a way that the local topography helps to reduce drag. Another study bluntly suggests wind turbines are unsuitable as electricity providers.
Reasons for this include:
Wind energy is only available if the wind blows strongly enough. In other words, it is supply driven and not available on demand. An electricity grid needs consistent power where supply and demand can be in balance. Because conventional power sources must be maintained, wind energy effectively doubles the cost of the power systems. Wind power is therefore not an alternative for conventional production.
The extra capacity furnished by wind requires additional powerlines. Plans in Germany to install more wind turbines require 4 000 km of additional high voltage transmission lines.
Construction and installation of wind turbines requires energy equivalent to about 10% of the turbine's life-time production.
Self-consumption of electric energy by wind turbines and their electronics while idling and at rest, that is, heating during cold periods and electricity consumed by power electronics for grid adaption, must also be considered.
Technical details of a wind turbine
Turbine specifications vary depending on output and design
Hub height between 60m and 100m
Blade diameter between 80m and 160m
Spin at a near constant rate (14rpm to 20rpm)
Foundations 20m x 20m x 4m to 10m deep
Infrastructure needed
Crane pad
Service area
Transformer and underground/overhead cabling
Access roads – 8m to 12m wide
Substation and buildings
Spacing constraints
Minimim spacing 5 to 6 times the blade diameter
About 30ha to 50 ha per turbine (2 500 ha for a 100MW wind farm)
Source: www.europhysicsnews.org
Contact Simon Todd on 027 218 1276 or 082 3326502 or email grazing,[email protected]