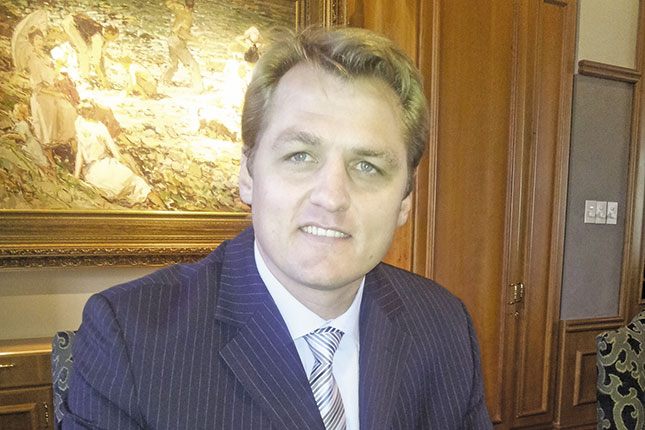 Ensconced in the sleepy university town of Stellenbosch, Zeder Investments increased its exposure to agriculture recently by acquiring unlisted Agri Voedsel in an all-share transaction. This boosted the company's stake in Pioneer Foods to more than 30%. Zeder also has investments in primary agricultural producers, Capespan and Chayton. The latter is a grain producer in Zambia.
READ:Why SA's goat farmers must get down to business
With Africa's population set to boom in coming years, Zeder is banking on people's 'need to eat'. Despite the slowdown in consumer spending in South Africa, Zeder is optimistic about future spending on basic foodstuffs elsewhere in Africa. There are two main drivers behind food consumption growth, Norman Celliers, CEO of Zeder, explains.
On the one hand, South Africa's more affluent consumers are moving towards healthier food options, as can be seen in high-end retailer Woolworths' profit growth. On the other hand, the growth in demand for basic foodstuffs, mainly from the lower-income segment of the population, is under pressure in South Africa. This is partly due to the boom-bust cycle of the unsecured lending sector and high unemployment. The rest of Africa, with its shallower financial markets, seems ripe for growth. "On the rest of the continent, it's exploding," Celliers says. "The growth in food sales in South Africa lies in discretionary purchases and in Africa in staple food."

Zambian investment
This projected growth prompted Zeder's invest in Zambian-based, Chayton, in partnership with the Norwegian development fund, Norfund. The operation has 4 200ha under irrigation. Zeder also bought family-run Mpongwe Milling in Zambia. This business has a number of expansion opportunities, but the challenge is to manage its growth, Celliers says. Zeder invests in companies that take on projects, complete them and have them under control before they expand, according to Celliers.
"Our first phase was to establish a relatively large agricultural unit," he says. "We've done it and we're in the next phase where we must operate the agricultural unit economically, and we're almost done with that." If the management team proves its ability to operate on a larger scale, Zeder will look at investing the capital to expand the unit. Chayton's distribution depots deliver to Zambia's Copper Belt a rich mining region, as well as to the southern part of the Democratic Republic of the Congo, notably Lubumbashi, the second-largest city.
With this acquisition, Zeder added well-known local brands to its basket of products. "Our approach with the Chayton investment is local production for local consumption," Celliers says. "We don't try to export. We try to deliver a product at lower cost to landlocked countries that rely on expensive imported foodstuffs."

Agri Voedsel acquisition
Zeder is also expanding its food producing footprint in South Africa, focusing on the value chain, including seed production, crop growing, marketing and fruit exports. The company's acquisition of Agri Voedsel, in which shareholders received 16,2 newly-listed Zeder units for every one share held in Agri Voedsel, was its largest to date. The transaction became effective on 20 October.
"The price for Agri Voedsel was fair," Celliers says. Agri Voedsel was an unlisted company with only one asset, a 30,4% stake in South Africa's second-largest food producer, Pioneer Foods. Prior to the transaction, Zeder already owned 48,5% of Agri Voedsel. As Agri Voedsel was not listed on the JSE, shareholders held a stake in Pioneer Foods at a discount, Celliers explains. Unlisted shares are not traded at the same frequency as those on the bourse, leading to their trading at a discount due to weaker price discovery.
"The transaction was based on giving Agri Voedsel's shareholders the opportunity to unlock the value of an unlisted share that was trading at a discount," he says. Zeder previously acquired Klein Karoo Saad and Agricol. The two units are held in Zaad Holdings, in which Zeder has a 92% shareholding. The company has an annual turnover of about R700 million and its seed portfolio includes vegetables, lucerne, fruit and non-GM grains. Non-GM grain seed will make its products more attractive to African countries that have banned the production of GM food.
"Given the growth in the rest of Africa, where GM crops are still prohibited, there's an absolute demand for agricultural inputs," he explains. "Multinational seed companies are struggling to play in the African market as they're mainly selling GM seed."
Capespan stake increased
Zeder also raised its stake in fruit exporter, Capespan, to 72,1% last year. According to Celliers, more than 40% of the fruit marketed by Capespan comes from outside South Africa's borders. This makes the company a good 'rand hedge' – its earnings are boosted when the rand weakens against other currencies. The company has an annual turnover of about R7 billion and exports from Chile, Peru, Egypt, Spain and China, decreasing the cyclicality experienced by other South African fruit exporter.
"There's a worldwide demand for fresh and healthy food and a shortage of agricultural capacity and investment. We think Capespan is ideally positioned to connect international demand with international supply," Celliers says. Capespan owns 16 farms, of which 11 are along the Lower Orange GroupRiver, according to the company's website.
With calls for renewed labour unrest on farms in the Western Cape and other parts of the country, Celliers says that it is important to look to the future. "Despite the rhetoric, there's an appreciation that to be successful, the commercial farmer, the smallholder farmer and the government should work together," he says. "I believe there's more than enough arable land and opportunities in our country for everyone to make a living."
Phone Zeder on 021 887 9602 for more information.
This article was originally published in the 31 October 2014 issue of Farmer's Weekly.